Investors pulled a whopping $2.9 billion out of U.S. high-yield funds for the week ended June 17, according to Lipper. It is the largest redemption from the asset class in six weeks and it builds on a $2.6 billion outflow last week.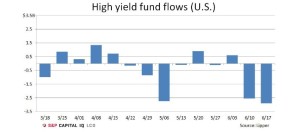 The big outflow was a bit more modest on the exchange-traded-fund front, at 51% of the sum, or $1.5 billion this past week, after 68% of the outflow, or $1.8 billion, last week. This is a return to the heavy-handedness of ETFs in recent months, in contrast to an inflow two weeks ago, which was just 5% ETF-related.
Regardless of what that suggests about fast money, hedging, and market timing, it's a second-consecutive large outflow, and it drags the trailing-four-week average deeper into the red, at negative $1.2 billion per week from negative $291 million last week and positive $327 million two weeks ago.
The big outflow drags down the full-year reading to inflows of $3.6 billion, with an inverse 10% ETF-related, or inflows of $3.9 billion to mutual funds dented by $352 million of ETF redemption. Last year, after 24 weeks, there was a net $5.9 billion inflow, with 14% related to ETFs.
The change due to market conditions this past week was also in the red, but just negative $440 million. That's essentially nothing against total assets, which were $201.5 billion at the end of the observation period. ETFs account for $36.9 billion of total assets, or roughly 18% of the sum. – Matt Fuller
Follow Matthew on Twitter @mfuller2009 for leveraged debt deal-flow, fund-flow, trading news, and more.