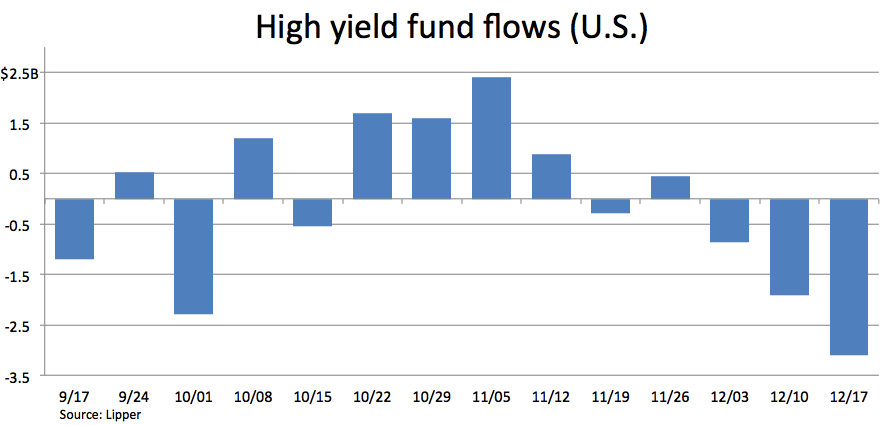 Retail-cash outflows from U.S. high-yield funds deepened to $3.1 billion in the week ended Dec. 17, according to Lipper. This is the second largest one-week withdrawal of the year, trailing just the record $7.1 billion outflow 19 weeks ago, or the week ended Aug. 6.
The influence of exchange-traded funds expanded during the week, rising to 19% of the outflow, or a $587 million redemption, from just 6% of last week's $1.9 billion outflow, or just $106 million last week.
This is the third consecutive outflow, for a net $5.8 billion pulled from the asset class over that span. As such, the four-week-trailing average falls deeper into the red, at negative $1.4 billion, from negative $745 million last week and just negative $51 million the week prior. The current observation is the weakest in 17 weeks.
The full-year reading falls to an outflow of $5 billion, with 16% ETF-related. One year ago at this time flows were positive $1.8 billion, and fully 97% was ETF-related.
Alongside the big outflow, the change due to market conditions was also deeply negative, at $2.7 billion. The contraction due to market conditions works out to about 1.4% against total assets, which were $184.6 billion, with 19% ETF-related, or $35.1 billion. Total assets are down $1.4 billion in the year to date, or roughly 1%. – Matt Fuller
Follow Matthew on Twitter @mfuller2009 for leveraged debt deal-flow, fund-flow, trading news, and more.