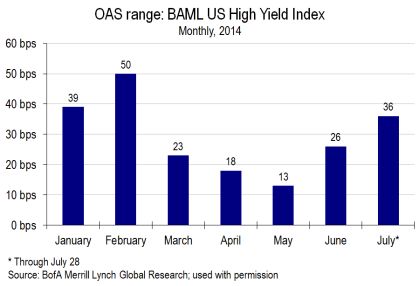 Amid large cash outflows and widening spreads, volatility has returned to the U.S. high yield bond market, says LCD's Martin Fridson:
For a few months, high-yield investors almost forgot what volatility looked like. In response to similar trends in a variety of markets, dealers complained that moribund prices were killing their trading profits. June began to solve those so-called problems; July reacquainted everybody with downside volatility …

The chart shows the difference between the largest and smallest daily option-adjusted spread (OAS) on the BofA Merrill Lynch US High Yield Index for each month of 2014. From a peak of 50 bps in February, the OAS range dropped steadily to 13 bps in May, the equivalent of a barely detectable pulse. Daily variability of the high-yield risk premium doubled to 26 bps in June and rose further to 36 bps in July, nearly matching January's 39 bps.
This analysis is taken from Marty's weekly commentary for LCD, available to subscribers. In it he also analyzes the influences on high yield volatility, the myth of deal attenuation of market drops, and whether the increased volatility of late implies a broad market retreat (spoiler: not necessarily).