Due to an error in pro rata calculations, the amount of loan debt taken out by high yield bonds, as detailed in an LCD News story earlier today, was incorrect. A corrected story and updated charts are published below.
Borrowers are issuing high-yield bonds to take out term debt in the highest volume since the first quarter of 2017.
Through March 14, completed bond-for-loan takeout offerings in 2019 have totaled $11.9 billion, according to LCD. With the inclusion of ADT's pending offering, expected to launch this month, this figure edges to $12.4 billion. Of note, a larger portion of this projected total is weighted towards the repayment of pro rata facilities, with $8.3 billion of bonds printed for this purpose.
Taking a closer look at how bond-for-loan takeout offerings fit into the overall U.S. high-yield supply story, such deals account for 26% of the
nearly $50 billion of year-to-date volume. This is the highest percentage for the carve-out since the fourth-quarter of 2016, LCD data shows.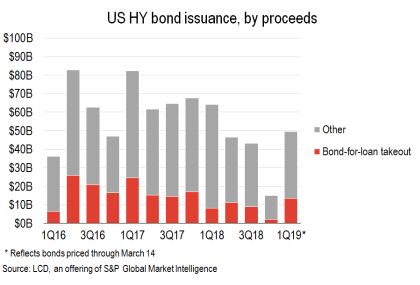 Thus far, new prints this year targeting the repayment of term debt includes completed deals for SS&C Technologies, Frontier
Communications, Community Health, and XPO Logistics.
The renewed emphasis on the fixed-rate high-yield asset class, at the expense of floating-rate leveraged loans, is clear via retail investor activity. So far in 2019 U.S. high-yield funds have seen a net inflow of $8.2 billion, while U.S. loan funds have seen a net withdrawal of roughly the same amount, according to Lipper weekly reporters.
Notably, retail investors have pulled money from loan funds for the past 17 weeks, totaling nearly $22 billion.
Try LCD for Free! News, analysis, data
LCD comps is an offering of S&P Global Market Intelligence. LCD's subscription site offers complete news, analysis and data covering the global leveraged loan and high yield bond markets. You can learn more about LCD here.