U.S. high-yield funds recorded an outflow of $1.63 billion in the week ended June 29, according to the weekly reporters to Lipper only. This is the third-consecutive outflow, after $766 million last week and $1.8 billion two weeks ago, for a total of roughly $4.2 billion redeemed over that span.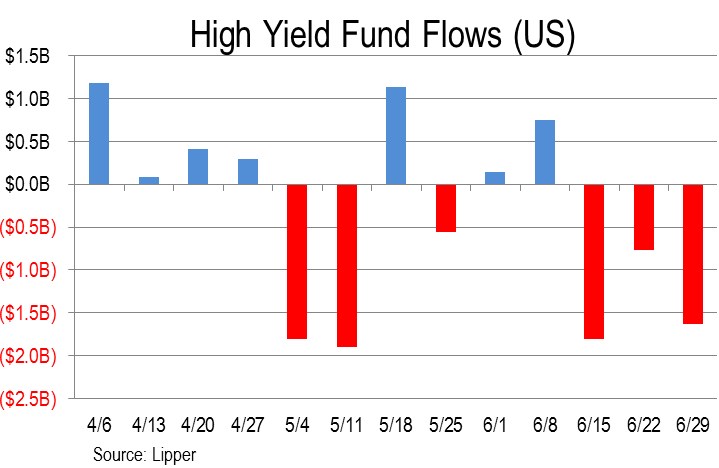 The influence of ETFs was significantly diminished this past week, with mutual fund outflows of $1.9 billion—the largest in 28 weeks—dented by inflows of $267 million to the ETF segment. In contrast, last week the ETFs were 20% of the outflow, and two weeks ago the ETFs were 87% of the outflow.
Whatever that might say about fast money, hedging strategies, and other market-timing efforts, this week's fresh net outflow drags the trailing four-week average deeper into the red, at negative $862 million per week, from negative $419 million last week and from negative $368 million two weeks ago. The current observation is the most deeply negative reading in 21 weeks.
The year-to-date total infusion contracts a bit to $3.2 billion, with 17% ETF-related. Last year at this point, after 25 weeks, the $1.2 billion net inflow was based $1.9 billion of mutual fund inflows hit by $706 million of ETF redemption.
The change due to market conditions this past week was negative $680 million, for barely 0.4% against total assets of $188.4 billion at the end of the observation period. The ETFs account for about 20% of the total, at $37.6 billion. — Matt Fuller
Follow Matthew on Twitter @mfuller2009 for leveraged debt deal-flow, fund-flow, trading news, and more.
This story first appeared on www.lcdcomps.com, an offering of S&P Global Market Intelligence. LCD's subscription site offers complete news, analysis and data covering the global leveraged loan and high yield bond markets. You can learn more about LCD here.