The fortunes of renewable energy and fossil-fuel investors have diverged dramatically in the past year, with shares in wind and solar companies boosted by long-term growth forecasts, while oil and gas producers face deep skepticism that their newfound capital discipline will last.
During the past 12 months, an equally weighted index of North American renewable power producers has risen by 35.3%, compared to a 53.6% drop in the S&P Oil & Gas Exploration and Production Select Industry Index. The outperformance of renewable energy stocks continues a years-long trend.
Investor interest in "clean tech" is at its highest since before the 2008 financial crisis, driven by a "potent combination" of technological and political tailwinds, Pavel Molchanov, an equity analyst at Raymond James & Associates, wrote in an Oct. 1 research report.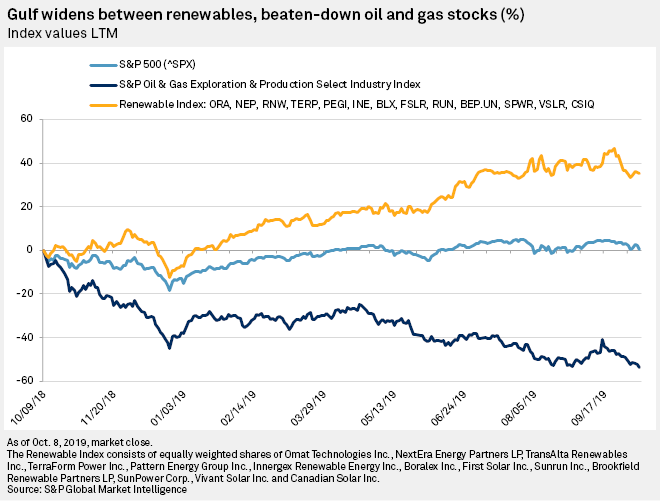 In the oil and gas market, meanwhile, producers with a history of living beyond their means have tried to assure investors of their commitment to cutting spending and debt and growing free cash flow. But there is a "widespread" belief that the cautious approach may be short-lived, Molchanov wrote in an email.
Gas producers are trying to adjust their financial strategies amid a U.S. gas glut that has weighed on prices and battered shares of Appalachian drillers. As long as crude prices stay above $50 per barrel and keep Permian oil drilling in business, gas prices and gas stocks could be spending the next four to five years in the cellar waiting for more LNG demand to build, according to Sanford C. Bernstein analyst Jean Ann Salisbury.
Potentially clouding the outlook further for E&P companies is the rising popularity of ESG investing and what Morningstar analysts say is a looming battle for market share in the power sector between natural gas and renewables.
"Renewable energy has policy momentum, and its costs are now competitive with natural gas generation even at today's low gas prices and without tax subsidies," the Morningstar analysts said in an Oct. 9 report. "But gas generators offer grid reliability, a key competitive advantage."
Cheaper and better batteries could erode that advantage. NextEra Energy Inc. Chairman, President and CEO James Robo thinks that about 70% of U.S. electricity could come from renewables by midcentury, even without big advances in battery technology.
Natural gas plants generated approximately 35% of the country's electricity in 2018, according to the U.S. Energy Information Administration. About 8% came from wind and solar farms.
"I don't think you're going to see enormous growth in natural gas penetration over the next 15 to 20 years, but I think you're also not going to see it decline enormously, either," Robo said Oct. 2 at an investor conference.