A congressman intent on stopping a new accounting standard from going into effect has a new strategy: Press prudential regulators to conduct a study.
Rep. Blaine Luetkemeyer, R-Mo., has voiced his opposition to the current expected credit loss accounting standard for months, arguing that it will negatively impact the economy.
Luetkemeyer is the ranking member on the House Financial Services Committee's Consumer Protection and Financial Institutions Subcommittee and has argued that the Financial Accounting Standards Board, which developed CECL, did not fully consider its potential negative economic effects before greenlighting it.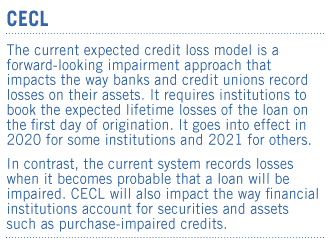 CECL aims to speed up the recognition of loan losses, requiring institutions to set aside reserves for lifetime expected losses on loans, available-for-sale debt securities and other amortized assets and recognize them at origination.
CECL goes into effect for many institutions in 2020, although the board, known as FASB, delayed implementation for small-cap firms for three years.
In an interview, Luetkemeyer said he is evaluating multiple options to get a comprehensive government-produced report on CECL.
"There's a couple avenues that we're exploring to see if there are other ways to get hearings or perhaps put pressure on various other regulatory bodies to back a study," Luetkemeyer said.
At two recent hearings, the Missouri Republican pushed two top financial regulators to ask the Financial Stability Oversight Council to order the Treasury Department's Office of Financial Research to conduct a study.
At the first hearing, Luetkemeyer asked Securities and Exchange Commission Chairman Jay Clayton, a member of the council, to ask for a study. Clayton declined to commit, but he pledged to consider it.
"I'm not going to commit to that specific course of action," Clayton told Luetkemeyer. "But what I will commit to do is to continue to discuss this with my fellow FSOC members, raising exactly the points you have raised."
The next day, the lawmaker asked Federal Reserve Governor Lael Brainard to take his request to Fed Chairman Jerome Powell. Brainard said she would bring it up with Powell, but since she is not a member of FSOC, she cannot request that the OFR conduct a study.
Luetkemeyer said in the interview that he would continue to put pressure on FSOC with letters, inquiries and calls, as well as a push for another hearing at his subcommittee.
"I've had other meetings with some of the other regulators, and I think there's an opportunity to get FSOC to request [a study], so we're going to continue to push for this," Luetkemeyer said.
In December 2018, Luetkemeyer hosted a CECL-focused hearing when he chaired the subcommittee and Republicans controlled the House of Representatives. He introduced a bill that would have prohibited banking regulators from enforcing the standard, a measure he reintroduced in June.
More recently, the lawmaker introduced a bill that would force FASB to follow the same procedures as federal agencies when developing rules and policies.
The new measure would also require the board to consider the impact that accounting principles will have on the U.S. economy, market stability and availability of credit, which the board failed to do when developing CECL, Luetkemeyer said.
But the Financial Accounting Foundation, of which FASB is a part, pushed back in a statement, arguing that Luetkemeyer's bill "misunderstands accounting standards" because they are not regulations.
"They are (and have always been) set by the private sector under authority delegated by the Securities & Exchange Commission," the statement says. "FASB has neither rulemaking nor enforcement authority. Accounting standards have one purpose only: to neutrally reflect the economics of a transaction."
The statement also points to an independent study conducted by economists at the Fed that concluded CECL would "slightly dampen fluctuations in bank lending over the economic cycle." Moreover, the report concludes that if CECL had always been the accounting methodology for loan losses, "lending would have grown more slowly leading up to the financial crisis and more rapidly afterwards."
Yet another lawmaker critical of CECL, Rep. Brad Sherman, D-Calif., echoed similar statements he made before the Sept. 24 hearing with SEC Chairman Clayton, namely, that FASB's current structure is "unconstitutional."
Sherman said in an interview that any entity that can affect the economy as much as FASB can, should be reined in.
"This is a constitutional travesty, facilitating an accounting theory travesty," Sherman said. "It is disappointing that the SEC has facilitated the most extreme departure for constitutional principles imaginable."