Jun. 27 2018 — Despite the low monthly fee, WatchTV's choice of programming leaves the new AT&T Inc. video service room for a positive margin. In the bundled wireless ecosystem, it is likely to be more of a loss leader.
WatchTV is AT&T's fourth, and most affordable, live linear video product on the market. The new platform comes on the heels of the Time Warner Inc. acquisition and includes some of the programmer's heavy hitters, such as TBS and TNT. Discovery Inc., AMC Networks Inc. and the A&E networks are also in the mix, and a number of Viacom Inc. channels are set to be added after launch.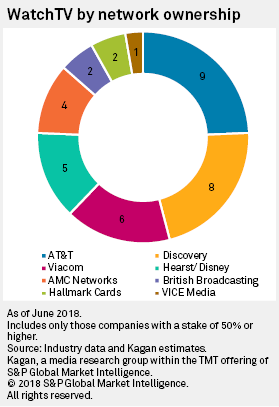 Kagan estimates that WatchTV's programming costs will be nearly 55% of the service's retail price on a per subscriber basis once the Viacom networks are rolled in.
WatchTV is in stark contrast to existing virtual multichannel services with more sports content, such as AT&T's own DIRECTV NOW, where programming costs gobble up far larger portions of the revenue at their entry-level packages.
It is less clear how WatchTV's programming costs will sit in the wireless bundles. AT&T is rolling out two new unlimited plans that will bake in the 30-plus channels, and those on the most-expensive unlimited offering will be able to stack on a premium network, like HBO, for free.
AT&T may already have healthy margins on its unlimited plans, and the company is likely willing to give up a little profit for the sake of sweetening its wireless offers.
Bidding War Over Fox Could Spur Titans To Take A Look At Paramount Pictures
Learn More
Disney Ups Its Bid For Fox Assets To $84.97 Billion
Learn More