A quick visit to the local mall demonstrates an odd paradox taking place across the U.S. – stores are shuttering up despite the fact that disposable income is on the rise. In fact, a recent government report that tracks consumer spending showed a modest increase of 0.2% last month, with incomes rising even faster at 0.4%. Despite these trends, bankruptcies continue to plague the retail landscape resulting in elevated credit risk across most of the sector.
As Figure 1 shows, the number of bankruptcies in 2017 year-to-date has already come close to the total in 2016, with 14 retailers filing compared to 18 last year.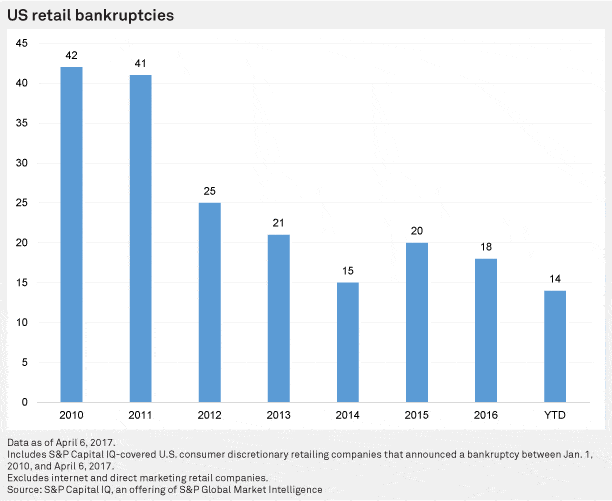 U.S. retailers have been hit the hardest, accounting for 10 of 2017's bankruptcies, as seen in Figure 2, with the most recent and notable being Payless Inc., which announced its filing on April 4, and was subsequently downgraded to 'D' by S&P Global Ratings.
More bankruptcies in store for 2017?
The shift to online shopping has left a lot of financial distress in its wake, especially for brick-and-mortar retailers such as Sears and Macy's, and the results from the first quarter do not suggest that a quick recovery is on the horizon.
According to "The 'retail collapse' and how to dig out of it," a recent article from S&P Global Market Intelligence, "Retail's troubles are manifold, and the diagnosis is different in each struggling company's case, but it is widely agreed that the U.S. is over-stored and that the solution for flat or declining in-store sales resides to a significant degree online, where the most sales growth is now taking place."
"The convenience of online shopping, and the downward pressure it has put on pricing, has radically altered consumer behavior. Most shoppers now browse for value online, and the younger cohort of the prized millennial demographic, some of whom may never have developed a penchant for long afternoons at the mall, clearly prefers that channel."
Who are the most vulnerable U.S. retail companies?
Using our Probability of Default (PD) Fundamentals model, a statistical model that calculates PDs over a one- to five-year horizon for public and private companies globally, S&P Global Market Intelligence identified the top 10 most vulnerable public U.S. retail companies, as seen in Figure 3, with one-year PDs ranging from 6.11% ('b-') to 23.84% (an implied credit score of 'ccc'), indicating significant to highly leveraged credit risk.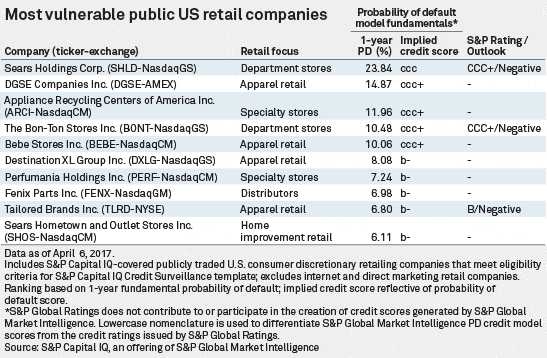 Ripples downstream

When big retailers fail, other sectors may experience ripple effects. For example, as real estate vacancies increase and rental income disappears, REITs (Real Estate Investment Trusts) can suffer and CRE (Commercial Real Estate) development becomes riskier. Supplier risk can escalate as well. In fact, Business Insider reported that a least half a dozen suppliers have significantly reduced product shipments to Sears over fears of bankruptcy and how it might affect their own bottom line.
Because of this potential chain reaction, it is important to look at credit risk from all angles. Credit Analytics models such as PD Fundamentals can provide clear views of credit risk to monitor potential deterioration of both rated and unrated retailers as well as companies in related sectors.