Profile: DAZN
Global sports-focused over-the-top subscription service DAZN from Perform Group Ltd. seeks to upset the market by offering consumers live and on-demand events. The service invests in rights to leagues or championships that extend over several months for a season rather than a short-term tournament such as the FIFA World Cup to minimize churn levels and engage users with the platform throughout the calendar year.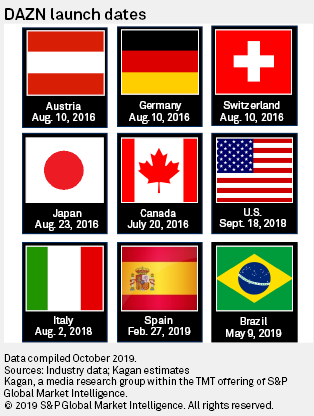 Premium sports rights is a key asset for any broadcaster or pay TV provider. Traditionally, it was only the incumbent multichannel operators that could afford them, but lately there have been numerous attempts in the online video space, mainly from Discovery Inc.'s Eurosport, Eleven Sports, The Walt Disney Co.'s ESPN and Amazon.com Inc. United Kingdom. Often, these disruptors rely on distribution agreements with local telcos to diversify revenue streams and survive in a competitive environment.
Having a strong rights portfolio is critical for a stand-alone sports streaming service to establish itself in a new market. DAZN has always followed an opportunistic approach, employing a number of strategies including sublicensing agreements and other distribution deals as well as avoiding direct competition with the major telcos.