Feb. 18 2019 — In 2018, IPTV overtook direct-to-home as the second-largest multichannel platform in the world by subscribers after cable, accounting for 23.4% of the total market of 1.07 billion. With year-over-year growth of 14.3%, IPTV was the fastest-growing platform in 2018, driven by large subscriber additions in Asia-Pacific and, to a lesser extent, Western Europe. Over the next five years, IPTV is projected to post a 7% subscriber CAGR, second only to pay digital terrestrial television with a projected 8.5% five-year CAGR.
While cable remains the dominant multichannel platform globally, cable subs are modeled to continue declining over the next five years at a 0.3% CAGR, largely due to migration to IPTV in Asia and Western Europe.
China, India and the USA remain, by far, the largest multichannel markets, collectively claiming 57% of the global subscriber total in 2018. China and India alone are expected to account for half of the global market by 2023.
The global multichannel economy generated $230.06 billion in video service revenues in 2018, a 1.1% year-over-year increase, while multichannel penetration breached 60% by year-end. North America remains the most lucrative multichannel region accounting for over half of global revenue.
The effects of cord cutting are only observed in North America where multichannel subscribers, revenue and penetration are projected to decline in the foreseeable future, as well as in a handful of oversaturated markets, including Singapore and Hong Kong. In Europe, the biggest threat to traditional multichannel services is posed by free-to-air DTT and lies in the integration of over-the-top and catch-up TV services into DTT platforms as well as the ability to stream channel packages via hybrid boxes.
Global multichannel market overview
Kagan estimates that in 2018, the global multichannel market grew by 3.1% year over year, down from 3.9% in 2017, as rapid subscriber growth is slowing down in China. After the global multichannel market breached 1 billion subscribers in 2017, 32.3 million new homes adopted pay TV services in 2018 to reach 1.07 billion multichannel homes by year-end. We project that the global multichannel household growth will continue to decelerate in the foreseeable future with most markets across Europe, North America and advanced multichannel markets of the Asia-Pacific reaching saturation. The global market is forecast to post 2.7% year-over-year gains in 2019 with a 2.4% 2018-2023 CAGR.
Global multichannel video subscriptions are forecast to increase to 1.21 billion by 2023, adding 136.3 million net subs over a five-year period, while multichannel penetration is forecast to increase to 61.2% in the next five years, up from 60.1% in 2018.
Global multichannel subscribers by platform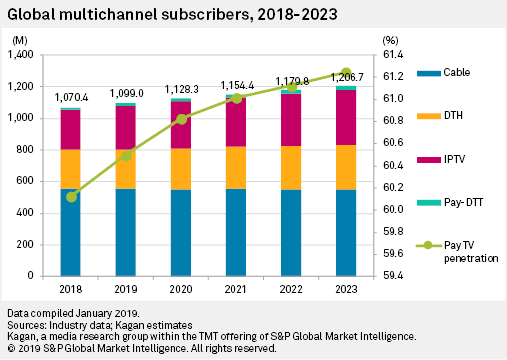 While cable TV is expected to remain the largest platform on a global scale in the next five years, its share is forecast to decline from 52.3% in 2018 to 45.8% by 2023, largely due to analog subscriber churn and market share gains by IPTV operators. IPTV, the fastest-growing of the three major pay TV platforms, is modeled to capture a 23.2% market share by 2023.
Global multichannel revenue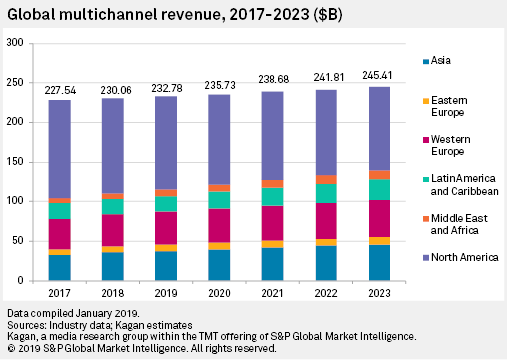 The global multichannel economy generated $230.06 billion in video service revenues in 2018, a 1.1% year-over-year increase, with more than half earned by North American pay TV providers. The region's pay TV operators, however, lost 2.4% revenue year over year due to steep subscriber declines, despite growing average revenues per user. Western Europe remained the second-largest multichannel economy, accounting for only 17.7% of the global total in 2018. Latin American multichannel revenues expressed in U.S. dollars declined in 2018, mainly due to exchange rate fluctuations in most of the region's markets.
Given its comparatively high video service ARPUs, North America is expected to remain the most lucrative multichannel economy in the coming five years, despite being only the third-largest by subscribers and experiencing subscriber declines. The region is modeled to account for 43.2% of global video service revenues by 2023. Despite having the lowest multichannel ARPUs among the six regions analyzed, Asia is projected to overtake Western Europe as the second-largest multichannel economy by 2023, due to the sheer size of its market accounting for 18.8% of global multichannel revenue.
IPTV remains the fastest-growing multichannel platform, except in North America and the Middle East and Africa, where increasing pay DTT rollouts are driving revenue growth. Pay DTT is the only platform in Western Europe that is losing revenues, largely due to falling ARPUs. Although cable experienced overall subscriber declines in Western Europe and Asia in 2018, revenues increased on the back of digital subscriber and ARPU gains.
Global Multichannel Market Up 3.1% in 2018 as IPTV Subscriptions Overtook Direct-To-Home Platform
Learn more
Global multichannel market up 3.1% in 2018 as IPTV subscriptions overtake DTH
Learn more