Jul. 05 2018 — The 2018 FIFA Men's World Cup has struggled with U.S. viewership due in part to the timing of matches aired from Russia. But the June 14 announcement that the quadrennial cup competition will head back to North America in 2026 was likely music to the ears of TV rights owners Telemundo and 21st Century Fox Inc.'s FOX Sports. The choice of a three-country combination — the U.S., Canada, and Mexico — does not come cheap for the U.S. networks, however. The two will pay a combined $887 million for the 2026 games, including an additional approximately $300 million bonus paid to FIFA because North America was chosen as the location.
The upside is that the World Cup will take place in more ideal airing times, offering stronger ad pricing and bigger audiences. In addition, the number of teams in 2026 will increase to 48, compared to 32 today.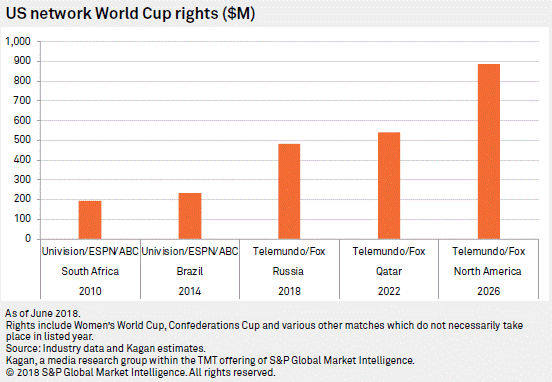 The current tournament is the first in which Telemundo and FOX Sports took away rights from Univision Communications Inc. and Walt Disney Co.'s ESPN/ABC. The announcement may make up for some of the troubles surrounding this year's competition after the U.S. Men's National Team failed to make the cut. In addition, the tournament is in Russia, meaning many of the games have aired during lower viewing times in the U.S.
Despite the challenges, Telemundo and FOX Sports could deliver higher ad revenues compared to 2014, according to some estimates. Telemundo recently announced that it had reached its goal of $225 million in ad sales for this year's tournament. The networks may be benefiting from unused funds tied to the NBA Finals, which ended after just four games