Mar. 21 2018 — Insurance technology companies took center stage in the month of February, attracting the most investor dollars of the various financial technology subsectors that S&P Global Market Intelligence tracks. Overall funding in the financial technology sector declined about 10% from the prior month, however, based on the disclosed value of deals involving private U.S.-based companies that closed in each period.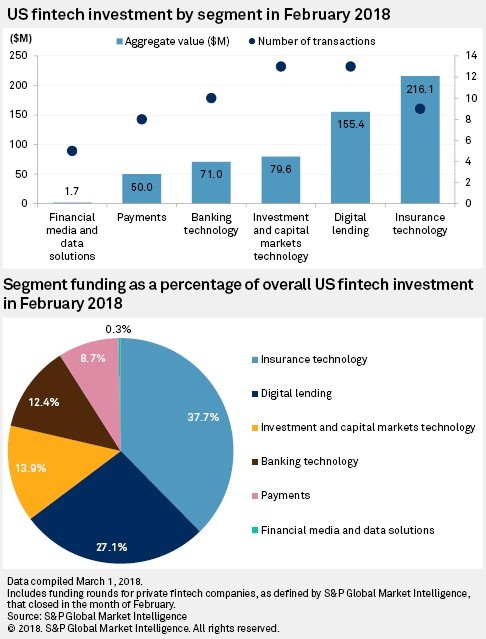 Two health-insurance-focused startups were key drivers of the $216 million that flowed into insurtech. These were CollectiveHealth and Bind Benefits, which closed on $110 million and $60 million funding rounds, respectively. Both provide tech solutions to companies that self-insure (i.e. provide health coverage for their employees with their own money rather than using an outside insurance company.)
This was a departure from last month, when investment and capital markets technology was the most well-funded, bolstered by capital raises from several robo-advisors, including Wealthfront and Acorns. Meanwhile, insurance technology companies only closed on $71.3 million worth of transactions during the month.
Already a client? Access more data and insights from the full report here.