Sep. 14 2018 — Data from Kagan's U.S. online consumer surveys shows that 23% of respondents exclusively use one service, while almost half (49%) use more than one SVOD service. The service which is most commonly used exclusively is Netflix, while users of smaller services almost always use at least one other service.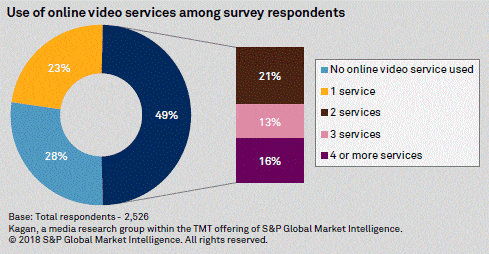 Netflix is so universally used that it is both the most exclusively used service and the service most often used in conjunction with another service. In terms of demographics, Netflix users are very similar to the general population compared to smaller services that tend to have a younger user base.
With the exception of Netflix, most respondents indicated they have never subscribed to the top four services, including Netflix, Hulu, Amazon Prime Video and HBO NOW. Among those who indicated they dropped one of the top services, price was a principal reason for dropping, although content-specific reasons differed by service. Content is one of the most defining characteristics of online streaming services, which can be seen in the content viewed and most enjoyed on each service. In large part users of Netflix, Hulu and Amazon Prime Video most enjoy the content each service is known for.
A broader overview of this data was presented in a recent webcast.
Data presented in this blog is from U.S. Consumer Insights surveys conducted in September 2017 and March 2018. The online survey included 2,526 (2017) and 2,523 (2018) U.S. internet adults matched by age and gender to the U.S. Census. The survey results have a margin of error of +/-1.9 ppts at the 95% confidence level.