Jun. 15 2018 — Potentially boosting its international portfolio and massively increasing the company's film and television library, Comcast Corp. on June 13 announced a $35-per-share cash bid for most of 21st Century Fox Inc., a 25% premium to the $28 per share offered by Walt Disney Co.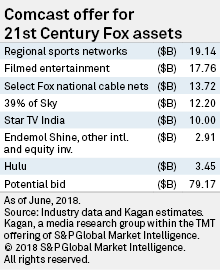 Kagan estimates that the Comcast offer values the Fox filmed entertainment division at $17.76 billion, nearly $4 billion more than the value placed on it in Disney's original bid. The transaction places the most value on the regional sports networks at more than $19 billion, or 24.2% of the total offer, with filmed entertainment coming in a close second at 22.4%.
While 21st Century Fox has close to a 16% share of the box office year-to-date, it has done better in prior years when big franchise films were in release. Comcast's NBCUniversal Media LLC would benefit greatly by adding the Fox studio to its portfolio. NBCU currently has less than a 10% share of the box office versus Disney's more than one-third share for its films.
The question is, who is next? Long-struggling Viacom Inc. missed a chance to sell a 49% stake in Paramount Pictures Corp. to Dalian Wanda Group Corp. Ltd. in 2016 at a valuation of $8 billion-$10 billion, an impressive number given the fact that the filmed entertainment division had negative operating income before depreciation and amortization of $328 million in fiscal 2017 and negative $407 million in fiscal 2016.
With the much-publicized showdown between Shari Redstone and Les Moonves over the future of Viacom, a sale of Paramount Pictures, all of Viacom or even a piecemeal sale of Viacom assets at high prices could help resolve this simmering feud.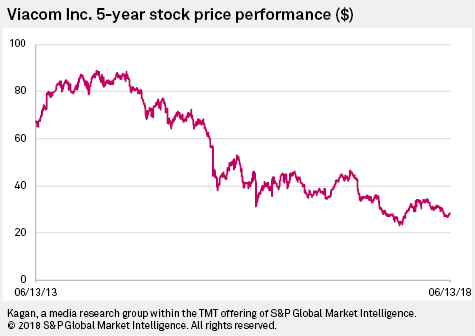 Economics of TV & Film is a regular feature from Kagan, a group within S&P Global Market Intelligence's TMT offering, providing exclusive research and commentary.