Radio market added $236.8 million with TV market bringing home $4.86 billion in first-quarter deal volume.
Monterey, Calif., May. 07 2019 — U.S. broadcast station mergers and acquisitions volume reached $5.1 billion in the first quarter of 2019 as tracked by Kagan, a media research group within S&P Global Market Intelligence. This is the largest quarterly deal volume since second quarter 2007.
The quarter's top TV deals included New York-based equity firm Apollo Global Management LLC taking a majority stake in Cox Media Group Inc., which included 14 full-power and nine low-power TV stations together with four radio stations and one newspaper at $3.1 billion. Apollo took a similar majority stake in Northwest Broadcasting Inc., paying $384 million.
Nexstar announced it had reached two agreements, one with E.W. Scripps Co. and one with TEGNA Inc., to sell 19 stations in 15 markets for a total of $1.32 billion. The divestitures were necessary for the FCC's approval of Nexstar's merger with Tribune Media Co., announced in December 2018.
In a $45 million deal in February, Gray Television Inc. extended its market into two new markets and two new states, buying two CBS affiliates, WWNY-TV in the New York market and KEYC-TV in the Minnesota market from United Communications Corp.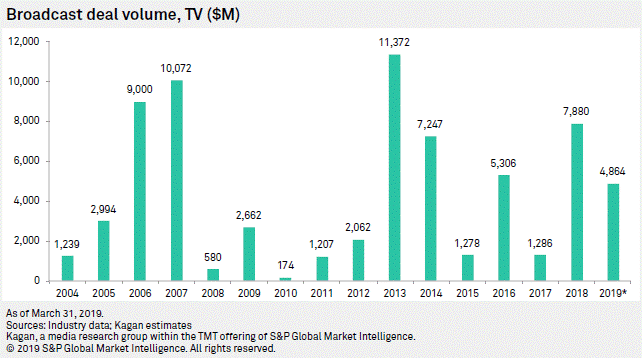 The radio deal market only contributed $236.8 million deal volume, and more than half of it is in one way or another connected to Cumulus Media Inc. In the top radio deal of the year, Cumulus sold six radio stations to Educational Media Foundation Inc. (EMF) for $103 million. This is the highest price to date that EMF has appeared to pay for a group of stations.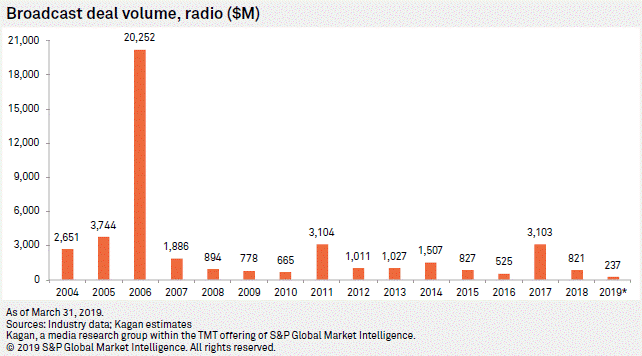 Cumulus also swapped one station in the New York market and two stations in the Massachusetts market for three Entercom Communications Corp. stations in Indianapolis. At an average 6.7x multiple, Kagan estimates each side of the swap being worth $9.50 million.
– END –
About S&P Global Market Intelligence
At S&P Global Market Intelligence, we know that not all information is important—some of it is vital. We integrate financial and industry data, research and news into tools that help clients track performance, generate alpha, identify investment ideas, understand competitive and industry dynamics, perform valuations and assess credit risk. Investment professionals, government agencies, corporations and universities globally can gain the intelligence essential to making business and financial decisions with conviction.
S&P Global Market Intelligence is a division of S&P Global (NYSE: SPGI). For more information, visit www.spglobal.com.
Subscribe to Press Releases
Submitting your email above means you agree to the Terms and have read and understood the Privacy Policy