Hong Kong, Jul. 18 2018 — Chinese cable operators showed significantly more fiber deployments than their global counterparts, a development attributable to expanding bandwidth usage in the region. 20% of Chinese cable operators will pass at least 41% of their residential subscribers with fiber-to-the-home (FTTH) by 2019, compared to just 4% of China's global counterparts, according to results from a survey launched by Kagan, a media research group within S&P Global Market Intelligence.
"Cable operators in China are becoming more aggressive in rolling out FTTH deployments in order to keep pace with the massive FTTH rollouts of other Chinese telecom operators" said Jeff Heynen, Research Director for Kagan at S&P Global Market Intelligence.
Traditionally dependent on Hybrid Fiber-Coax (HFC) and Data over Cable Service Interface Specification (DOCSIS) as their primary broadband technologies, cable operators are trying to redesign network architectures and push forward for more efficient access networks. Kagan analysis indicates cable operators, particularly in North America, are transitioning toward distributed access architectures, or DAAs, and are expected to ramp in 2019 and beyond.
This research is derived from Kagan's new proprietary B2B survey program providing in-depth analysis on high-value emerging technologies, such as advanced video advertising, Internet of Things (IoT) and smart homes, virtual and augmented reality and 5G infrastructures and services.
The survey, which is the first of the group's latest research initiatives, is based on feedback received from 57 cable operators representing all major markets worldwide and 107 million broadband subscribers." Results from our survey show Chinese cable operators are still concerned about the capabilities of their outside plant, as their networks were originally designed to deliver analog and digital video services and need significant upgrades to support competitive broadband speeds," Heynen added.
C-DOCSIS, part of the overarching DOCSIS 3.1 specification, has emerged as the leading technology for Chinese cable operators as they expand their DOCSIS 3.1 availability alongside their growing FTTH deployments.
Most significant barriers to DOCSIS 3.1 rollout for global cable operators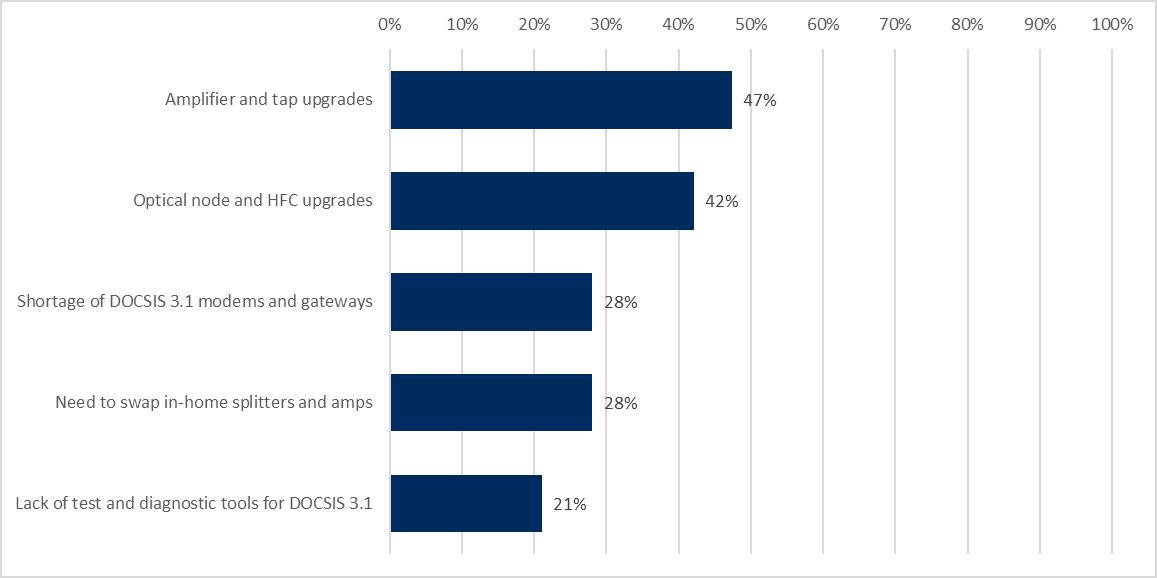 However, 80% of Chinese respondents consider upgrading optical nodes and HFC plants as the most significant technology barriers to rolling out DOCSIS 3.1. Amplifier and tap upgrades, as well as a shortage of DOCSIS 3.1 modems and gateways were ranked as the next significant barriers by 60% of Chinese respondents, respectively.
Additional research on cable operators from Jeff Heynen:
– END –

About S&P Global Market Intelligence
At S&P Global Market Intelligence, we know that not all information is important—some of it is vital. We integrate financial and industry data, research and news into tools that help track performance, generate alpha, identify investment ideas, understand competitive and industry dynamics, perform valuations and assess credit risk. Investment professionals, government agencies, corporations and universities globally can gain the intelligence essential to making business and financial decisions with conviction.
S&P Global Market Intelligence is a division of S&P Global (NYSE: SPGI). For more information, visit www.spglobal.com.
Submitting your email above means you agree to the Terms and have read and understood the Privacy Policy