webinars Market Intelligence /marketintelligence/en/events/webinars/webinar-debt-securities-under-cecl-corporate-and-municipal-bonds events-detail__hero js-detail-hero
Webinar
Webinar: Debt Securities Under CECL - Corporate And Municipal Bonds
Tuesday, April 09, 2019 I 11:00 am - 12:00 pm EST
In less than one hour, walk away with actionable insights to help your institution's CECL implementation around corporate and municipal bonds.
Topics include:
Understanding the data needs
Leveraging credit ratings to estimate losses
Handling unrated entities
Adjusting losses for different Municipals sub-types and Corporate industries
Take your CECL implementation to the next level with key insights from S&P Global Market Intelligence and RiskSpan.
STAY INFORMED. STAY AHEAD. REGISTER TODAY!
Alex, please download the S&P Networking App
The Platts Events mobile app puts conference navigation and networking at your fingertips. Available one week before the event, the mobile app gives delegates :
Advance access to the attendee list
Live agenda updates and networking activities
Immediate access to speaker presentations
Essesntial, real-time event details and notifications
Upload a profile photo, set up a meeting, amd more
* Platts attempts to secure as many speaker presentations as possible, however some speakers choose not to share their materials. Therefore some presentations may not become available. Additionally speaker presentations for this event are only available for download from the networking mobile app and web link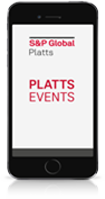 Reserve your spot for this webinar
Register Now
This Event Has Ended.