webinar-replays Market Intelligence /marketintelligence/en/events/webinar-replays/webinar-replay-how-will-community-banks-fare-amid-a-challenging-interest-rate-environment events-detail__hero js-detail-hero
Webinar Replays
Webinar Replay: How Will Community Banks Fare Amid A Challenging Interest Rate Environment
Stay on top of the latest industry updates with S&P Global Market Intelligence and an in-depth look at our exclusive U.S. community bank projections. Plus, learn about the combined powers of S&P Global Market Intelligence and RateWatch. We now offer the industry a single source for interest rate data and analytics. Discover how the combination of two market-leading data sets can be a powerful tool for you and your business.
Replay Now
Speakers
Alex, please download the S&P Networking App
The Platts Events mobile app puts conference navigation and networking at your fingertips. Available one week before the event, the mobile app gives delegates :
Advance access to the attendee list
Live agenda updates and networking activities
Immediate access to speaker presentations
Essesntial, real-time event details and notifications
Upload a profile photo, set up a meeting, amd more
* Platts attempts to secure as many speaker presentations as possible, however some speakers choose not to share their materials. Therefore some presentations may not become available. Additionally speaker presentations for this event are only available for download from the networking mobile app and web link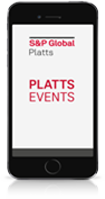 Watch the webinar replay at your convenience.
View Now
This Event Has Ended.