webinar-replays Market Intelligence /marketintelligence/en/events/webinar-replays/webinar-replay-carbon-earnings-at-risk-and-its-alignment-with-tcfd events-detail__hero js-detail-hero esgSubNav
Webinar Replays
Webinar Replay: Carbon Earnings At Risk And Its Alignment With TCFD
Event Summary
With 195 nations committed to curbing global warming by substantially reducing annual greenhouse gas emissions, a course has been set to change the shape of the current economy. Policy interventions can build economic incentives to move away from high-carbon activities by placing financial responsibility for the social cost of climate change onto the polluter.
With TCFD-based reporting becoming mandatory for PRI signatories in 2020, organizations are encouraged to conduct scenario analysis to understand the resilience of their bottom lines against a 'new normal' backdrop, where emitting carbon incurs increasing financial penalties
Join this complimentary webinar with expert panelists as they discuss:


• What does TCFD recommend for integration of scenario analysis and forward looking climate related financial risk disclosure?
• Trucost solutions to help quantify future carbon price for companies under a range of policy scenarios?
• Key drivers of carbon price risk for 500 of the world's largest companies?
• How to incorporate scenario analysis & carbon pricing in portfolio analysis and reporting?
Replay Now
Alex, please download the S&P Networking App
The Platts Events mobile app puts conference navigation and networking at your fingertips. Available one week before the event, the mobile app gives delegates :
Advance access to the attendee list
Live agenda updates and networking activities
Immediate access to speaker presentations
Essesntial, real-time event details and notifications
Upload a profile photo, set up a meeting, amd more
* Platts attempts to secure as many speaker presentations as possible, however some speakers choose not to share their materials. Therefore some presentations may not become available. Additionally speaker presentations for this event are only available for download from the networking mobile app and web link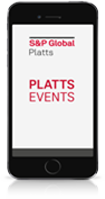 Watch the webinar replay at your convenience.
View Now
This Event Has Ended.