in-person Market Intelligence /marketintelligence/en/events/in-person/2018-financial-institutions-conference-paris events-detail__hero js-detail-hero
Hosted Events
2018 Financial Institutions Conference: Paris
Thursday November 15, 2018
The Royal Monceau Raffles Paris

The conference will be mainly in French but some sessions may be in English.
The banking landscape has changed in recent years. But a lot more can happen in five or ten years than we can imagine. The evolution of the banking industry and the risks facing European banks - prospects for consolidation of the sector, the normalization of monetary policy, the rapid growth of the Fintech industry to name a few - are important considerations for the stability, resilience and solvency of the European banking sector in the medium or long term.
The conference will address the main challenges currently facing European banks and the resulting opportunities, through several panels involving industry experts to share their feedback. The conference will also provide opportunities for meetings and discussions with S&P Global analysts.
OTHER LOCATIONS:
We will also be hosting the 2018 Financial Institutions Conference in Frankfurt on Wednesday 17th October and London on Tuesday 13th November.
Note: This event is being hosted under Chatham House Rule: As such, attendees are reminded that they are free to use the information received during the event, but neither the identity nor the affiliation of the speaker(s), nor that of any other participant, may be revealed. Please pay special attention to the usage of social media platforms and information that may be inadvertently disclosed, which may undermine the application of the Rule.
Register now
Alex, please download the S&P Networking App
The Platts Events mobile app puts conference navigation and networking at your fingertips. Available one week before the event, the mobile app gives delegates :
Advance access to the attendee list
Live agenda updates and networking activities
Immediate access to speaker presentations
Essesntial, real-time event details and notifications
Upload a profile photo, set up a meeting, amd more
* Platts attempts to secure as many speaker presentations as possible, however some speakers choose not to share their materials. Therefore some presentations may not become available. Additionally speaker presentations for this event are only available for download from the networking mobile app and web link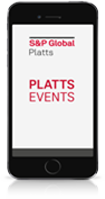 Don't miss out. Reserve your spot now
Register Here
This Event Has Ended.