Larry Fink's call for near-term corporate emissions targets is a subtle but significant escalation of BlackRock using its influence to push for action on climate.
Larry Fink, influential financier and head of the investment firm BlackRock Inc., has just raised the corporate stakes on climate change — and chief executives across a wide swath of sectors are likely to pay heed.
BlackRock is the world's largest asset manager with a staggering $10 trillion in assets under management. As a major shareholder in companies ranging from Apple Inc. and Microsoft Corp. to Proctor & Gamble Co. and The Walt Disney Co., BlackRock's macroeconomic views command attention in boardrooms across the world.
In his annual letter to the CEOs of companies BlackRock invests in, published on Jan. 17, Fink asked companies to do more than set a long-term net zero target.
"We are asking companies to set short-, medium-, and long-term targets for greenhouse gas reductions," Fink wrote. "These targets, and the quality of plans to meet them, are critical to the long-term economic interests of your shareholders."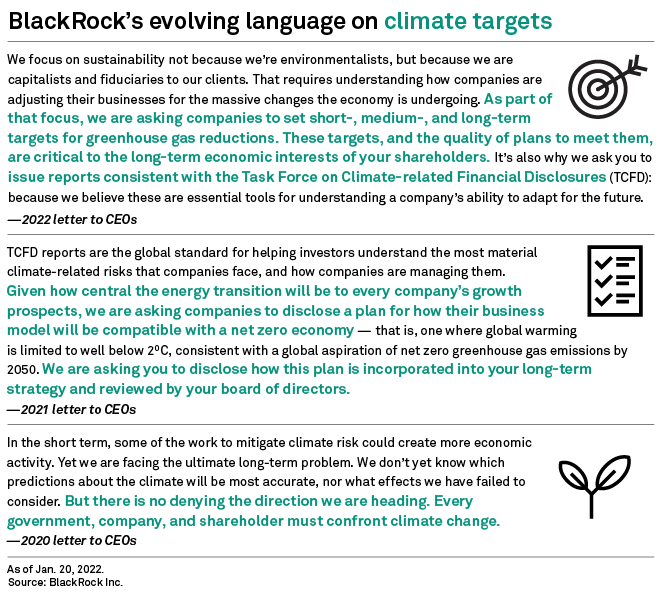 BlackRock's evolving approach to climate
BlackRock has long been a prominent player in the environmental, social and governance arena. In January 2020, for example, the New York-based money manager signed up to Climate Action 100+, an investor-led initiative that's pushing companies to move toward net zero emissions by 2050 or sooner.
In March 2021, BlackRock also committed to the goal of net zero greenhouse gas emissions by 2050 or earlier. And in May that year, the asset manager caused a stir when it voted to replace three directors at Exxon Mobil Corp. because it believed the oil company wasn't moving quickly enough to incorporate clean energy sources.
In that context, Fink's recent call for shorter-term corporate targets represents a subtle but significant escalation.
In Fink's 2020 missive to CEOs, the language was relatively mild. "Every government, country and shareholder must confront climate change," wrote Fink, who is CEO and chairman of BlackRock. He dialed up the urgency a notch in 2021 by asking CEOs to disclose how their companies' net zero plans were "incorporated into your long-term plans and reviewed by your board of directors."
In his 2022 letter, Fink went further still: He wants companies to set more immediate emissions reduction targets, and to also report their progress in line with a framework created by the Task Force on Climate-related Financial Disclosures, or TCFD.
"Stakeholder capitalism is all about delivering long-term, durable returns for shareholders," he wrote. "And transparency around your company's planning for a net zero world is an important element of that."
Critics respond
Not everyone is a fan of the BlackRock approach. At a time when financial firms are coming under increased pressure to divest from fossil fuel industries, Fink's oft-stated view that divestment is not an effective tool against climate change can be contentious.
"Fink is insisting on continuing to prop up dirty fuels like fracked gas and peddling the outdated and dangerous view that gas has a place in the energy transition, despite the scientific consensus that we need to stop expanding fossil fuels immediately," Ben Cushing, a campaign manager at the environmental group Sierra Club, said in a statement issued Jan. 18.
And the very day Fink published his letter, West Virginia cutting ties with the asset manager over BlackRock's investments in Chinese companies and its 2021 decision to push clients toward net zero emission goals that would harm the coal, oil and natural gas industries.
But Fink believes the worldwide transition from fossil fuels to renewables is indisputable.
"Few things will impact capital allocation decisions – and thereby the long-term value of your company – more than how effectively you navigate the global energy transition in the years ahead," Fink wrote to his fellow chief executives.
A new paradigm for employees
While Fink called forcefully for companies to improve their diversity, equity and inclusion practices in his 2021 letter — "A company that does not seek to benefit from the full spectrum of human talent is weaker for it" — his latest focused on how the COVID-19 pandemic has dramatically altered the relationship between companies, employees and broader society.
"As companies rebuild themselves coming out of the pandemic, CEOs face a profoundly different paradigm than we are used to," Fink wrote. "Companies expected workers to come to the office five days a week. Mental health was rarely discussed in the workplace. And wages for those on low and middle incomes barely grew. That world is gone."
What should take its place? Fink says a corporate environment that isn't just about day-to-day work, but also encompasses themes such as racial equity, childcare, and mental health.
"Companies that deliver are reaping the rewards," Fink wrote. "Our research shows that companies who forged strong bonds with their employees have seen lower levels of turnover and higher returns through the pandemic. Companies not adjusting to this new reality and responding to their workers do so at their own peril."