President Xi Jinping has launched the China International Import Expo with a speech that reiterates the broad strokes of China's international trade policy, Xinhua reports. That includes a focus on increasing China's imports – the basis of the show – to "increase of residents' income and consumption capacity" by cutting tariffs, effectively a reflationary tax policy.
China's influence in the global export economy is close to that of the United States. Panjiva analysis of official data shows Chinese imports in the 12 months to Sept. 30 reached $2.13 trillion. By contrast Panjiva data shows U.S. imports were $2.50 billion in the same period. Over the past three years Chinese imports have climbed 7.1% annually vs. America's 3.0%.
At that rate of differential growth China will surpass the U.S. as an importer in just five years.
While reducing import tariffs may help China's import growth, President Xi has indicated the country will import around $30 trillion of goods in the next 15 years according to South China Morning Post – a rate below that seen in the past 12 months.
China Catching America as the World's Biggest Customer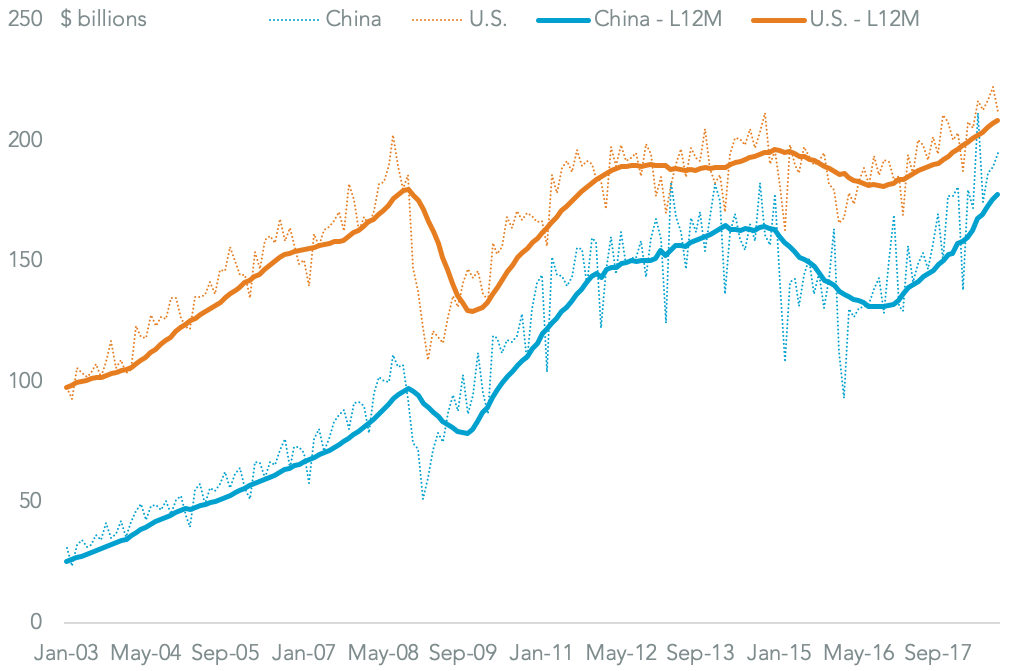 Chart compares U.S. imports to China's imports on a 12 month (solid) and monthly (dotted) basis. Calculations include China General Customs Administration data.
Source: Panjiva
There are two potential hurdles to that import growth. First is the ongoing trade war with the U.S., which represented 19.1% of China's imports in the first nine months of 2018. Second is that $66.1 billion out of the $194.2 billion in import growth year-to-date (34.0% despite a slump in imports from Saudi Arabia) vs. a year earlier was down to imports of oil and natural gas – a reversal in oil prices could cut the dollar value of imports.
Europe Nearly as Important a Customer for China as the U.S.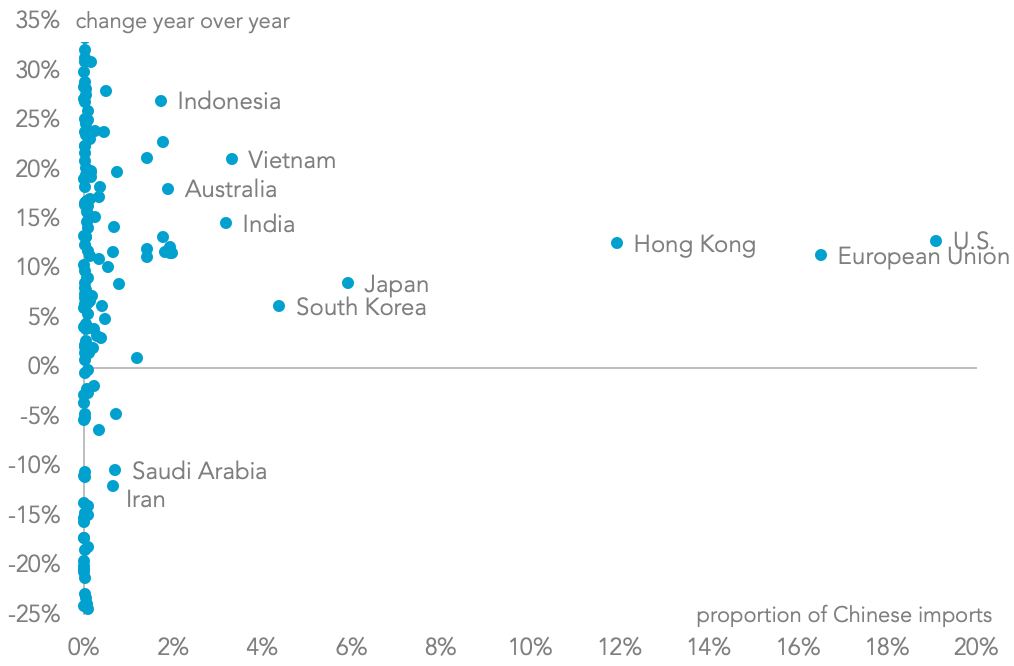 Chart segments Chinese imports in the nine months to Sept. 30 by origin. Calculations include China General Customs Administration data.
Source: Panjiva
As outlined in Panjiva research of Sept. 20 there has been a series of tariff reductions this year already including an initial round of reductions on 1,449 consumer products worth $64.3 billion (annual imports in 2017) and reductions of duties on 1,585 lines of capital goods worth $130.3 billion from Nov. 1.
Panjiva analysis shows the largest products in the latest round by value include gaseous hydrocarbons ($16.3 billion) which will help the plastics industry. The value of the tariff reduction is just $3.3 billion compared to $5.1 billion. The largest beneficiaries in dollar terms are butane petrochemicals ($418 million) and capital goods including low power circuit breakers ($301 million) and traffic signals ($186 million).
Notably the tariff reductions also affect 19.4% of the products where duties on U.S. exports were recently increased. That will exacerbate the competitive disadvantage for American suppliers – the inorganic chemicals sector did particularly well with 82% of tariffs reduced.
Butane Tariffs Sliced, Circuit Breakers' Broken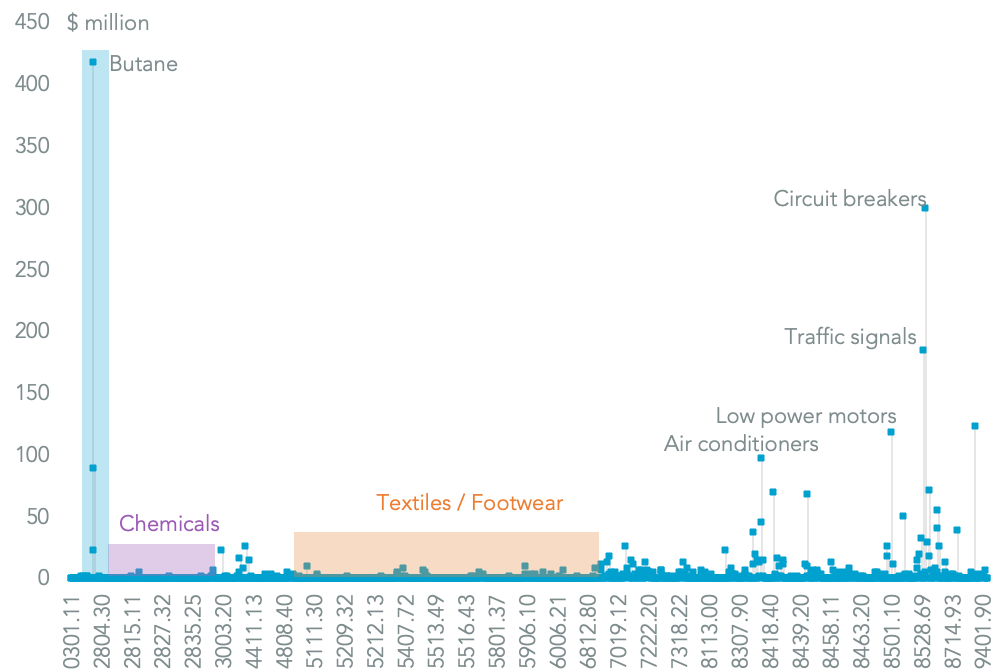 Chart segments value of tariffs cut by Chinese government from November 1 by product (HS-6 aggregated from HS-8 groups). Data based on imports in 12 months to February 28 multiplied by tariff rate reduction.
Source: Panjiva