May. 13 2019 — The current U.S. economic expansion is set to become the longest in U.S. history. At the same time, the guessing game around when it will reverse its course has taken center stage. With the debate around the inevitable end of the cycle as a backdrop, S&P Global Ratings undertook a hypothetical stress test to estimate the impact of a potential market downturn on U.S. life insurers. Our analysis indicates that, on an aggregate level, our rated U.S. life insurers could see a net impact of about $20 billion or about 5% of total adjusted capital (TAC) from asset stress in an upcoming downturn.
This level of impact will bend but not break most well-capitalized insurers. Currently, our capital analysis indicates that rated U.S. life insurers have about a 10% capital redundancy, in aggregate, at the 'AA' level. Comparing the capital redundancy to the 5% stressed capital impact, we expect a decline--not a demise--of insurers' financial strength (see chart 1).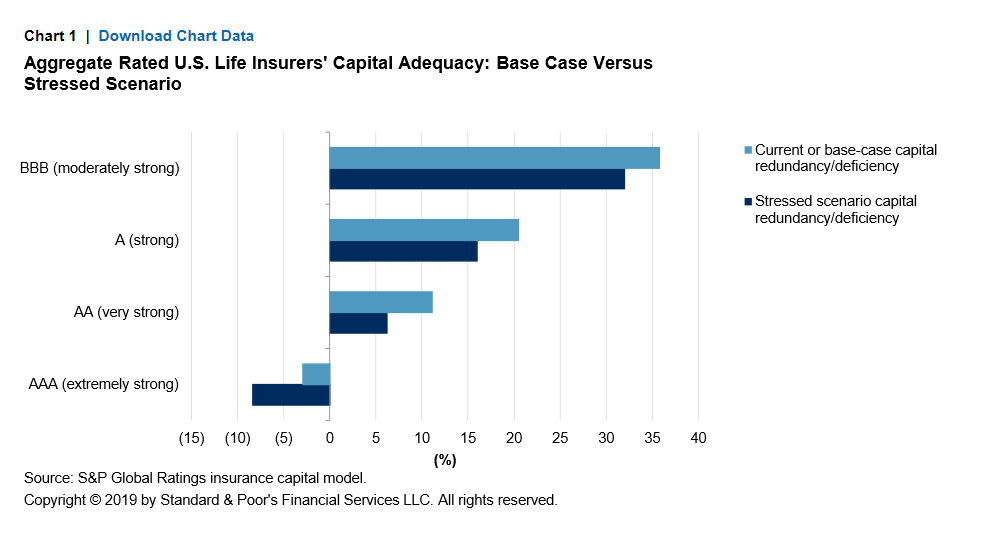 Of course, not all insurers have the same capital buffers or investment strategies. The impact of this stress will vary by individual insurer's capital buffers and investment profiles. Our stress-test results indicate a heavier effect on insurers privately owned by alternative investors (private-alt owned), and a milder impact on extremely well-capitalized mutual life insurers (mutuals). The publicly traded insurers (publics) fell in the middle, with their management teams potentially having the most ability to offset capital declines by accessing the public debt or equity markets. Management teams have a variety of tools--including active investment management, retaining more capital, or even accessing public markets when possible--to shore up their treasuries. For the purposes of this stress testing, however, we have not assumed any management actions.
We view U.S. life insurers as better prepared for the next downturn than they were for the Great Recession (December 2007-June 2009). Back in 2008, we had revised our U.S. life insurance industry outlook to negative (see "Outlook on U.S. Life Insurance Sector Revised To Negative Amid Credit and Equity Market Turmoil," published Oct. 10, 2008). And in 2008-2009, we took more than 30 negative rating actions, driven mostly by the impact of credit impairments and reserve hits to equity market-sensitive liabilities.
In comparison, our hypothetical stress test results indicate minimal rating downgrades if insurers experience a similar level of asset impairments (as included in this stress test) during the next downturn. This is supported by the capital buffer that life insurers have built since the last recession.
Although our stress test focuses mostly on invested assets, we believe insurers have changed their liability profiles since the Great Recession. Most insurers have significantly reduced their equity-market exposure through increased hedging, re-pricing, and moderating guarantees on new products. Of course, this is not to say there couldn't be a liability impact from the next recession. For example, some market-sensitive legacy blocks still contain rich guarantees that would be exposed to a market downturn, and insurers with increased exposure to asset-management businesses would see lower fees from an equity-market decline. However, we believe the effects will be more moderate than in the last market downturn due to most insurers' active liability management, and capital buffers better suited to absorb the next stress event.