Latin America's largest economies, excluding Venezuela (Argentina, Brazil, Chile, Colombia, Mexico, and Peru or Latam-6) faced similar fates as a result of the Chinese-led commodity supercycle between 2006 and 2014 (see chart 1). These six countries account for 90% of Latin America's dollar GDP. Last year, commodity prices were 10% below the 2004-2016 average in real terms, adjusted for U.S. inflation. Inversely related to these prices was the price of the dollar relative to a basket of international currencies. In 2016, the dollar was 15% stronger than on average during the 13-year period. The commodity supercycle and its associated dollar depreciation cycle was an unprecedented boon for the region, but its favorable effects have all but dissipated.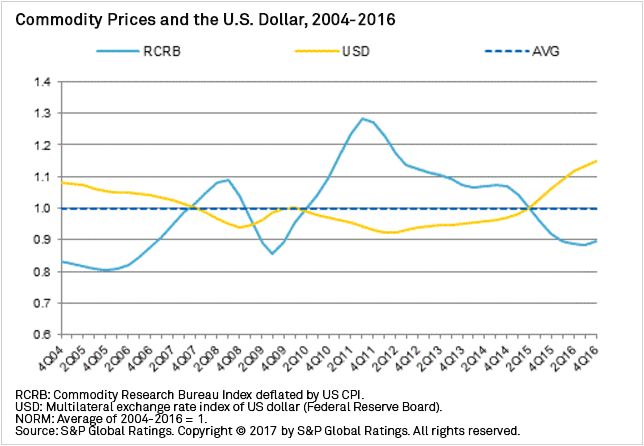 S&P Global Ratings economists conclude that in order for Latam-6 to grow at 5% per year without facing endogenous (i.e., self-imposed) external constraints:
Argentina and Brazil need to save a lot more than they're saving now, and they need to boost investment efficiency.
Colombia needs to reduce its structural dependency on foreign saving (current account deficit as share of GDP), for which it can either increase its already high, by regional standards, rate of national saving (investment minus foreign saving as share of GDP) or invest a little less and better.
Mexico must improve investment efficiency.
Chile and Peru need to raise business confidence in order to keep their declining investment ratios from falling further.
The economists also highlight two declining trends common to most, if not all, the Latam-6 that they must reverse in order to facilitate these adjustments. The first one affects the volume (rather than just the value) of net commodity exports and calls for increased investment in these or other tradable industries. The second affects public saving (overall fiscal balance net of capital expenditures) and calls for fiscal consolidation.