Last month, the Trump Administration outlined key focus points of its U.S. tax reform proposal that could have varying effects on S&P Global Ratings' universe of roughly 2,000 rated U.S. nonfinancial corporate issuers. At this point, there is considerable uncertainty as to what will actually emerge, especially around items that the Administration did not directly address, such as its updated stance on tariffs and/or a "border adjustment," the elimination of interest expense deductibility, and capital investment expensing.
In this article, we address some frequently asked questions about tax reform's potential impact on credit quality and the potential for rating changes on U.S. companies. As we gain greater clarity on reforms, we will continue to provide a combination of broad and more detailed guidance through credit comments, including identifying industries that would more likely experience positive or negative effects. Companies incorporated in foreign jurisdictions, with U.S. subsidiaries or affiliates, may also be indirectly affected, but are not a focus of this commentary.
Frequently Asked Questions
What is the potential rating impact of U.S. tax reform?
The wide range of proposed changes to U.S. federal tax policy would have significant effects on corporate cash flow generation. However, the potential ratings impact will ultimately depend upon tax law changes in their totality, as there may be a combination of positives and negatives for any particular company. In addition, any potential ratings impact will depend on other credit considerations, including company-specific actions (for example, changes to financial policy or sourcing and pricing), foreign exchange movement (such as appreciation of the U.S. dollar), responses from trade partners, and the overall impact on the economy and macroeconomic drivers from corporate and personal tax revisions.
Will U.S. tax reform lead to rating changes?
Our initial view is yes. We would evaluate the expected effect of approved tax law changes on issuers, just as we would for any other event. To the extent aggregate reforms lead to a sustained improvement or worsening of credit metrics outside our base-case expectations, in the absence of mitigating factors, we would likely change ratings.
When would S&P Global Ratings take rating actions as a result of U.S. tax reform?
As with any credit event, we would need a sufficient level of clarity and certainty to make rating decisions. As a result, we would likely not change ratings prior to reforms being finalized. We could make outlook revisions or place ratings on CreditWatch as we become more confident in final legislation. In addition, if we were highly confident that impending reforms would lead to a change in a company's financial policy, we could incorporate these views into our existing financial policy assessments and projections.
While we would likely not shift ratings for an entire industry, certain sectors will likely be more affected than others. As a result, it's possible that we could place a greater number of ratings in these sectors on CreditWatch prior to reform finalization than in other sectors.
What proposals does S&P Global Ratings view as positive or negative for credit quality?
Some of the proposals in the public domain have a greater potential impact on credit quality than others. Table 2 below outlines our overall view of the credit impact for each item, as well as key considerations or mitigating factors.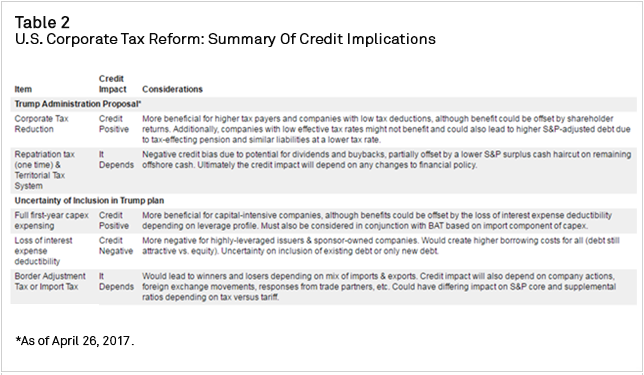 Repatriation of accumulated foreign earnings and tax system. Of the proposals outlined in table 2, the potential ratings impact of cash repatriation and a "territory-based" tax system warrant further discussion. The credit impact of overseas cash repatriation will depend on whether tax law changes cause a company to revise its financial policy and leverage tolerance. While our ratings are prospective, our current view of a company's financial policy and net debt position is based on various assumptions, including existing tax laws. We believe that the improved accessibility to offshore cash under proposed tax reforms could provide both economic incentives and pressure on management to revise financial policies and capital allocation strategies.
We would incorporate revisions to financial policy, where they occur, into either our projections of a company's financial leverage when we are more certain of potential shareholder returns, or into our assessment of financial policy if we believe leverage will increase but are less certain on the timing or amount. The former would have an impact on our leverage ratios given our adjustment for surplus cash (i.e., netting of available cash and liquid investments against debt if in our judgment they are highly liquid and if they are accessible). As of Dec. 31, 2016, we estimate S&P Global Ratings' universe of rated U.S. nonfinancial corporate issuers help $1.9 trillion of cash and investments, with roughly $1.1 trillion (60% of total cash) overseas based on our assumptions. These companies also held roughly $5.8 trillion in total debt. If tax reform facilitates the repatriation of foreign earnings, we believe that offshore cash balances, for many companies, could begin to burn a hole in management's pocket and lead to a material amount distribution of this cash being to shareholders.
A partial positive for adjusted leverage would be a lower S&P surplus cash haircut for cash remaining overseas, as current and future foreign earnings would not be subject to U.S. taxes under a territory-based tax system. Currently, we typically tax-effect offshore cash within our surplus cash calculation, which we would likely no longer do under a territory-based tax system. Still, an increase in our surplus cash calculation for offshore cash would not be enough to fully offset potential shareholder returns. As a result, we believe proposals around cash repatriation and a territory-based tax system would likely lead to higher pro forma leverage for U.S. corporate issuers.
(For more detailed analysis of corporate cash holdings, see "U.S. Corporate Cash Reaches $1.9 Trillion, But Rising Debt And Tax Reform Pose Risk," published May 25, 2017.)
Could there be different credit implications depending on whether tax reform is temporary or permanent?
Congressional majority (60 votes in the Senate) is required to make tax reform a permanent change, while Republicans only hold 52 Senate seats. As a result, if necessary, some believe that Congressional Republicans may use a procedural tool known as reconciliation that would allow the tax legislation to pass with a 51-vote majority in the Senate, instead of the usual 60 votes. However, under the rules of reconciliation, changes generally can't add to deficits beyond a decade. Accordingly, if budget reconciliation procedures are used, tax cuts may need to be drafted with required phase-outs.
From a ratings standpoint, 10 years is still well beyond the ratings horizon for both speculative-grade and investment-grade credits. As a result, a temporary change in tax reform would still lead to rating changes. Reversible or irreversible capital and business decisions made by companies depending on whether tax reform is temporary or permanent, respectively, may result in differences in the ratings impact in certain situations.
What impact would potential tax reforms have on financial reporting and S&P Global's credit metrics of U.S. companies?
Proposed tax reforms could have an impact on both financial reporting and our credit metrics due to tax and financial accounting effects. While tax law changes affect tax accounting, which is different from book accounting, there are many interdependencies to consider. For example, a lower corporate tax rate would affect current tax expense, reported net earnings (and therefore indirectly book equity) and also have a one-time effect on deferred tax assets or liabilities depending on the company's net tax position. The effects on credit ratios would appear most directly from changes to funds from operations (FFO), which is after current tax expense and thus primarily affecting ratios such as FFO to debt and FFO to interest coverage. S&P-adjusted debt may increase due to the tax-effecting of pensions and similar liabilities at a lower tax rate as outlined above.
Table 3 highlights the effects of key financial reporting and the subsequent effect on S&P-adjusted ratios of the Trump Administration's updated proposal and the previous House GOP plan.