The Trump administration's section 232 "national security" investigation of the automotive industry is close to a conclusion. In May the White House gave the U.S. Trade Representative until Nov. 13 to report back on whether trade negotiations with Japan and the EU were sufficient to avert the need for wide-ranging automotive tariffs. There's also a decision due on whether to act on the Commerce Department's earlier report on the investigation – which has remained private – as outlined in Panjiva's research of Oct. 1.
On top of the section 232 uncertainty, the industry also faces uncertainties from the implementation of the U.S.-Mexico-Canada Agreement. The passage of USMCA into U.S. law has been delayed, while the Trump administration wants to intervene directly in corporate supply chain planning, Bloomberg reports.
The two regulatory challenges come as the industry is already facing challenges from slowing sales. Panjiva's analysis of official data shows total U.S. sales fell 1.8% year over year in October after a 0.6% rise in 3Q. Sales of foreign-built vehicles climbed 0.5%, including a 1.7% rise in light truck sales in October.
TRUCKS BEAT CARS, FOREIGN BEATS DOMESTIC
The major automakers appear to expect a return to growth in sales. Panjiva data shows imports of completed vehicles climbed 5.4% year over year in September, including a 6.6% surge in shipments from Japan and an 18.8% rise in shipments from South Korea. The improvements are not universal though, with shipments from the EU having fallen by 2.5% and imports from Canada / Mexico were unchanged.
SOUTH KOREAN AND JAPANESE AUTOMAKERS MORE OPTIMISTIC THAN EUROPE'S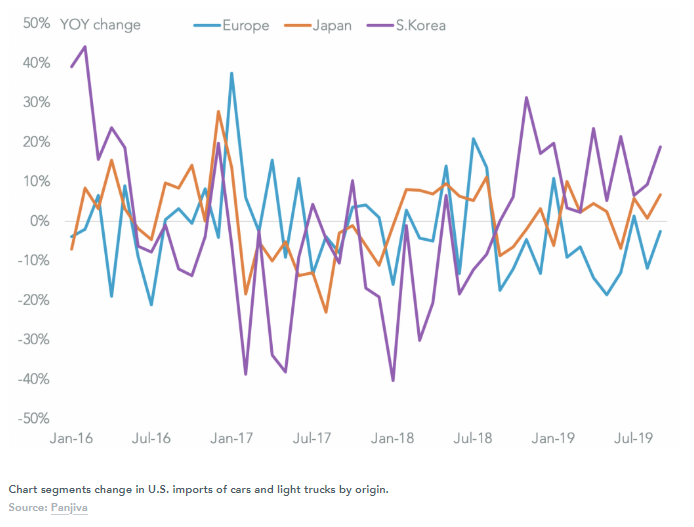 The outcome of the section 232 case is more likely to focus on parts than vehicles. There are few signs thought that carmakers are stockpiling ahead of the tariff review. Indeed, it appears that weakness in auto sales is a bigger driver.
Total seaborne imports of auto components fell 0.6% year over year in 3Q after a 5.8% slide in 2Q. Indeed, preliminary data for October suggests a drop of 12.8% in October which would bring the three month decline to Oct. 31 to 5.7% versus a year earlier.
Among the major automakers the biggest decline was in imports associated with General Motors which fell 38.0% year over year in the three months to Oct. 31. That likely reflected the strike that disrupted the company's operations for most of the month.
A decline in shipments linked to Ford of 19.8% may reflect a shift of sourcing within its North American supply chain. The Japanese manufacturers also saw a decline despite their rise in shipments of vehicles, with imports linked to Toyota down 4.1%, while Nissan's fell 6.0%, and Honda's dropped 8.8%.
There were few signs of expansion. Imports linked to Jaguar Land Rover rose 3.5%, likely due in support of increasing sales of vehicles produced overseas. Subaru's parts imports likely rose by just 0.6% in the past three months after a surge in October, though that could soon reverse given problems faced by one of Subaru's suppliers in Japan after a recent typhoon.
WIDESPREAD DOWNTURN IN AUTO COMPONENT IMPORTS