After five years of decline, the return on capital of Europe's largest reinsurers is set to turn upward as rates recover following a devastating hurricane season.
Hurricanes Harvey, Irma and Maria, which hit North America and the Caribbean in late summer, have generated billions of dollars in claims on European insurance companies, ending a soft market of declining prices that developed during a benign few years for natural catastrophes.
In August, RBC Capital Markets, cited by Artemis, said claims arising from Hurricane Harvey could run to between $10 billion and $20 billion.
In September, Fitch Ratings estimated catastrophe losses following Hurricane Maria at more than $100 billion for the global insurance and reinsurance sectors, possibly reaching close to $190 billion on a pretax basis.
The trifecta of storms, dubbed HIM by insurance industry insiders, is behind expectations that the largest European reinsurers will see prices — and their own takings — climb, analysts said. Initially, however, reinsurers face a number of high lump-sum payouts.
Swiss Re AG, for example, is expected to post a loss for 2017 because of its exposure to the hurricane damage, Jefferies analyst Philip Kett wrote in a recent note, adding that the firm is still likely to buy back €1 billion in shares as it promised earlier in 2017. "Swiss Re has reported an estimated claims burden of $3.6 billion, with $3.425 billion coming from HIM. Though we expect that this will not compel management to cancel capital return programs, we do now forecast Swiss Re to make a loss for 2017."
Elsewhere, Germany's Munich Re said Oct. 26 that it will post a loss of €1.4 billion for the third quarter of 2017 due to payouts of roughly €3.2 billion, with only a small profit expected for the full year. For its part, French company SCOR SE reported a third-quarter net loss group share of €267 million, compared to year-ago net income of €163 million, which it also attributed to the hurricane season.
As rates softened, Swiss Re and SCOR have struggled to meet their cost of capital over recent years, and a downturn in return on capital has been apparent across all four top players including Hannover Re since 2015, data compiled by S&P Global Market Intelligence shows.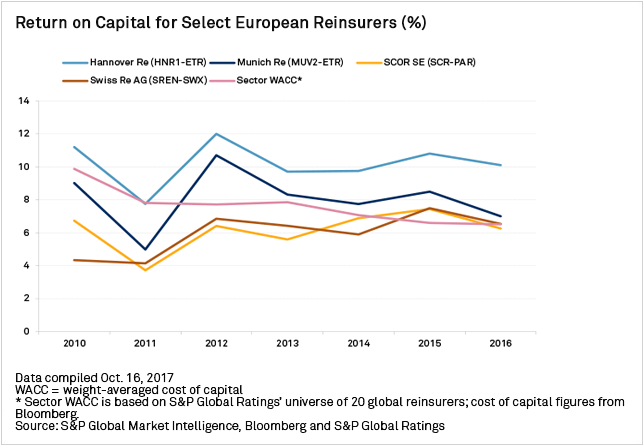 Turning Point
But HIM has been a turning point in the reinsurance market, analysts said. "As we expect both alternative capital and retrocession markets to have incurred a material loss, we expect a turn in pricing," Kett said. "Moreover, the high degree of uncertainty about losses we expect will be positive for future demand and allow reinsurers to demand a higher price," he forecast, seeing a 5% overall price increase in the property and casualty segment.
Other analysts see a smaller increase in prices, but agree that the direction of near-term returns will be up, after companies settle current claims.
"There was a change in pricing trends even before Harvey hit. Now the change should accelerate quickly," said Vinit Malhotra, an insurance analyst at Mediobanca in London. "This hurricane season has spurred demand for reinsurance.
"Investors should see through the current quarter and current year," added Malhotra, who estimated a 50-basis-point increase in overall renewal rates for the top four European reinsurers. Moreover, it's likely the firms will use spare capital to reward investors even if some of them finish the current quarter in the red, according to the analyst.
"You can have a loss or even a bad quarter today and lower net income in [20]17, but still maintain your dividend and share buyback forecasts."
Malhotra said many insurance-linked securities investors have been "using the small print" of their bond contracts to try to avoid paying out on "a few hundred million [dollars]" in bonds. While the exact amount now subject to legal disputes was difficult to estimate, he said, the attempts to avoid payment were driving more players away from ILS and towards reinsurance.
"Insurance-linked securities are a competitor for reinsurers," he said. "Even if a small portion of the cat bond market has a problem it will lead to a reduction in appetite for ILS."