Thermal Still Dominates The Energy Mix
Italy, May. 06 2019 — (This section, "Thermal Still Dominates The Energy Mix," is based on the April 2019 issue of the quarterly European Electricity Five-Year Forecast, a report published by S&P Global Platts Analytics. S&P Global Platts is a division of S&P Global, as is S&P Global Ratings. As such, it reflects the views of S&P Global Platts, not S&P Global Ratings. For an overview of the regulatory disclosures, please refer to https://www.spglobal.com/marketintelligence/en/legal/disclosures.)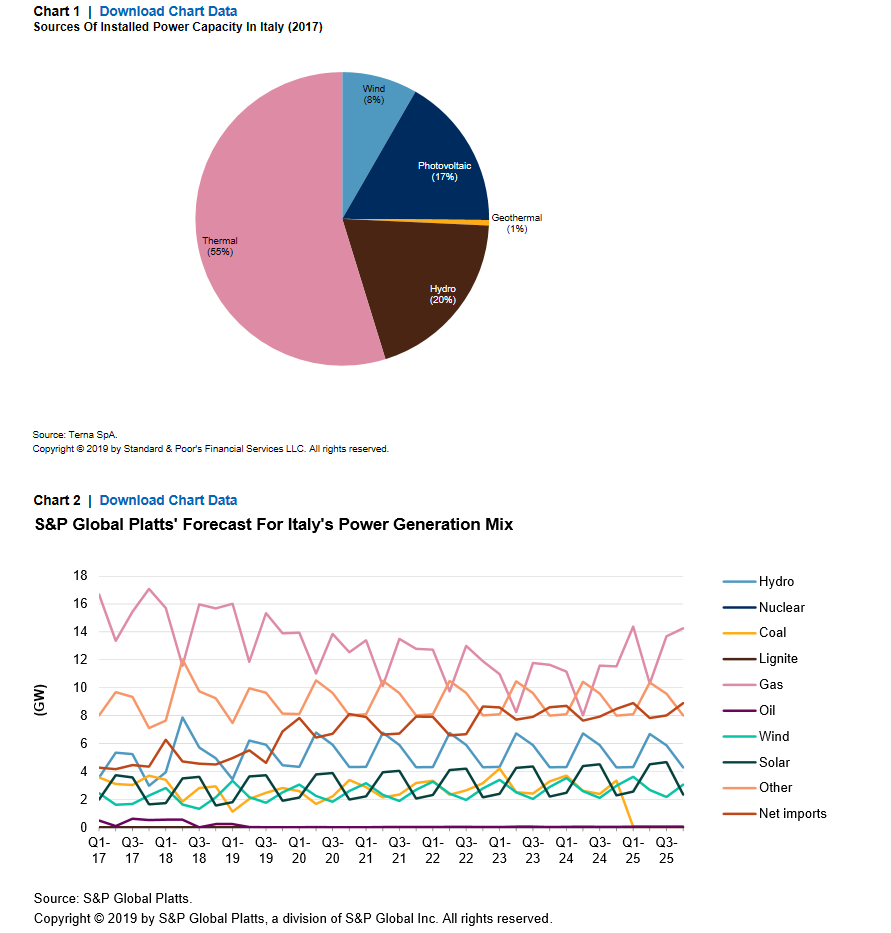 The Italian power market will undergo significant changes in the next few years as its fuel mix undergoes a transformation, with more renewables and a decline in coal. Meanwhile, an increasing number of interconnections among Italy and its neighbors means that major structural changes in the German, French, and other markets will have implications for the Italian power sector. But, despite a substantial tightening in the power market in Germany from early next decade as a result of its nuclear and coal closure program, S&P Global Platts Analytics expects Italy to retain its position as the premium market in terms of power prices in Western Europe to 2025, and for prices to rise consistently in real terms between 2020 and 2025. This is partly due to Italy's large gas capacity, which makes its power prices heavily dependent on PSV ("punto di scambio virtuale" or virtual trading point) gas prices, which are also consistently above those of other European hubs. S&P Global Platts Analytics forecasts PSV gas prices to fall from 2018 levels, when they were at about 25€/MWh, until the end of the decade to below 20€/MWh but to recover from 2021 as a reduction in liquefied natural gas (LNG) imports and lower European gas production reduce the competitive pressure on Russian gas.
Italy's coal phaseout, which is set to end by 2025 in the National Energy Strategy, translates into a forecast reduction of 2GW in coal capacity by 2024 and by a further 6GW in the following year, according to S&P Global Platts Analytics. Coal closures will be skewed toward the end of the period due in part to the regulated nature of some coal capacity, which is in receipt of nonmarket revenue for system security reasons.
Coal closures mean that gas will remain the dominant technology in Italy in the foreseeable future. As such, prices are heavily dependent on PSV gas prices. Imported natural gas enters the national network through eight entry points. In 2018, Italy's major suppliers were Russia (41%), Algeria (24%), and Libya (6%), while pipeline imports from northwest Europe and LNG accounted for 11% and 12% of Italian supply, respectively.
Edison SpA's announcement in early March that it would invest in a new 0.8GW combined cycle gas turbines plant at Marghera represents the first large addition to the Italian thermal fleet since 2013. But overall, new additions of large gas capacity to 2025 are expected to be limited, shifting the focus on renewables and imports to balance the system. By 2023, Italian interconnector capacity will expand by 1.2GW with mainland France and 1.0GW with Switzerland, from 3.2GW and 4.2GW today, but increased flows have a limited impact on the robust margins of domestic thermal plants. As a result, Italy is expected to reinforce its position as the premium power market in Europe (even as Germany becomes increasingly tight in the next decade as a result of its coal and nuclear closure programs).
Italian wind and solar capacity are both forecast to more than double by 2030 from 2018 levels, while neighboring France is also expected to see robust increases. The anticipated growth in renewables to 2030 adds downward pressure on wholesale power market prices, but this will be offset by continued coal and nuclear closures in France, Germany, and elsewhere as well as upside in demand from the electrification of transport, and, to a lesser extent, heating.
Italy has been historically strong in hydro production, which has represented the bulk of renewables production in the country. In 2018, hydro output was 49TWh, which was 9TWh more than reported solar and wind generation combined. However, the potential for growth in hydro capacity--currently at around 12GW for large scale and 22GW in total--is limited, while solar photovoltaic capacity in the country increased rapidly from 3GW in 2010 to approximately 21GW by the start of 2019, and is forecast to increase further to 27GW by 2025. Similarly, wind, whose total installed capacity in 2010 was 6GW, increased to 10.3GW by the start of 2019 and is forecast to increase to 14GW by 2025.