Following misses in the second quarter, many U.S. oil majors such as Exxon Mobil Corp. and Chevron Corp. saw third-quarter earnings soar to their highest levels in four years as oil prices remained strong and production, much of it from shale, increased.
After sinking in the second quarter to a multiyear low, Exxon's total output rebounded in the third quarter to 3.8 million barrels per day, up 4% on the quarter but still 2% below the same period in 2017. Third-quarter liquids output climbed 6% as growth in North America more than offset higher downtime.
Exxon's third-quarter shale oil output from the Permian Basin was up 57% on the year due to the ramp-up to the current 38 rigs in the Midland and Delaware basins. Exxon's third-quarter Permian production was up 170,000 barrels of oil equivalent per day, or 11%, on the quarter.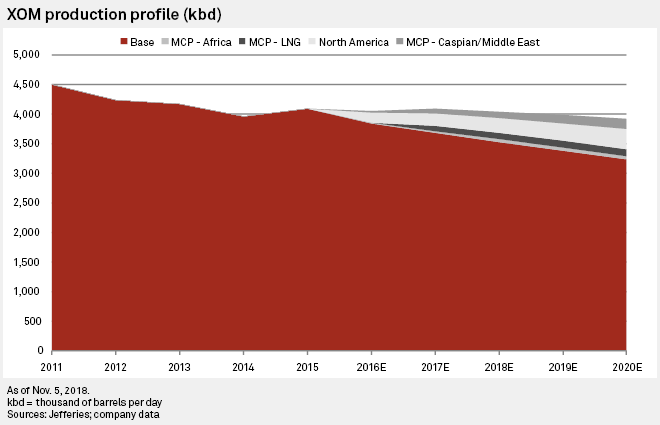 During the third quarter, Exxon's cash flow from operations and asset sales was $12.6 billion. Third-quarter cash flow from operating activities of $11.1 billion was the highest since the third quarter of 2014, the company said.
Separately, Chevron's shale production during the third quarter was 338,000 barrels per day in the third quarter. "Shale and tight production increased 155,000 barrels per day, primarily due to growth in the Midland and Delaware basins in the Permian where production grew by 80% from a year ago," Chevron CFO Patricia Yarrington said during a Nov. 2 earnings call.
Calif.-based Chevron continues to bet on rising returns from its Permian investments, with production levels trending about one year ahead of the guidance provided in March when executives announced plans to expand the overall upstream fleet and improve cash flow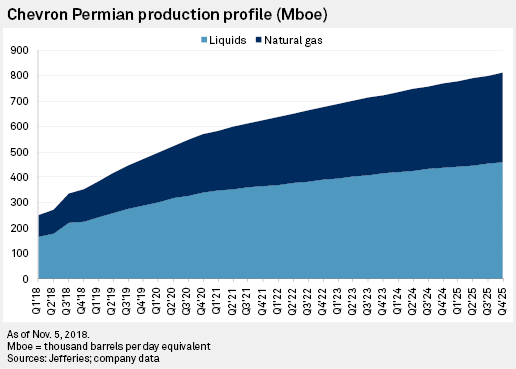 "Chevron's rising production volumes and greater proportional exposure to oil and oil-linked LNG pricing really shined through in its third quarter results," Moody's Senior Vice President Pete Speer said. "The company generated nearly $4 billion of free cash flow in the quarter, as its more upstream weighted business mix combined with its oil price exposure really differentiated Chevron's financial performance from its major integrated peers."
Chevron reported third-quarter earnings of $4.05 billion, or $2.11 per share, beating the S&P Global Market Intelligence consensus estimate of $2.06 per share.
Chevron's quarterly cash flow from operations was $9.6 billion, the highest it has been in nearly five years.
Ongoing healthy cash flow could allow Chevron to expand its $3 billion-per-year share buyback program, the company said. During the third quarter, Chevron spent $750 million on share repurchases. The company had not repurchased shares in several years, since around the time global crude prices began to crumble. Buying back existing stock generally makes the remaining shares more valuable.
Texas-based oil and gas producer ConocoPhillips reported adjusted net income for the third quarter of $1.6 billion, or $1.36 per share, far exceeding S&P Global Market Intelligence consensus estimate of $1.19 per share.
While a key driver was a settlement with Petróleos de Venezuela SA to fully recover an arbitration award of approximately $2 billion, ConocoPhillips also reported strong output during the third quarter that worked to lift its earnings.
In the third quarter, the company's output, excluding Libya, was 1.22 million barrels of oil equivalent per day, up 22,000 boe/d from the same period a year ago but below the S&P Global Market Intelligence consensus estimate for daily production of 1.24 MMboe/d.
In the Lower 48, production from the company's high-margin "big three" unconventional plays grew to 310,000 boe/d, a 48% increase year over year. Production from the big three unconventionals, which include the Eagle Ford Shale, the Delaware play and the Bakken Shale, is expected to grow more than 35% for the full year.
Fourth-quarter production is expected to be between 1.275 MMboe/d and 1.315 MMboe/d, reflecting the completion of seasonal turnarounds, growth from several conventional project startups and ongoing development in unconventional production, the company said.