How have the French Election, China, and Trump's first 100 days impacted credit risk?
France holds advancement of western populism
"Trump Effect" on reversal course; Mexico posts full recovery
China asks everyone to stay calm
National political tensions and global geopolitics continue to shape the market
France's stand against populism gives the European Union new hope
Emmanuel Macron, a centrist 39-year-old former banker from En Marche!, defeated Marine Le Pen, a Eurosceptic from Front National, in the second round of the French presidential elections on May 7, 2017. The S&P France Broad Market Index (BMI), a rules-based index of stock market performance, gained 4% the day after the first round of votes. Though the index fell 73 basis points the day after the second round, it is currently 6.8% higher than the day before the first round, clearly indicating that the market had already priced in Macron's win. France's 10-year bond yield fell accordingly.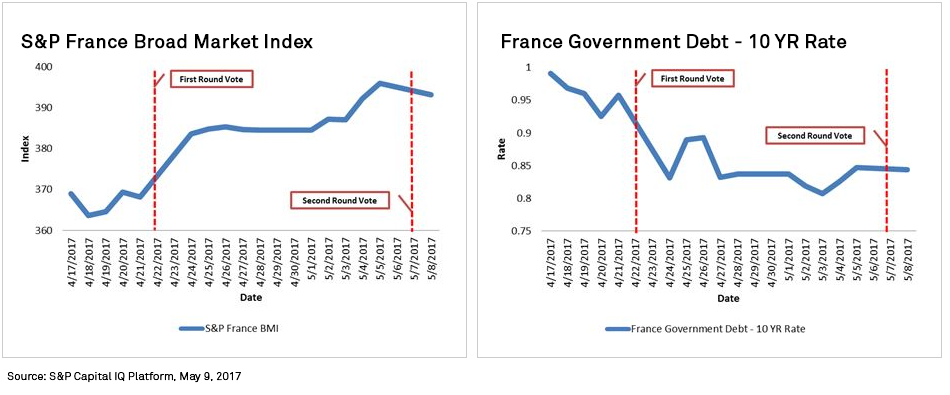 Conversely, the Probability of Default Market Signals (PDMS) France Benchmark, which measures the market-implied median credit risk of listed companies in France, peaked just before the first round of votes. As Macron solidified his position as the clear frontrunner, the benchmark steadily and gradually decreased 25% by May 8, 2017 from its pre-election peak. The Euro Stoxx 50 Volatility Index, which measures volatility in Eurozone stocks, also peaked before the first round of votes and then dropped by 42% by May 8, 2017. While a Le Pen win would have thrown the future of the European Union into doubt, the European Union can now breathe a sigh of relief, at least until Germany's federal elections this September.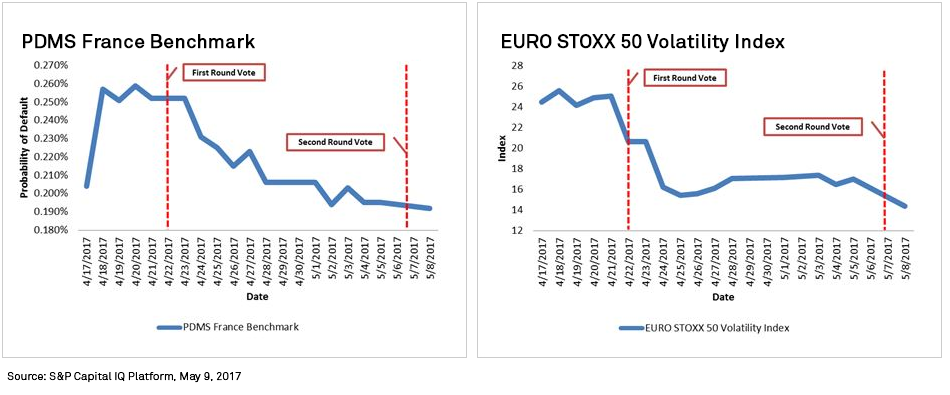 The Trump effect
As U.S. President Donald Trump marked his 100th day in office on April 29, 2017, the positive "Trump Effect" on the markets has all but reversed. From Election Day to Inauguration Day, the U.S. dollar strengthened, the stock market rallied, Latin America's market-implied credit risk increased, and the U.S.'s market-implied credit risk decreased. One hundred days in, the political divide evidenced by the failed first attempt to repeal and replace the Affordable Care Act put a damper on expectations that the government can pass other major legislation, such as tax reform and banking deregulation, without major obstacles.
The U.S. dollar weakened against major currencies, partially due to markets absorbing changes in Federal Reserve policies, and the U.S.'s market-implied credit risk peaked 40% higher than on Inauguration Day. In a robust recovery, Mexico's market-implied credit risk improved 70% to eliminate all of the increase since President Trump's election. Russia's market-implied credit risk, which had decreased prior to Trump's inauguration, increased 35%, still hurt by oil prices and a sluggish economy.

China tiptoes closer to autumn
China moves closer to this autumn's 19th National Congress of the Communist Party of China. During this meetings, many expect to see President Xi Jinping appointed to another five-year term and increase his political influence with a reshuffle in the Politburo Standing Committee as senior leaders retire. Stability is paramount for President Jinping - arguably even more important than meeting fixed economic growth targets as in previous years. China has been able to skillfully navigate initial concerns about a trade and currency war with the U.S., as well as escalating U.S.-North Korea military tensions to maintain the stability it seeks.