The popularity of mobile payment apps does not always mean higher brick-and-mortar spending through those apps.
While vendor-agnostic mobile wallets, such as those from Apple Inc. and PayPal Holdings Inc., enjoy comparable levels of popularity and consumer spending, retailer branded apps show more variability. These insights and more emerged through an analysis of spending habits from an S&P Global Market Intelligence survey conducted earlier this year.
Data from our 2017 mobile payment survey shows that out of 504 survey respondents who had used any mobile payment service in the past 30 days, more than half had used a mobile device to pay for goods within a retail store. More than a quarter had used a mobile device to order and prepay for food or coffee before pickup at a store location.
Respondents were asked which mobile payment app they used to complete their last transaction, as well as the amount they spent. Using this data, we ranked apps within their respective categories using a spend score. This score was calculated by taking frequency of spending for five ranges provided to respondents and multiplying that number by a scale of one to five, with five representing the highest spending range of more than $50.
Mobile wallets and retailer apps shine in-store
In-store payments generally involve tapping, waving, or scanning a mobile device at checkout. For the purposes of this report, we have identified two key implementations of in-store payments. Mobile wallets are vendor-agnostic platforms that keep credit, debit, and rewards card or ticket information in a digital format. Payments are transmitted via near field communication (NFC), barcode, quick response (QR) code, or other mobile-based inputs. Merchants can accept these payments with any NFC-compatible terminal or with most barcode scanners, making mobile wallets flexible payment options.
Branded payment apps, on the other hand, are offered by specific businesses. These apps allow users to digitally store credit or debit cards and rewards information. These apps benefit consumers through more accessible rewards programs and reduced friction at checkout. Retailers benefit from the increased stickiness of rewards programs and more insight into consumer spending habits.
PayPal is unique in that it allows for a range of purchase options other than NFC. It was the most used in-store mobile wallet option among our survey takers, and mobile wallets were the most frequently used mobile payment options in our survey. This is not surprising given that these apps can be used at multiple retailers, unlike branded apps. The majority of mobile wallets on our list, including Apple Pay, Alphabet Inc.'s Android Pay, and Samsung Electronics's Samsung Pay use NFC technology almost exclusively for payments.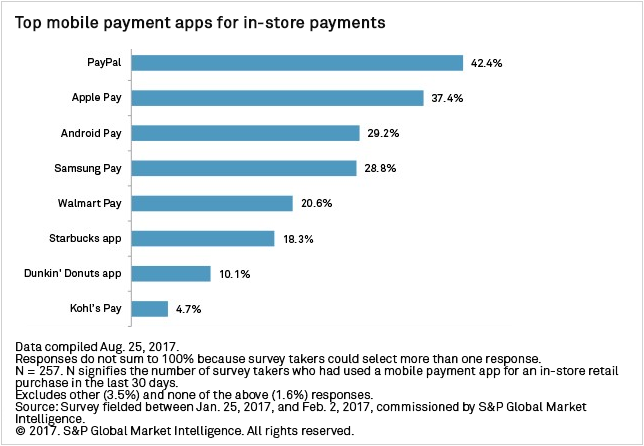 Along with being the most used mobile wallet, PayPal also tied with Samsung Pay for the highest level of user spending, according to our survey results. Both platforms received a spend score of 3.6. Just below those two, Android Pay received a spend score of 3.5, while Apple Pay received a spend score of 3.3.
Apple Pay, the second most used in-store mobile payment option, was an interesting outlier in the survey. The most frequently reported in-store spending range for Apple Pay was $21 to $50, a high range for this segment, yet the service had a lower than expected spend score. This was primarily due to a relatively low number of Apple Pay users reporting spending more than $50 on their last transaction.
Popular branded payment apps were split between restaurants (specifically coffee shops) and retail stores. Some of the first companies to offer branded apps come from these sectors. Starbucks Corp. rolled out one of the first mobile payment apps in 2011, and Wal-Mart Stores Inc. debuted one of the first retail-specific apps in 2015.
In the restaurant space, Starbucks app users who took our survey handily outspent Dunkin' Brands Group, Inc. customers. The highest percentage of Starbucks users reported spending $11 to $20 during their last transaction, compared to a range of $6 to $10 for the largest group of Dunkin' Donuts app users.
While $21 to $50 was the most frequently cited spending range in our survey for both Kohl's Corp. and Walmart, the former retailer outpaced the latter by spend score. Both services rely on QR codes to process payments. Kohl's Pay is unique in the mobile space because unlike other mobile wallets and retail apps on our list, it is only compatible with a Kohl's charge card issued by Capital One Financial Corp.
High spending through aggregators
Prepay ordering is a more recent innovation in the mobile payments space, allowing users to order and pay for goods through an app before picking them up at a brick-and-mortar location. Businesses offering these services tend to be individual restaurants or aggregation platforms. While individual restaurants allow you to order from only a single business, aggregators work with a range of local partners offering pickup options.
In the mobile prepay market, coffee shops are the most popular branded providers. These businesses were first movers in the space and heavily promote their mobile purchasing capabilities. Other branded apps in the food and beverage spaces fill out the majority of our list, with aggregators falling toward the lower end in terms of popularity.
In terms of spending, restaurant aggregators top the list of overall spending with OrderUp Inc. receiving a spend score of 3.6 and OrderAhead receiving a score of 3.5. OrderAhead was recently purchased by Square Inc.'s Caviar platform, which focuses more on delivery than in-store pickup. OrderUp is another service that focuses on food delivery, but proves to be popular for in-store pickup as well.
Survey data for the branded apps category shows an interesting contrast between prepay and in-store users. For prepay customers, Dunkin' Donuts receives more spending with a spend score of 3.0 compared to just 2.6 for Starbucks, which falls to the bottom of the pack.
The largest percentage of Dunkin' Donuts app users reported spending $21 to $50 during their last visit, while the largest group of Starbucks users reported a spending range of $6 to $10. It seems reasonable to assume that in this category Starbucks prepay service users tend to order individual beverages, while Dunkin' Donuts users might order for a group. It also suggests that Starbucks might more successfully upsell customers in-store by offering them food or other complements to their beverages.
Other popular mobile apps for prepay users include fast casual and fast food businesses such as Chipotle Mexican Grill Inc., Taco Bell Corp., and Chick-Fil-A. Prepay options are more appropriate for chains like these where food can be prepared and ready for pickup within minutes of ordering.
New channels, new strategies
The results of our survey show that branded retail apps have the highest level of spending, which is unsurprising as bigger ticket items like clothing and handbags are purchased at retailers such as Kohl's. Mobile wallets and aggregators, which are used at a variety of businesses, showed consistently high spending, likely due to the variety of goods that are purchased. Perhaps the biggest takeaway is that across all categories mobile payment users tend to spend more than $10 on a transaction, with $11-20 and $21-$50 appearing as the most frequently reported spending ranges.
Businesses need to look closely at how spending through mobile apps compares to legacy channels in order to adjust their strategies. While new innovations like prepay and order ahead help reduce costs, those should be weighed against the potential of lost revenue as customers spend less time exposed to new products in-store. Digital marketing and enhanced digital customer experience are the answers here, and it seems clear from the recent growth in app offerings that we are on the right track.
Methodology
S&P Global Market Intelligence's 2017 U.S. mobile payments survey was fielded between Jan. 25 and Feb. 2 across a nationwide sample of 504 individuals who had used a mobile payment app in the past 30 days and 400 people who had not used such an app. Survey results have a margin of error of +/- 4.5% at the 95% confidence level based on the sample size of 504 and +/- 5% at the 95% confidence level based on the sample size of 400.
Spend score was calculated based on a percentage of respondents in each category multiplied by a score ranging from 1 to 5, with 1 representing the lowest tier of spending and 5 representing the highest. Respondents for each application were able to indicate a spending range of $1-$5, $6-$10, $11-$20, $21-50, and more than $50 for their last transaction. For example, if 100% of respondents indicated spending more than $50 on their last transaction, the spend score for that app would be 5.0.