There are 67,863 MW of operating power plants in the potential path of Hurricane Harvey, based on the National Oceanic and Atmospheric Administration's hurricane route projection, according to an S&P Global Market Intelligence analysis.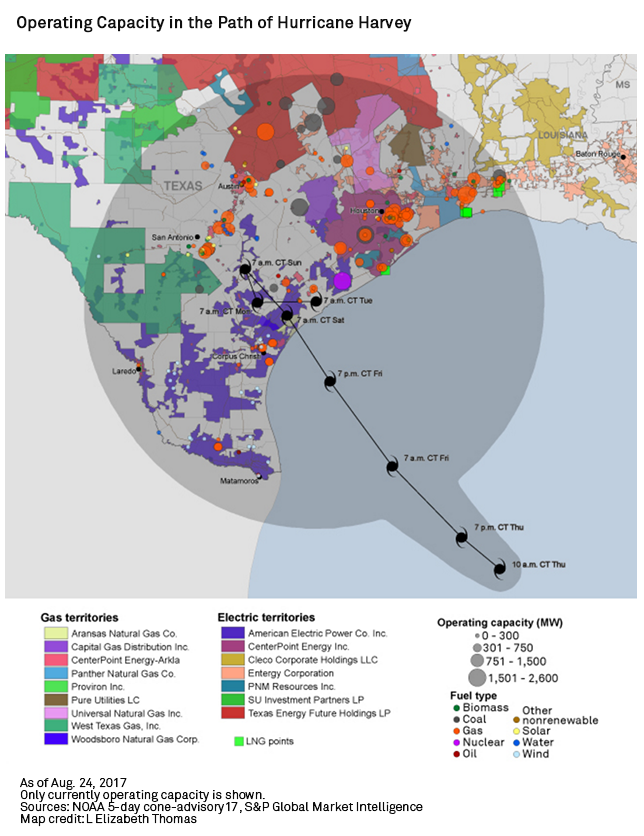 Harvey intensified to a Category 3 hurricane the afternoon of Aug. 25, with maximum sustained winds of 120 mph. The hurricane is expected to make landfall along the Gulf Coast north of Corpus Christi, Texas, late Aug. 25 or early Aug. 26. A storm surge is expected to impact much of the Gulf Coast from South Texas east to Morgan City, La. Once on land, the storm is forecast to stall and dump two feet or more of rain in the area over several days, with substantial rain as far east as New Orleans.
Thirteen companies each own more than 1,000 MW of generation in the projected path of the storm. NRG Energy Inc. owns the most capacity at risk, with 11,651 MW within the storm path projection. That includes the two-unit South Texas Project nuclear plant, whose co-owners include Texas utilities CPS Energy and Austin Energy. U.S. Nuclear Regulatory Commission procedures require nuclear plants to shut down under certain severe weather conditions, including hurricane-force winds.
Other large owners of generation in the projected hurricane path include Calpine Corp. with 7,675 MW and City of San Antonio-owned CPS Energy with 6,651 MW.
Owners With the Most Capacity at Risk From Harvey
| | |
| --- | --- |
| Ultimate Parent | At Risk Capacity (MW)* |
| NRG Energy Inc. | 11,651 |
| Calpine Corp. | 7,675 |
| CPS Energy | 6,651 |
| Vistra Energy Corp. | 4,073 |
| Entergy Corp. | 3,541 |
| Lower Colorado River Authority | 3,309 |
| Austin Energy | 2,669 |
| Exelon Corp. | 2,068 |
| Riverstone Holdings LLC | 1,832 |
| Dynergy Inc. | 1,657 |
| Panda Power Funds LP | 1,572 |
| Exxon Mobil Corp. | 1,227 |
| Marathon Petroleum Corp. | 1,003 |
As of Aug. 24, 2017.
Only owners of more than 1,000 MW of currently operating capacity are shown.
*At risk denotes plants in the path of NOAA's 5-day cone advisory-17.
Sources: NOAA 5-day cone-advisory 17, S&P Global Market Intelligence.
Houston-headquartered CenterPoint Energy Inc. is the largest utility likely to be directly impacted by the hurricane, with 2.4 million electric customers in the Houston area and about 1.7 million natural gas customers in southeastern Texas. American Electric Power Co. Inc. subsidiary AEP Texas Central Co., which is headquartered in Corpus Christi, has more than 826,000 electric customers. Texas Gas Service Co., a subsidiary of ONE Gas Inc., serves 644,000 customers across Texas, though some service areas are in West Texas and the panhandle region. CPS Energy serves 786,000 electric customers and 339,000 natural gas customers in and around San Antonio, and Austin Energy serves 448,000 electric customers in and around the state capital of Austin.