In his effort to "Make America Great Again," President Donald Trump got a pretty good head start--economically speaking, anyway. Now, as we approach the end of the new Administration's first 100 days, a traditional period of high activity, the question is: Has the president built on the momentum he inherited, or is the country losing speed on his promised return to greatness?
We doubt anyone could offer a definitive answer to that question, but given the challenges President Trump has already had in implementing his initiatives, it seems fair to say the first 100 days have been disappointing as Washington, D.C., remains gridlocked. While Congress passed a temporary extension, Capitol Hill could face a potential government shutdown in a week's time.
Highlights
With the 100 day milestone upon us, it's unclear what potential progress the Trump Administration can make on key initiatives.
With President Trump's tax proposal likely to increase U.S. government deficits and interest rates, Congressional support will likely be difficult to achieve.
S&P Global U.S. economists expect modest tax cuts along with reduced regulation and a small infrastructure initiative to give 2018 growth an extra boost. The fiscal deficit will be 4% of GDP in 2020, wider than the 2.9% when President Trump took office.
U.S. growth through 2019 will remain within the 2% to 2.5% range the U.S. economy has tracked on average since 2010, well below the Administration's economic plan of around 3%.
In our upbeat Trump policy scenario, deregulation comes with larger tax cuts and a bigger infrastructure package in a more trade- and immigration-friendly environment. GDP growth briefly nears the Administration's goal of 3% in 2018.
Our downside Trump policy scenario sees rigor mortis setting in as campaign promises fail to materialize, while gridlock and protectionist policies crush post-election optimism. Real GDP growth holds around 1.5% though 2018.
During his campaign, President Trump signaled he would restrict immigration and that the repeal of the Affordable Care Act (ACA) would be among his first actions as part of his sizable "Contract With the American Voter." But with both efforts stalled, the president will likely find it even harder to push through other proposals--including the sweeping tax reforms he has promised.
Still, a Republican-controlled Congress would seem to give President Trump a greater chance of seeing some of his proposals become law. S&P Global U.S. economists expect modest tax cuts to pass, along with reduced regulation (on both Wall Street and with regard to environmental standards), and at least a small infrastructure initiative--though we don't expect any agreement until lawmakers begin to feel the real pressure of the 2018 midterm elections.
While he is surrounded by many experienced and well-qualified members of his Administration, President Trump still faces a learning curve on Capitol Hill politics, compounded by a deeply divided country, making the task even more difficult. As it stands, on his 99th day in office, the president finally got approval for the last member of his Cabinet, and those on board have struggled to get into the swing of things. This has been exacerbated by a somewhat incomplete transition with the previous Administration that ended prematurely and was accompanied by a federal hiring freeze imposed three days after taking office (lifted on April 12) that left some Cabinet members short-staffed.
Against this backdrop, it's perhaps unsurprising that President Trump's approval ratings have continued to sink. He already assumed the highest office in the land with a rating below 50%--a first in the history of Gallup surveys. Markets are still up, in part, on expectations that President Trump will succeed in creating a more business-friendly environment in which to operate. However, recent market swings may be showing that investors are growing concerned that if the Administration's promises don't become policies, stock prices may suffer the same fate.
That said, underlying strength in the world's biggest economy gives the president time to right the ship. Among the bullish signs are consistently solid jobs gains that have, at long last, translated into modest wage increases; continued strength in the housing market; and an improvement in business investment. We think that continued domestic strength will offset lackluster growth abroad and the strong dollar's drag on U.S. exports. Add in the prospects for a more business-friendly regulatory environment and pro-growth tax reform, and we could see a pickup in business activity later this year. However, we think it unlikely that U.S. GDP growth will feature the "3" or "4" that President Trump promised--unless those figures follow a "2" and a decimal point. With first-quarter U.S. economic growth slowing to its weakest pace in three years, the economy will likely expand 2.3% this year and 2.4% in 2018. We see a 20%-25% chance the U.S. will slip back into recession in the next 12 months.
The solid string of job gains at the start of the year set the stage for what we believe will be continued labor market strength--with annual wage gains likely to reach 3.25% by year-end. However, businesses had already started hiring workers at higher wages before the new Administration took office. And, surely, the president had more in mind to "Make America Great Again" than presiding over an economy that is improving thanks largely to policy decisions of the Obama Administration and the Federal Reserve.
Deregulation: Not So Fast
At any rate, we see the opportunity for certain proposals to spur growth--one of which is a move toward significant deregulation.
The argument for less red tape stems from the drop in entrepreneurship as the firm entry rate has fallen dramatically since the late 1970s, with many blaming increased regulation, though the 2007-2008 financial crisis played a significant hand in stemming business formation as both lenders and entrepreneurs became more risk adverse.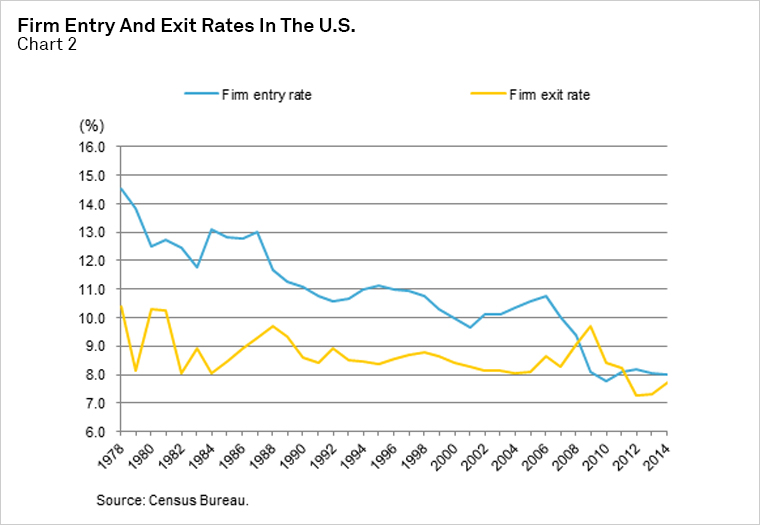 With that in mind, on Jan. 30 President Trump signed an executive order aimed at cutting regulation and regulatory costs. The "two for one" rule instructs agencies to repeal two regulations for every new one put in place. The order also directed all agencies to ensure that there would be no "incremental cost" for any new regulations. Already the Administration is facing a lawsuit aimed at blocking the order.
However the courts decide on this measure, the president has made a clear move toward a looser environment, including environmental regulations, discussed later in the report, which may ease market and business concerns about over-regulation.
While the president will likely instruct the new heads of agencies to act with more flexibility within the law, there is also some room to loosen regulation with a simple majority vote in the Senate. (Under the Congressional Review Act, the 105th Congress can overrule a new regulation, and lawmakers have already passed roughly a dozen disapproval resolutions to overturn a variety of rules issued under the Obama Administration.)
The effects on the economy of reducing regulation aren't clear. A 2016 paper from the Heritage Foundation suggested that, since 2009, the federal government had initiated 229 major regulations at a cost of $108 billion annually. Another paper from the Mercatus Center at George Mason University found that regulation had trimmed an annual 0.8% from economic growth from 1980-2012 (though the study didn't measure societal benefits). On the other hand, the Office of Management Budget under President Obama reported effectively opposite results, saying the total benefits of 181 major regulations between 2005 and 2015 outweighed the costs by a significant amount. They estimated that in 2014 dollars aggregate annual benefits were between $269 billion and $872 billion, and costs between $74 billion and $110 billion--as much as 8-to-1 in some instances.
We expect the impact will fall somewhere in the middle. One only needs to remember the aftermath of the financial crisis to recognize that too little regulation leads to unintended consequences. But too much can clog the wheels of America's economic engine, with slower growth for all. Policymakers will need to look at what the right mix of regulation will be to keep the U.S. economy chugging along.
Tax Reform: The Art Of The Disappointment
Relatedly, tax reform is a key item on President Trump's legislative agenda this year--and is one that, at least theoretically, has support from Republican lawmakers. And few would argue that the U.S. tax code, last reformed in 1986--and written for a manufacturing-heavy economy rather than today's service- and technology-oriented one--is in dire need of reform if the country is to compete effectively with its trading partners (see chart 3). Myriad loopholes and exemptions in the existing corporate tax structure have promoted tax avoidance and led to a large, persistent gap between the top statutory and average effective tax rates. And while these strategies help bring the effective tax rate closer to average rates in other countries, they come at a cost.
The so-called "efficiency gap"--the difference between the top statutory tax rate and the average effective rate--was at its narrowest just after the last major tax reform in 1986, and has since widened substantially.
Keeping that in mind, we're due for reform next year. But will the Trump Administration bring about truly historic tax reform, or will it settle simply for tax cuts similar to those the most recent Bush Administration pushed through under the Economic Growth and Tax Relief Reconciliation Act of 2001?
Ideas and implementation are two different things, and if there's been one takeaway from these first 100 days, it's that there are limits to what one party can accomplish alone.
Given the tensions between the Administration and the fiscal conservatives, we think the chances of truly sweeping tax reform are now less likely than appeared to be the case initially. The Administration will need to corral the votes to push through even a simple tax cut, given that it would likely add to the federal debt. Revenue (or fiscal) neutrality is especially important to this group, and they are disinclined to vote for any policy that is deficit-financed. And distributional neutrality, with cuts spread across income levels, is important to curry favor with party moderates--not to mention Democrats and Independents, who have vowed to fight to keep spending programs intact.
With regard to corporate-tax reform, the more recent House GOP "blueprint" plan promotes lowering the federal tax rate to 20%, from 35%, while eliminating the deductibility of interest payments, excluding investment from the tax base, and making corporate income tax border-adjustable, which supporters argue would raise $1.2 trillion over a decade, according to the Tax Policy Center. The idea is to make up the revenue lost to lower rates by eliminating exemptions, deductions, and credits. (However, a number of popular individual tax breaks--such as the deduction of interest on mortgages and student loans, as well as charitable donations--would remain, so that, according to the nonpartisan Tax Policy Center, the proposed changes would lower tax revenue by an average of about $90 billion annually through 2026, narrowing to a still-not-neutral $20 billion annually over the succeeding decade.)
All told, while the GOP plan may make the tax system less distortionary, controversy around a border tax--which has winners and losers (the former being exporters with big capital outlays, the latter large importers that spend little on plant and equipment)--makes it hard to imagine it will see the light of day in its proposed form, and industry groups have already staged a massive campaign to block the plan.
With the current House GOP plan facing challenges, the White House announced a tax plan the week of President Trump's 100th day in office, hoping it will hold greater appeal after the government avoids a shutdown on his 100th day.
The Trump Administration's "2017 Tax Reform for Economic Growth and American Jobs" proposal is very high level, with details forthcoming. Still, lawmakers are hoping that the White House plan will be the starting point to more sound tax policy in the end. The White House plan cuts the federal income tax rate to 15% for corporations, small businesses, and partnerships. It imposes a one-time 10% tax on profits overseas, though, unlike President's Trump's campaign proposal, this time not tied to an infrastructure project. The plan moves tax policy to a territorial system for overseas corporate profits. On the individual side, the plan condenses income tax brackets to just three with lower individual rates, to name a few changes in the White House plan.
Administration officials have also softened their August deadline prediction for tax-cut legislation. One big motivating factor in the stock market rally after the election was President Trump's plan to cut taxes, particularly business taxes. With the GOP plan flagging, hopes are that the White House plan kick starts discussions leading to tax reform being passed after 31 years. However, with this plan also stumbling out of the gate, it's unclear how markets will react as the reality of a potential tax reform package moves further out on the calendar.
The impact of the plan on U.S. government deficits and interest rates will be an issue on Capitol Hill if it comes to a vote. In its current form, the plan would likely cost the government around $5.5 trillion in lost revenue over the next 10 years, according to the Committee for a Responsible Federal Budget (CRFB). Currently at 77% of GDP, the CRFB expects that based on details put forward by the Trump Administration, federal government debt could rise to 111% of GDP by 2027 (under current law, debt would rise to 89% of GDP by 2027). With that in mind, support for this plan will be difficult to achieve.
The Trump Administration argues that the plan will largely offset its cost by generating faster economic growth. However, existing economic literature indicate that it is more likely that tax cuts will only generate enough additional economic growth to replace a small share of the revenue loss, if at all. This is in part because tax cuts usually result in higher deficits, leading to reduced national saving and higher interest rates over the long run.
At this point, it remains to be seen whether the Administration and Republicans on Capitol Hill can agree to pass a deficit-financed tax cut. We expect that, as the Ides of the Midterm Election draw nigh, Republican lawmakers will approve a simple across-the-board reduction in personal income and corporate tax rates (worth $500 billion, with just about equal shares to households and corporations) by the end of this year, while letting the deficit rise somewhat on the insistence from Republican leaders that faster growth will pay for the tax cuts in the 10-year budget horizon.
In our analysis, the impact of tax cuts may provide a moderate stimulus. Yet how much will depend on who benefits from the tax package. On average, the estimated short-term multipliers tend to be lower for tax cuts for businesses and high-income earners compared with that for low- and middle-income earners.
High-income households are more likely to save the money from tax cuts, rather than spend it. Though low-income households are more likely to spend the money, they could decide to use the money to pay down debt, rather than spend it. The late-stage cyclical position of the economy also makes the multiplier smaller than it would have been in a recession or early recovery, especially if the Fed offsets the fiscal impulse with tighter monetary policy, as we expect. We see only a modest lift to consumer spending and business investment, which may remain in the low-single digits throughout the president's first term. Indeed, while larger cash flows from a corporate tax package could help boost capital expenditures and economic growth, rising corporate leverage in a few sectors may inhibit their capacity to increase investment, according to the International Monetary Fund (IMF).
In our analysis, structural issues will limit economic expansion to 2%-2.5% in the medium to long term, not enough to give Republican leaders the deficit-neutral tax plan they want. We expect that by the time of the next presidential election, the federal deficit would be almost $200 billion higher than in our December forecast (which didn't include any fiscal stimulus or infrastructure). In other words, the fiscal deficit in 2020 would be 4% of nominal GDP, compared with 2.9% when President Trump took office.
While not mentioned in this proposal, President Trump campaigned on the promise of a tax holiday where the proceeds from the repatriation of some of the $2.6 trillion dollars in corporate profits sitting overseas would fund an infrastructure program.
S&P Global agrees with the merits of this and has actually proposed a repatriation tax holiday where in return for a zero tax rate, companies would be required to invest 15% of any repatriated funds into infrastructure projects. This proposal would both provide a springboard for growth, particularly when it comes to GDP and job creation, and further the dialogue around tackling much-needed tax reform.
Infrastructure: It's All In The Timing
While the president has met unforeseen hurdles in promoting his agenda, he has fulfilled at least one of his campaign promises: allowing energy infrastructure projects, such as the Keystone Pipeline, to move forward. He signed his "Energy Independence" order that eliminates a number of Obama-era environmental policies, including the Clean Power Plan, keeping a campaign promise to support the coal industry and challenging America's role in the international effort to confront climate change.
But at this point, his broader ideas on infrastructure have been on hold--including the American Energy and Infrastructure Act, designed to leverage public-private partnerships and private investments through tax incentives to spur $1 trillion in infrastructure investment over 10 years.
Our views on the need for massively increased infrastructure spending are well-documented, and lawmakers on both the left and right have supported this at different times. But as we have noted many times, the benefits come down largely to timing. The so-called "multiplier effect" of infrastructure investment on the economy can be sizable.
Indeed, we estimated in January 2015 that, under certain conditions, every dollar of investment in U.S. infrastructure could add as much as $1.70 to U.S. GDP in just a few years, depending on the state of the economy. The U.S. economy has strengthened since then, and so the multiplier is now smaller. Last October, in our repatriation report, we estimated that the multiplier narrowed to $1.20--meaning that every $1 spent on infrastructure would still generate $1.20 in economic growth over the course of 10 years. With a much stronger economy than before, the return on our investment will likely be more modest.
The multiplier also depends on the type of investments made. If the money is invested wisely, the impact on job creation today and productivity tomorrow could still be significant, giving a nice boost to the project's multiplier over the long run.
Along with private investment appetite and questions as to multiplier benefits, a look at labor market conditions for construction workers makes it clear that implementation of infrastructure projects may face a number of challenges. During the recession and early in the recovery, the unemployment rate for construction workers was more than 20% (not seasonally adjusted). It's now less than 7%--low enough that homebuilders are having trouble finding workers and will have to pay higher wages when they do find them (see chart 4). Stricter immigration policies (more on which, below) will only exacerbate an already-tight labor market for construction.
So, will infrastructure projects increase productivity? Or will inflation and higher interest rates follow? We recognize that timing is everything, and at this point in the expansion, the U.S. will get less return from its investment in infrastructure as its strengthening economy conversely decreases the rate of return. But if done wisely, infrastructure investment is the key to increased productivity and growth.
The Taming Of The Shrew(d Negotiators)
President Trump has consistently spoken of ending unfair trade practices, which he deems as happening systematically behind the cover of free trade. On his first day, he withdrew the U.S. from the Trans-Pacific Partnership, but since then, he has done little to follow through on other threats made during the campaign.
He did direct the Commerce Department to report back by the middle of this year with "a comprehensive analysis of the economic realities and the fine details of America's trade patterns." Commerce Secretary Wilbur Ross has said the review would focus on individual trade deficits with countries and whether they were caused by issues such as "cheating," ill-conceived agreements, WTO "constraints," or "misaligned" currencies.
Nearly all of the U.S.'s top trading partners have been the target of the president's comments in one form or another, with China and Mexico receiving most of the blame (see chart 5). Earlier this week, a new tariff was levied on the Canadian timber industry, in part to combat a Canadian tariff on U.S. dairy products.
Still, President Trump has recently said that he won't declare China a "currency manipulator" (which then-nominee Trump said would happen on Day 1) or to slap punitive tariffs on Chinese goods. He now has offered China a trade deal if they work on defusing tensions with North Korea.
At the same time, the president has called the North American Free Trade Agreement (NAFTA) with Mexico and Canada the "worst trade deal ever approved in this country." But so far, it's not clear what he intends to do about it, other than to renegotiate.
Trade in goods among the three countries has tripled since NAFTA took effect in 1994, with cross-border supply chains making American firms more competitive. We examined the effects of the treaty on Mexico and the U.S. and determined that net gains have accrued to both countries.
Nonetheless, we recognize that trade may be responsible for the loss of some U.S. jobs and stagnation in real wages, particularly in manufacturing. But automation may be more to blame than trade. On this latter point, one solution is to focus some of the government infrastructure projects on education (considered social infrastructure) with an aim to "retool" talents to better align worker skills with new technological advances.
The sluggish economic recovery, which has only recently brought about significant job gains and higher wages, helps explain the virulent response to free trade. But this ignores the benefits U.S. consumers see in the form of more product choices at lower prices--which help lower-income households most. Given that the Great Recession and uneven recovery have had an outsized detrimental effect on those at the lower end of the income ladder, this benefit shouldn't be undervalued.
All told, we see the cost of increased isolationism as far outweighing the benefits of protecting American jobs and businesses in such a manner.
Immigration: Closed Until Further Notice
Our economic view on immigration runs along similar lines.
President Trump's immigration ban, if eventually implemented, would affect just 0.1% of arrivals to the country, but the order would likely have serious ramifications for the economy. Travel to the U.S., for both business and tourism, has already slowed--and given that international tourism generated around $250 billion in 2015, the president's actions have important implications for growth.
For low-skilled native workers, the influx of immigrants generally represents competition that puts downward pressure on wages, but it generally represents a complement to native high-skilled workers, which can boost overall wages and output.
Here, we've estimated that employment-based immigration reform could add 3.2 percentage points to real GDP over 10 years. Generally, highly skilled workers earn much higher-than-average U.S. wages, with those in the STEM fields (science, technology, engineering, and math) earning almost twice the average
On the education front, NAFSA: Association of International Educators estimates that international students contributed upwards of $33 billion and supported more than 400,000 jobs to the world's biggest economy in the 2015-2016 school year. A policy that could either curb foreign students' direct entry into the U.S. or make it more difficult for them to stay and work after obtaining a degree would represent a significant net loss.
The Administration's position on undocumented workers would cut off other sources of economic activity. Assuming that 75% of the estimated 11 million unauthorized immigrants in the U.S. are in the workforce, removing even a quarter of those workers would affect growth. Labor shortages in industries (agriculture, construction, or leisure and hospitality, in particular) that rely on labor from undocumented workers would result in a supply chain bottleneck, leading to increased price pressures. Reduced employment and income from these households mean less money spent.
In short, the ban could lead to even tighter immigration rules that would restrict foreign entry into the U.S., resulting in a drop in important sources of revenue from labor, education, and tourism.
Much To Do About Something
With the 100 day milestone upon us, the jury is still out as to what achievements have been made and what potential progress the Administration can make on key initiatives. Reports of recent discussions on tax reform and infrastructure development have been encouraging, as the government hopefully backs away from a potential government shutdown. The timing and impact will determine whether the economy will continue to chug along at its steady pace, take off like a rocket, or go on life support, requiring some extreme measures to stimulate resuscitation.
At this point, we believe underlying momentum will keep the economy growing at a modest pace over the next few years. We expect policy changes, including measures to cut back regulation, a simple debt-drive set of tax cuts ($500 billion) and a small infrastructure package ($100 billion) will likely give 2018 growth an extra boost, though we still expect growth to be within the 2% to 2.5% range the U.S. economy has tracked on average since 2010.
In our positive scenario, more deregulation comes with larger tax reductions and an infrastructure package with limited changes in trade and immigration policies. We assume a federal income-tax reduction for corporations and households in the neighborhood of $1 trillion stretched over the next 10 years, with cuts that are roughly equal, proportionately, for companies and individuals. We assume Congress would pass a $200 billion (little above 1% of real GDP) public infrastructure-spending plan. In 2018, the federal deficit would be almost $120 billion higher than in our baseline scenario.
Based on these assumptions, the U.S. would grow 2.4% this year and 2.9% in 2018 (versus 2.3% and 2.4%, respectively, in our baseline). The economy would benefit not only from lower taxes and increased infrastructure spending, but also from reduced policy uncertainty beginning the fourth quarter of this year.
However, in our downside scenario, President Trump's campaign promises fail to materialize and gridlock leads to rigor mortis as political paralysis and protectionist concerns set in to kill the post-election optimism. More uncertainty for businesses keeps investments at bay, and this would feed into already disappointing productivity growth. In this scenario, stock markets pull back and consumer sentiment falters. Together, real GDP growth would slip to 1.4% this year and 1.5% in 2018.
And with North Korea flexing its muscles, foreign policy and geopolitical risks also may be guiding forces for the country's direction. Still, it's worth noting that with the exception of World War II, history has shown that you can't have guns and butter.
While the first 100 days were much ado about nothing, there will be much to do about many things for President Trump as he moves further into his term.
Writer: Joe Maguire