Dozens of government offices swung into action after three deadly energy disasters in 2010 in a familiar call and response: The public and lawmakers decry the tragedies, and regulators take on the task of reducing risks.
While the public's calls for change were loud and persistent, the responses were years in coming. In 2016, the federal government finalized regulations to improve offshore drilling safety and try to prevent another Deepwater Horizon-type accident. But the nation's pipeline safety office is still trying to finalize a sweeping rule that would require operators to better understand their pipeline networks, and attempts to pass federal legislation to further strengthen mine safety never really got off the ground.
For many offshore drillers, pipeline companies and miners, the 2010 disasters motivated safety improvements, and they have rolled out technology and processes to serve as early warning systems and to try and prevent other accidents.
An S&P Global Market Intelligence investigation into responses to the energy industry tragedies of 2010 — Deepwater Horizon, San Bruno and Upper Big Branch — highlights the complementary role of rule changes that respond to the specific failures that led to tragedy and a corporate culture that prioritizes safety.
The Deepwater Horizon spill revealed gaps in federal regulations on offshore drilling and provoked a very direct government response.
After first imposing a multimonth moratorium on deepwater oil and gas drilling, the government realigned responsibilities within the Department of the Interior to focus on offshore safety issues, leading to the creation of the U.S. Bureau of Safety and Environmental Enforcement, or BSEE. The agency in 2010 revised offshore drilling permitting standards and released a safety and environmental management system rule to promote an industrywide safety culture. The rule aimed to address some of the human factors behind the explosion, and the government also ramped up inspections.
The U.S. Department of the Interior and the BSEE then put in place stricter standards for building offshore wells and requiring companies to be better prepared for disasters.
Despite the changes, the U.S. Chemical Safety Board in April 2016 scorned regulators' efforts. The board is an independent federal agency tasked with investigating major industrial chemical accidents, and it spent years investigating the Deepwater Horizon tragedy.
"Offshore regulatory changes made thus far do not do enough to place the onus on industry to reduce risk, nor do they sufficiently empower the regulator to proactively oversee industry's efforts to prevent another disaster like the Deepwater Horizon rig explosion and oil spill at the Macondo well in the Gulf of Mexico," the board said.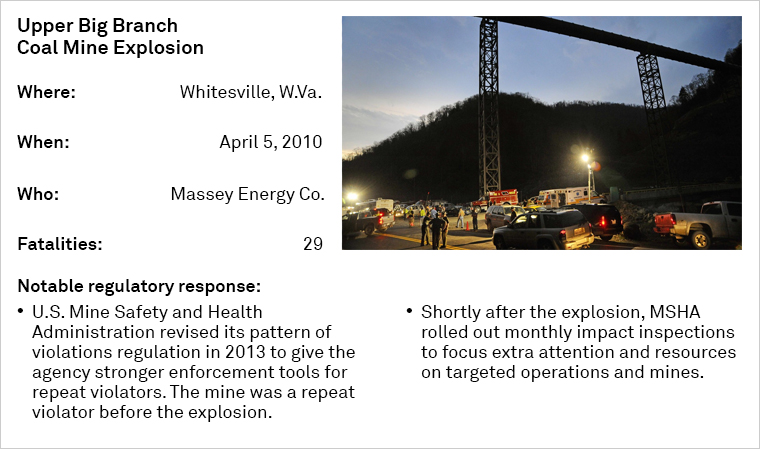 Pipeline regulations, like offshore rules, are being overhauled since the San Bruno, Calif., gas pipeline explosion. Congress has passed two major bills mandating sweeping safety reforms, and the U.S. Pipeline and Hazardous Materials Safety Administration, or PHMSA, has been working to turn those laws into enforceable rules.
Federal lawmakers directed PHMSA to require companies to know what they have in the ground, regardless of how old it is. The agency is also looking to apply stricter rules to a broader set of the nation's roughly 300,000 miles of gas transmission lines.
With the rules still not done, though, pipeline companies can still operate lines built before the 1970s without knowing what the highest safe pressure is for the pipe or even some basic information about the construction and materials.
"The requirement to inspect all pre-1970 pipes has been bottled in PHMSA for three years," U.S. Rep. Jackie Speier, D-Calif., said in an interview. "The rule has just now come out, so we can anticipate inspections moving forward, and inspections no doubt will uncover leaks which will then be repaired, so we can anticipate safer pipelines in the next two years. But I can't say that with any confidence that [the gas pipeline industry] is safer today than it was in 2010."
The regulation has proven complex because PHMSA has to show that the social benefits of the rule justify the costs of implementing it. However, the pipe industry's trade group, the Interstate Natural Gas Association of America, and other representatives have committed to a goal of zero incidents on pipelines. While acknowledging the aspirational nature of that target, industry participants and their regulators have argued that aiming for a perfect track record will drive continuous improvement. INGAA in 2011 formally adopted guiding principles to that effect.
Coal mine regulators also jolted into action after the 2010 explosion of the Upper Big Branch mine that killed 29 miners in West Virginia.
The Mine Safety and Health Administration, for example, revamped its pattern of violations, or POV, program to make it easier to shut down mines deemed chronically unsafe. The program revisions gave MSHA greater authority to penalize companies with a recurring pattern of "siginificant and substantial" violations, which are those that could put miners at risk of serious injury. In 2010, MSHA identified 51 mines meeting POV criteria. A recent screening found that zero mines qualified as a pattern violator.
"There has been a culture change in the mining industry where high numbers of serious violations at mines are no longer tolerated," Joseph Main, assistant secretary of labor and head of MSHA, wrote in a public posting to the agency's website.
Mine safety advocates applauded the administration breathing life into a dormant impact inspection program that targets mines for surprise inspections based on compliance history, worker complaints and other factors.
Lawmakers vowed to get to the bottom of the disaster and address safety lapses before another mine disaster occurred. But federal efforts to strengthen mine safety laws have mostly been nonstarters since Upper Big Branch.
In 2015, after Massey Energy Co. CEO Don Blankenship was indicted for willfully violating safety laws at Upper Big Branch, Sens. Joe Manchin, D-W.Va., and Bob Casey, D-Pa., introduced legislation that would have increased financial penalties for POV violators and reformed a system that has allowed a buildup of unpaid safety fines, but the bill never made it out of committee.
Similar efforts in the U.S. House of Representatives have also fallen short, including legislation proposed by West Virginia Republican Shelly Moore Capito that also sought to impose tougher penalties for violators.
Then again, the causes of the mine explosion were already illegal under laws on the books for decades. Prosecutors convinced a jury that Blankenship had orchestrated a conspiracy to flout mine safety laws, a misdemeanor.
"It's a mistake," said Davitt McAteer, former leader of MSHA and the lead investigator of an independent probe into the Upper Big Branch explosion. "It's a historic anomaly that exists because when the Mine Act was passed in '69, the industry was vehement that they didn't want to have the penalty."
Pressure from the top
While disasters can be catalysts to seek improvements in safety, laws and regulations can struggle to capture the pressure and balancing act executives face.
Shareholders react so negatively to small misses from earnings benchmarks that 78% of respondents in a 400-executive survey admitted to sacrificing long-term value to smooth earnings results. The peer-reviewed survey, published in 2005, found that financial executives across all industries managed quarterly numbers in part by changing spending decisions. For instance, 80% of respondents said they would decrease discretionary spending on research and development, advertising or maintenance to meet an earnings target.
"Managers candidly admit that they would take real economic actions such as delaying maintenance or advertising expenditure, and would even give up positive [net present value] projects, to meet short-term earnings benchmarks," the Duke University-led study found. The overwhelming majority of those surveyed were CFOs, and the energy and utility industries accounted for 8.6% of respondents.
The executives surveyed said an earnings miss, or a volatile report, reduces predictability and can reduce stock prices because investors and analysts dislike uncertainty.
At Upper Big Branch, investigators found that Blankenship had ordered his men to "run coal" and ignore supervisors or engineers who might have told them to work on other projects. The mine amassed stacks of violations that should have warned regulators or the company that something was wrong.
INSERT MEMORANDUM
Prosecutors used memorandums, recorded phone calls and other evidence to build the case that Massey Energy CEO Don Blankenship relentlessly drove a culture of profits over safety. (Source: Trial Exhibit)
"In my opinion, children could run these mines better than you all do," a memo Blankenship sent to Massey presidents read. "Look at your cost and figure out what you are going to do to get it down because if we don't have a better August and September than we had July, you can be assured that the stock options are not going to look very attractive."
The CEO of the multibillion-dollar corporation was an extreme micromanager. Faxed production reports were sent to his home every 30 minutes, and he insisted on personally approving or denying every hire at Upper Big Branch.
The coal boss even told one manager to resume mining in a dangerous location and to "not let MSHA run his mines." Blankenship was ultimately convicted of conspiring to violate mine safety laws and sentenced to a year in prison.
"By putting profitability of the company ahead of the safety of your employees, you, Mr. Blankenship, created a culture of noncompliance at Upper Big Branch where your subordinates accepted and, in fact, encouraged unsafe working conditions in order to reach profitability and production targets," U.S. District Judge Irene Berger admonished at his sentencing.
Just 15 days after the Upper Big Branch explosion, the blast at BP plc's Deepwater Horizon offshore oil rig in the Gulf of Mexico not only killed 11 workers but also caused one of the globe's worst modern ecological disasters and crushed the region's pivotal tourism and seafood industries.
A report to the U.S. President from the National Commission on the BP Deepwater Horizon Oil Spill and Offshore Drilling concluded that BP's decisions, made to save time and money, increased the blowout risk.
"There is nothing inherently wrong with choosing a less-costly or less-time-consuming alternative — as long as it is proven to be equally safe. The problem is that, at least in regard to BP's Macondo team, there appears to have been no formal system for ensuring that alternative procedures were in fact equally safe," the report said.
"Unless companies create and enforce such policies [to rigorously assess safety and risk], there is simply too great a risk that financial pressures will systematically bias decision-making in favor of time and cost savings," it concluded.
After its fiery and fatal 2010 pipeline explosion in San Bruno, the focus of utility Pacific Gas and Electric Co.'s priorities around safety were raised in its felony criminal trial.
The company's internal May 2008 strategic planning presentation listed "safety and reliability" under a heading, "What is up for debate?" Under the corresponding "What is not up for debate" heading, PG&E included "8% [earnings per share] project."
For its 2008-2011 strategy, PG&E put "Deliver on EPS goals" at the top of the list, the presentation showed, and based 40% of the performance metrics on meeting earnings targets. By contrast, safety factored into 10% of the company's performance metrics.
Prosecutors held up these documents as evidence that costly safety measures were avoided or delayed to increase profits.
Changing the culture
Sitting at Contura Energy Inc.'s Running Right Leadership Academy, a facility built in the wake of the Upper Big Branch disaster, the National Mining Association's senior vice president for government and political affairs said the industry realized in the wake of the disaster that they needed to "do a much better job than we were doing." Upper Big Branch, Bruce Watzman said, was a "clarion call for the industry."
"I think the change that has happened since 2010 is really a recognition across the industry that the regulations are the baseline from which you build on, and there's a need to shift from a reactive to proactive mode to be able to identify potential hazards," Watzman said, adding that a cultural shift in the industry has prompted a focus on engineering potential hazards out of the workplace.
The safety academy near Charleston, W.Va., is a one-of-a-kind facility that rivals any built by regulators, Watzman said. The facility, he said, is like other purposeful initiatives from the coal industry aiming to prevent rather than react to disasters.
PG&E has also dedicated a wealth of resources to preventative measures to avert catastrophe. The utility debuted a $38 million high-tech gas control center tracking more than 25,000 pieces of data refreshing every 20 seconds to keep a close eye on the company's gas transmission and distribution systems after the San Bruno incident.
"The very first change was really the company's focus on its utility operations," said Mel Christopher, PG&E's senior director of gas operations. "What we realized out of San Bruno was that we had to learn from that. We had to get better than the way the system was operated before. And as a result we realized that some of the change we had to make was not just incremental change, but in some cases, significant or transformational change. And I think about the gas control center in terms of transformational change."
Others in the pipe industry have joined PG&E in major safety investments. Columbia Gas of Pennsylvania Inc., a subsidiary of NiSource Inc., in July 2016 opened a $10 million centralized training facility for employees who operate and maintain its natural gas distribution system. It is the first of four planned centers for NiSource.
In November 2015, the oil industry also took a new step forward in preventing accidents like the Deepwater Horizon spill with the opening of the Maersk Training simulation facility in Houston. Maersk training is used by some of the world's biggest exploration and production companies, such as Statoil, and in 2015, BP signed an agreement to train its oil drilling teams at the Houston facility.
Training offshore oil workers to operate as a cohesive team in disaster scenarios is a primary emphasis at the Maersk facility.
"If you're a driller, there are requirements for what type of training you need," Jacob Raffnsøe Petz, the facility's managing director, said. "So if something happens — you lose power, for example, from the engines — how is it that you work with that emergency state as a full rig crew, and how do you communicate, and how is it that you're not just a lone warrior? You are actually a person that is engaging in the team. But when you look at the industry requirements, there's very little focus on working with a team."
Like other energy sectors facing disaster, the facility seeks to answer an important question that binds nearly all stakeholders.
"We always want to strive to do better," Raffnsøe Petz noted during a tour of the training facility. "How do you do that?"