As Gulf Coast residents battle the unprecedented fallout from the consequences of Hurricane Harvey, the storm has barely registered in the U.S. oil and natural gas markets. Henry Hub natural gas prices have stuck close to their recent anchor of $3 per mmBtu. West Texas Intermediate oil prices fell slightly, reflecting the view that the reduced input from the closed Gulf Coast refineries will outweigh the outages in crude oil production from the storm.
Prices for refined products such as gasoline and diesel rose somewhat because the Gulf Coast is home to the bulk of U.S. refining capacity and the extent of damage and length of outages aren't yet clear. S&P Global Ratings doesn't believe major Gulf Coast storms trigger volatility in the U.S. oil and gas markets the way they used to but we should be prepared for some short-lived price spikes and shortages of refined products, depending on the scale and duration of refinery outages. In any event, major Gulf Coast storms will have little impact on our ratings on most U.S. oil and gas companies.
Overview
The Gulf Coast contributes less to U.S. production than in the past;
Crude markets are more global so they're more resilient to regional disruptions;
Increasing onshore production should outweigh Gulf Coast outages; and
Ratings on U.S. E&P companies should remain broadly stable.
The Gulf Coast Contributes Less To U.S. Production Than In The Past
A decade ago, the story was very different, at least for natural gas. Natural gas prices almost doubled to $14/mmBtu in 2005 after hurricanes Katrina and Rita hit the eastern Gulf of Mexico, which prompted oil and natural gas producers to suspend production. Even after the worst of a storm has passed, damage to energy infrastructure can reduce output over an extended time. Hurricane Ivan caused extensive disruption to subsea pipelines in 2004, resulting in extended outages that pushed up commodity prices. In the intervening years, the Gulf has become a smaller contributor to total U.S. production. Shale plays in onshore basins, particularly the Marcellus for gas and the Permian for oil, now dominate U.S. supplies. Gulf production represented almost 20% of U.S. natural gas output in 2004. The number now is closer to 5%. As a result, even a major storm that causes significant damage to the Gulf Coast affects a much smaller proportion of U.S. gas supply.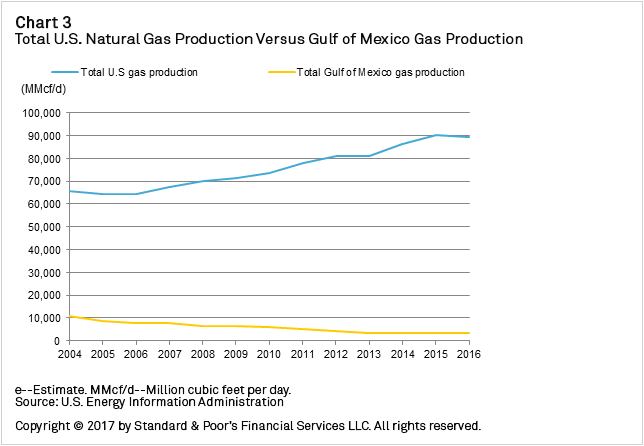 Crude Markets Are More Global And More Resilient To Disruption
Crude oil markets, which are much more global than natural gas because oil is easier to transport over water, are fairly insensitive to short-term supply disruptions in the U.S. Local factors continue to drive U.S. natural gas prices, though increasing liquefied natural gas (LNG) export capacity is creating stronger ties to global markets. Unlike natural gas, oil production in the Gulf has increased over the past decade. The growth reflects several large projects that came on line in 2016 that were initiated years earlier. Onshore production has risen faster, however, and the Gulf represents a smaller share of overall U.S. output.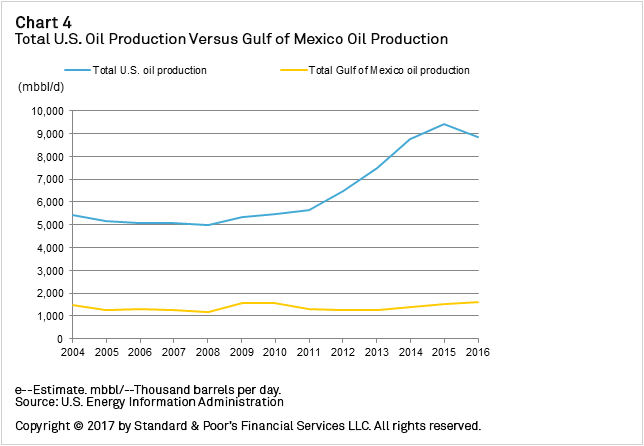 Onshore Production Growth Should Outweigh Gulf Coast Outages
The exploration and production (E&P) industry's shift to onshore production makes natural gas prices less sensitive to Gulf-based hurricanes and also reduces operational risk for many operators. Appalachian production driven by Marcellus shale development, has grown to 25% of total U.S. production up from about 2% in 2004. A decade ago, most gas in Pennsylvania was from conventional or coal-bed methane wells, which produce a trickle compared with the figurative fire hoses of Marcellus wells.
Ratings On E&P Companies Should Remain Broadly Stable
At this time, we only rate a few E&P companies that are focused on offshore Gulf development, and some larger E&P companies have cut back or exited offshore operations completely in favor of shale. We view the reduction in operating risk related to the shift onshore as generally favorable for credit quality. Shale development involves its own challenges, however, including production declines that are much higher than offshore projects and high reinvestment requirements. The productivity and relative predictability of shale has also contributed to the current oversupply in oil and gas markets and relatively stable and low prices, which thrust the industry into the worst downturn in more than a decade. Given the changes in natural gas production, E&P companies shouldn't expect the price increases that historically accompanied a major Gulf storm.
Steven Katz contributed to this article.