Well, 2016 certainly proved to be eventful, didn't it? Looking back now we can be sure that Brexit did have a quite dramatic effect, but was it all negative?
Continuing on from our previous analysis1, we have taken a look at the whole of 2016 M&A activity for both UK headquartered companies being acquired and acquisitions made by UK headquartered companies, not including any cancelled transactions. We have compared the results to the five-year average from 2011 to 2015, and it is evident that things are certainly not as bad as what some predicted. We have seen a dramatic decline in the value of Sterling, but this has opened up possibilities for foreign investors. However, this decline in Sterling's value has caused the number of UK companies engaging in M&A activity to drop significantly.
Key findings:
Number of acquisitions of UK companies was down 19.3% on the five-year average (2011-2015).
Down 23.3% on 2015 levels.
Deal values of UK companies acquired was down 6.5% on the five-year average (2011-2015).
Down 50.8% on 2015 levels.
Number of acquisitions made by UK companies was down 19.7% on the five-year average (2011-2015).
Down 26% on 2015 levels.
Deal values of acquisitions made by UK companies were up 9.66% on the five-year average (2011-2015).
Down 5.3% on 2015 levels.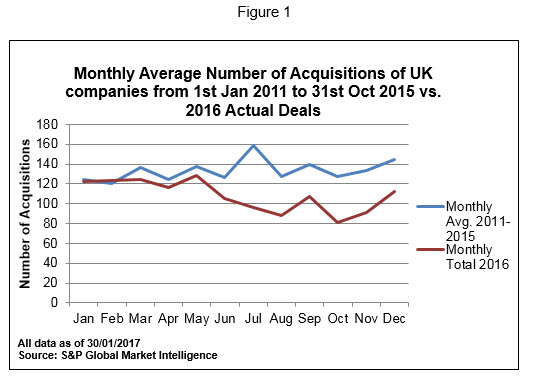 The chart above shows the average number of acquisitions of UK companies by month. Despite tracking the average trend for the first couple of months in 2016, the number of acquisitions dropped significantly throughout the year. The steep monthly decline really began in July, directly after the Brexit vote on June 23, 2016, and continued until the end of the year.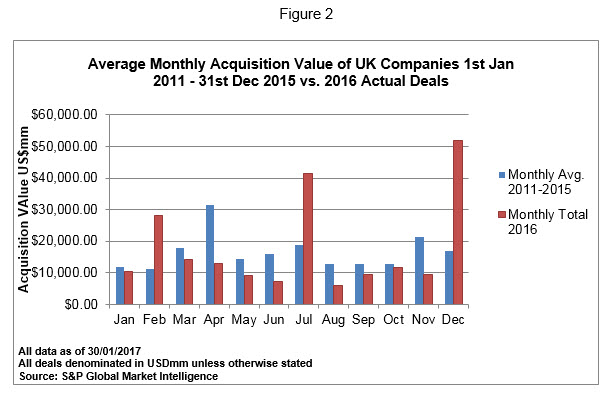 As Figure 2 above demonstrates, the deal values of UK headquartered companies being bought continue to be below average, with a couple of notable exceptions. When we look at July and December 2016, the value of the acquisitions were up 83% and 126.9%, respectively. Notable mega deals certainly helped these months; in July we saw the $31bn acquisition of ARM Holdings by Softbank, and in December we had the $25.2bn acquisition of SKY Plc by Twenty-First Century Fox Inc. Looking at the total values for each year from 2011-2015, we can see that 2016 only lagged behind 2015 (-50.8%) and 2014 (-17.7%). Compared to the other years, 2016 shows an impressive increase in deal values; 2011 (+40.7%), 2012 (+37.2%) and 2013 (+52.2%). These increases are understandable when we consider the low interest rate environment and the high level of liquidity and funding made available by the Central Banks.
Unfortunately the uncertainty remains in 2017, and it looks like the political landscape will be the concern yet again. Will it be a hard or soft Brexit? What does this mean? What will President Trump do next? How will the Presidential elections in France and Germany pan out? Will company valuations continue to rise? One thing is for sure: there will continue to be opportunities despite these challenges, and it should certainly make for an exciting and interesting year ahead.