As Republican leaders prepare to unveil details of President Donald Trump's tax overhaul, an analysis of market data shows past tax reforms harmed precious metal stocks, while other industries, such as financials and certain segments of the oil and gas sector, saw a more positive impact.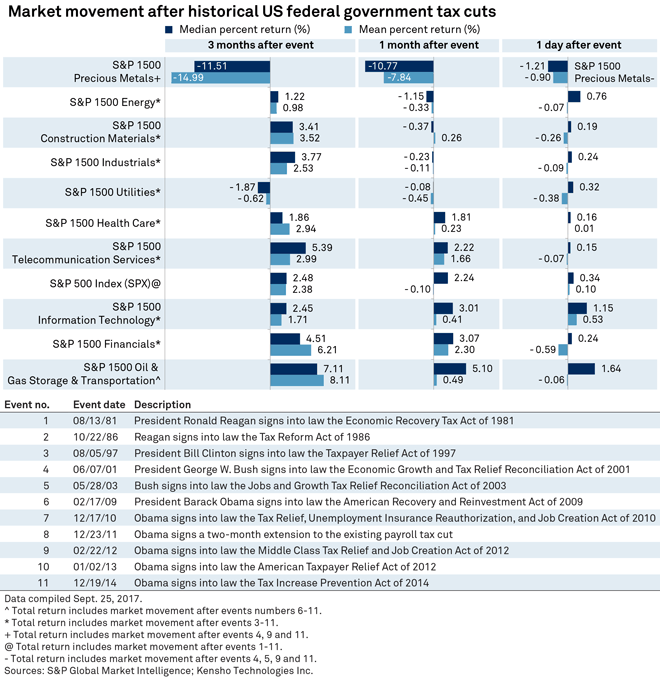 Looking at a series of past tax reform laws over time, the S&P Composite 1500 precious metals sub-industry index on average dropped nearly 15% in the three months following each new law, according to data from S&P Global Market Intelligence and Kensho Technologies. The S&P 500 index saw an average gain of 2.4% in the three months after each past instance of tax reform, a series of laws that stretches from President Ronald Reagan in the 1980s to President Barack Obama.
While the tax reform reportedly being considered would be more significant than any of the other reforms over the last three decades, complicating comparison, the trend can be explained by the stimulus effect of tax cuts, which boost demand for fuel and lure investors out of safe haven gold back into the real economy, investors said.
"If the tax reform is such that we're going to have sustainable higher growth, it's bad for gold," Axel Merk, president and chief investment officer of advisory firm Merk Investments, said in an interview.
But Merk notes there are still a number of unknowns when it comes to tax reform, and gold prices have actually gone up in recent months. "The market has been signaling that we're not going to get much of a reform — we might get some tax changes," he said.
The last major tax reform enacted in the U.S. was the Tax Reform Act of 1986, signed by President Ronald Reagan. The law, among other things, lowered the top individual tax rate to 28% from 50% and lowered the top corporate rate to 34% from 46%. In 1993, the top corporate rate was raised to the current statutory rate of 35%.
While Trump has long set a goal of slashing the corporate tax rate to 15%, negotiators for the so-called Big Six — Treasury Secretary Steven Mnuchin, National Economic Council Director Gary Cohn and top Republicans in the House and Senate — are said to be leaning toward a corporate rate of 20%.
This would be in line with the 20% statutory rate proposed in the "A Better Way" blueprint, put forward by House Speaker Paul Ryan, R-Wis., and House Ways and Means Committee Chairman Rep. Kevin Brady, R-Texas. Brady has said the tax reform plan will deliver "the lowest tax rates in modern history for American job creators of all sizes."
The Big Six are also considering a rate of 25% for "pass-through" businesses, which have their income "pass through" to their owners who are taxed as individuals. Pass-through entities account for 95% of U.S. businesses, according to The Brookings Institution, and include partnerships, S corporations, most LLCs and self-employed individuals.
S&P Global Inc., the owner of S&P Global Market Intelligence, has an investment in Kensho Technologies Inc.