London (Platts)--21 Sep 2017 738 am EDT/1138 GMT
Campaigning ahead of the German elections on Sunday is entering its final days, with energy issues ranging from coal plant closures to the debate about diesel cars, climate change and carbon pricing dividing the parties, while the planned steel merger between ThyssenKrupp and Tata Steel has highlighted the issue of job security in a globalized world.
Nord Stream II, single gas hub may be disruptive long-term
Government targets a rise in CHP output to 110 TWh by 2020
Gas demand is set to rise from current 24% primary demand
Chancellor Angela Merkel's CDU/CSU has a wide lead in the polls but is unlikely to achieve a clear majority, with any meaningful energy-specific policy discussions more likely during post-election coalition talks.
Based on the latest polls, only two coalitions would achieve an absolute majority, either a continuation of the current "Grand Coalition" with the Social Democrats (SPD) or a new coalition including both the center-right FDP and the Green Party, dubbed "Jamaica " because the party colors match the flag, which is untested at the federal level.
Talks on Merkel's first three coalitions (2005, 2009 and 2013) took an average of 61 days after election day, according to data from the lower house of the German parliament, the Bundestag.
Below are snapshots of what's at stake and the possible impact on specific sectors and commodities in Europe's largest economy:
POWER
Germany's biggest single source of electricity remains domestic lignite coal, accounting for almost a quarter of its annual demand. With the nuclear exit now coming ever closer -- the remaining reactors are set for closure by end-2022, political focus has switched to exiting coal too in light of the rise in renewables supply, with Merkel's potential smaller coalition partners (Greens and FDP) having opposing views.
Overall, grid expansion is seen as the top priority for the power sector as this lagged behind the boom in wind and is linked to the issue of power price zones. Germany's changing power landscape and growing imbalances between North and South have already led to the split of the common price zone with Austria next year.
Germany's is Europe's biggest and most liquid power market, with its prices generally seen as the benchmark across Europe, not least because of its position as Europe's biggest exporter of electricity .
GAS
The key debate over the next legislative period will be the go-ahead for a second pipeline under the Baltic Sea from Russia (Nord Stream II), which would further reduce any need for transit through Eastern Europe.
While the SPD is often seen as more Russia -friendly, not least after Russia nominated former SPD chancellor Gerhard Schroeder to the Rosneft board, the issue has many geopolitical implications. Plans for a first major LNG terminal in Germany at Brunsbuettel may also have a political dimension.
In terms of pricing and liquidity, Germany's two gas hubs (GASPOOL and NCG) lag behind the TTF and the NBP, but plans to merge the two hubs as well as rising volumes from a possible second Nord Stream pipeline could have the potential to be disruptive in the very long term.
Germany is Europe's biggest gas consumer, but its role in the power sector has remained marginal due to low power prices making even the most modern gas plants unprofitable.
However, a sharp rebound on global coal prices has lifted power prices and brought gas-generation margins back to the brink of profitability for the first time since 2011.
Combined heat and power plants are also benefiting from subsidies with the government targeting to increase output from CHP to 110 TWh by 2020, up by a quarter from now.
With the nuclear exit now coming into focus and talk of an "entry into a coal exit," gas' role in power generation is set to rise from 24% of German primary energy demand.
COAL
While the current coalition has largely shielded coal, any coalition involving the Greens would at least start the process of a coal phase-out with the Greens making a timetable for the closure of the 20 most-polluting coal plants a coalition condition, which would grate with the liberal FDP, which generally opposes state intervention.
All parties agree that any coal phase- out would need to pay particular attention to domestic lignite -mining areas in the West (owned and operated by RWE) and East (now mainly owned by Czech-based EPH). Traditional hard-coal mining in Germany has been phased out with the last mine set to close in 2018.
However, with German utilities having invested in an 8-GW fleet of highly efficient coal plants, commissioned since 2013 talk of a potential coal exit also needs to be differentiated between old hard-coal fired plants (already under intense market pressure to close) and modern hard-coal plants as well as lignite plants expected to provide baseload power for many years to come.
Coal still dominates German power with a share of over 40%, but with the nuclear exit now irrevocable and the last reactors set to close by 2022, attention has shifted to a possible coal exit.
EMISSIONS
Renewed debate about additional steps on the climate-change front with party lines clearly drawn especially among the smaller potential coalition partners, while the mainstream parties have remained vague on specific action with the CDU/CSU and the FDP rejecting a minimum carbon floor price.
Any involvement of the Greens in a coalition would increase the possibility of a stricter policy on emissions pricing or even direct action on closing coal plants.
Overall, all parties agree on increased efforts from other sectors, especially transport, which is the only sector expected to have higher emissions by 2020 than in 1990.
Germany remains Europe's biggest emitter of greenhouse gases by a large margin and despite its green credentials is at risk of missing its national target of a 40% cut over 1990 levels by 2020.
RENEWABLES
With Germany's grid expansion lagging behind the boom in wind turbines, a priority for the next government will be overcoming rising North-South imbalances within the German power grid. Generous subsidies under the EEG renewables law have turned Germany into a world leader in wind and solar with installed capacity set to reach 100 GW next spring.
However, spiraling costs have meant many reforms with the latest EEG 2016 moving all green projects from feed-in-tariffs to competitive auctions that have shown sharp cost declines with a virtual subsidy-free offshore wind auction in April creating headlines and pressure for government to fine-tune the rules.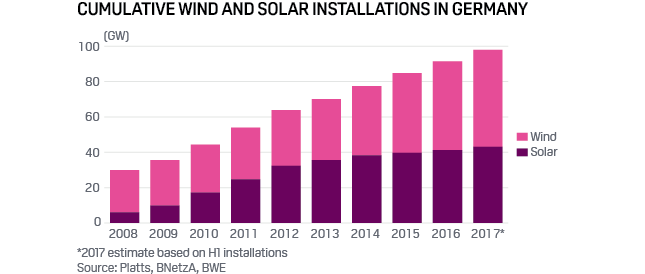 OIL
Growing public and political concern about poor air quality due to diesel emissions and rising electric car sales, will have major implications for the German energy and key automobile sectors.
Merkel has, for now at least, rejected a proposal to introduce quotas for electric cars in the EU, a position which has fueled claims that she is too accommodating toward the powerful automobile industry.
Including Volkswagen, Daimler and BMW, car makers are Germany's biggest exporters and provide some 800,000 jobs. During election campaigning, however, she expressed "anger" at the car industry, promising a sustainability fund to tackle diesel-related air pollution at local authority level.
Spurred by a promised phase-out of gasoline and diesel cars in France and the UK, pressure is mounting on Merkel to follow suit. The government is aiming to have 1 million electric cars on German roads by 2020, but it's a target that even Merkel admits is ambitious despite major incentives.
Pressure is also mounting inside Germany. Many cities -- including Munich and Stuttgart -- are considering banning diesel engines altogether on air-quality grounds and have sought court backing for such moves.
Germany is Europe biggest oil consumer, burning 2.4 million b/d of oil products last year, or 17% of the European total, according to the International Energy Agency.
Also Europe's largest fuel market and refining hub, Germany consumed 760,000 b/d of diesel in 2016 and 420,000 b/d of gasoline, putting it ahead of both the UK and France. Germany's market penetration of diesel cars has been in sharp decline since the Volkswagen emissions scandal broke two years ago.
In August, registrations of new diesel cars fell 13.8% on the year, according to Germany's motor vehicle authority.
METALS
National German steel champion ThyssenKrupp and Tata Steel have announced a memorandum of understanding to combine their European steel businesses just days ahead of the election. In the run-up, the rumored merger has already divided the two biggest parties -- the CDU and SPD.
The merger would create the second largest steel producer in Europe behind ArcelorMittal, but not without costing thousands of jobs. ThyssenKrupp's steel division employs 27,600 people alone, with 40% of the industry in North Rhine-Westphalia, the industrial heartland of Germany.
ThyssenKrupp and Tata announced they would cut 2,000 jobs each, with the JV headquarters in the Netherlands, where Tata has its low-cost Ijmuiden plant. The Social Democrats, drawing support from traditional steel workers, openly opposed an international merger and feared exactly what happened -- that it would be headquartered outside of Germany.
Labor union IG Metall told S&P Global Platts it would continue its demonstration on Friday, with support from Labor Minister Andrea Nahles from the SPD.
Merkel and the CDU/CSU said they would not interfere with business decisions, while highlighting a framework of political support for the metals industry, such as seeking solutions to global steel overcapacity through international groups, and supporting the steel industry on changes to the European emissions trading scheme.
PETROCHEMICALS
Germany houses some of the largest petrochemical companies in Europe and they will seek support from the next government on two fronts -- feedstocks and emissions.
In June 2016, the government introduced a law banning hydraulic fracking. That came about when petrochemical producers in Europe had been vying to import cheaper shale based ethane feedstock for their crackers as they tried to compete with their resurgent counterparts in the US.
A substantial slashing of feedstock costs for European petrochemical companies will come only if they are able to source ethane locally, and German companies will seek concessions from any new government.
Also, petrochemical companies in Germany will seek a level playing field with their global counterparts on carbon emissions to prevent the risk of investment leakage.
The feedback from the industry so far has been that the Paris COP21 climate-change deal has left European companies at a disadvantage.