News of an increase in the Federal Reserve's benchmark rate seems to have passed digital lenders by so far, although companies with a direct or hybrid lending model will likely need to increase interest rates on loans faster than those operating a pure marketplace model.
None of the 13 companies covered in our Digital Lending Landscape had adjusted interest rates charged to borrowers as of Dec. 15, and at least one has confirmed there is no intention to do so for now. Digital lenders rely on funding sources outside of deposits and the Federal Reserve system, and factors impacting rates vary depending on whether the company operates as a direct lender or marketplace.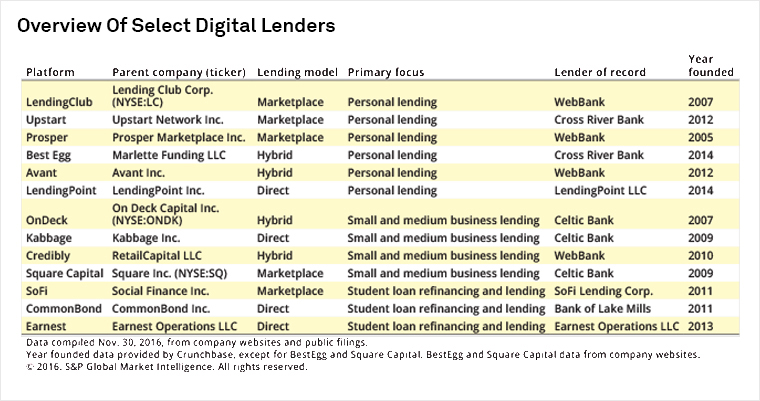 Marketplace lenders are more insulated from outside rate movements due to their funding model. Marketplace lenders do not hold loans for investment purposes and act simply as a middleman, matching borrowers with investors who are willing to fund the loans. Because the marketplace model involves individual or institutional investors funding loans directly, the individual attributes of each loan will be the driving force behind yields. While direct lenders and traditional banks are able to draw from deposits or other stable sources of funding, marketplace lenders must ensure that they are providing attractive risk-adjusted returns to their investors.
For example, LendingClub Corp. adjusted its rates by a weighted average of 26 basis points in October 2016. These increases were concentrated in the lower rated credit categories. Between November 2015 and June 2016, the company had increased rates by a weighted average of 135 basis points, also focusing on lower rated credit categories.
Direct and hybrid lenders, on the other hand, will likely feel an immediate impact on funding costs from a rate increase. They rely on credit facilities at large banks in order to fund their loans. Loans are held on the lender's balance sheet, and profits are generated through the spread between the lending rate and the borrowing rate. Hybrid lenders may also sell a portion of these loans to third-party investors, similar to the marketplace model.
Rates on credit facilities are normally set on a floating basis with a spread above a reference rate, such as LIBOR. According to public filings, On Deck Capital Inc., a hybrid lender, pays anywhere from LIBOR plus 2.25% to 9.25% depending on the terms of the individual facilities used. Disclosed weighted average interest costs for the third quarter of 2016 ranged from 2.8% to 9.8%. It is likely that On Deck and other lenders relying on bank credit have already seen their funding costs go up since Sept. 30. One-month LIBOR and three-month LIBOR rose 20 basis points and 9 basis points, respectively, between Nov. 14 and Dec. 15. Both figures are currently at 52-week highs.
For direct and hybrid lenders alike, higher funding costs mean lower profitability on loans if borrower rates are not increased. Hybrid lenders have the ability to offset lower margins on loans they hold by offering a portion for sale to third-party investors. Similar to marketplace lenders, hybrid lenders will need to ensure the rates on these loans are attractive to investors. Lenders can also use securitization to hedge against rising rates. Because the bonds issued through a securitized offering pay a fixed coupon, lenders know what they must pay throughout the life of the bonds.
We estimate that OnDeck has likely seen the weighted average interest rates on its credit facilities go from between 2.8% and 9.8% as of Sept. 30 to between 3.0% and 10.0% as of Dec. 16. These numbers are based on disclosed or estimated LIBOR margins from Sept. 30 added to ICE one-month LIBOR as of Dec. 16. The company's disclosed LIBOR margins and weighted average interest rates suggest that its credit agreements are tied to one-month LIBOR. On Deck maintained seven credit facilities with large institutions including Deutsche Bank AG, SunTrust Banks Inc., Bank of America Corp. and Jefferies Group LLC as of Sept. 30.
While LIBOR moved ahead of the fed funds rate in 2016, it has historically moved up with rate hikes by the Federal Reserve. If the Fed continues to move its benchmark rate up in 2017, On Deck will continue to see its cost of funding rise, likely leading to an increase in interest rates for borrowers.
A big factor holding lenders back from raising rates is competition. Raising rates while competitors don't could make a lender less attractive to potential borrowers. Personal loan-focused Upstart, which operates under a marketplace model, is not planning to raise borrower rates anytime soon.
"Upstart personal loans offer high single-digit yields, so a Fed rate increase in the 25 or 50 basis point range wouldn't have much effect on us," Upstart Network Inc. co-founder and CEO Dave Girouard told us. "If rates moved 100 basis points or more, we'd certainly react and adjust our borrower rates accordingly."
For now, this seems to be the same path other lenders in the space are taking as well.