Emerging challenges – including the impact of disruptive technology and the demand for sustainable projects – are adding to traditional financing pressures facing America's infrastructure industry. S&P Global Ratings has observed that there are various tools being used by the public sector to collaborate with the private sector to bridge the financing gap and address these challenges. This paper discusses our observations on policies and financing techniques applied to various infrastructure sectors.
The pressure on governments in the U.S. – whether at the federal, state, or municipal level – has mounted as they face the twin challenges of fiscally constrained budgets and aging infrastructure. Across the country, municipalities are struggling to manage the repair of roads and bridges reaching the end of their life cycles. U.S. airports fall short compared with international peers in terms of passenger comfort and overall investment with an increasingly outdated air navigation traffic control network constraining long-term growth. Even with the most fundamental of services, water supply, we observe funding shortfalls (particularly with respect to midsize and smaller systems), significant levels of deferred maintenance, and only nascent asset management leading to higher operating costs for the taxpayer over the long term.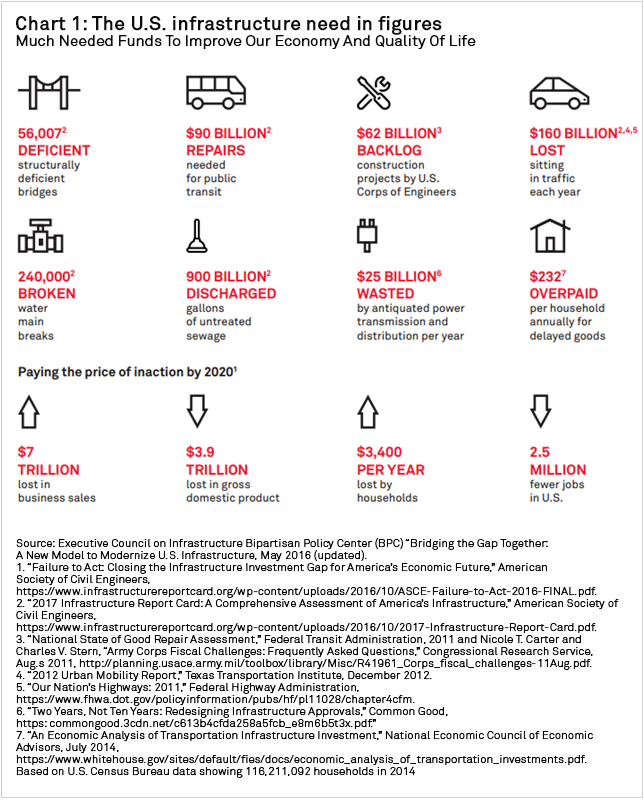 Emerging risks add to traditional infrastructure pressures
Crucially, as the global trends of digitalization and sustainability increase, we expect the U.S. will need new infrastructure development to increase competitiveness, enhance productivity and efficiency, generate jobs, and attract investment and talent. New challenges exacerbate the concern that America's prevailing infrastructure funding model in sectors such as transport, social infrastructure, and water – which relies predominately on traditional municipal financing – will be hard-pressed to satisfy the country's evolving infrastructure needs over the next 50 years.
Much has changed since the days of President Dwight Eisenhower and the great interstate highway buildout of the 1950s: The U.S. has entered the age of information and development of smart cities. Based on observations of disruption in other industries, we believe that new infrastructure investment is needed for the U.S. to stay relevant and competitive in a world measured by smartphones and other connected devices, rather than the clunky solid state calculators engineers used 50 or more years ago. And accompanying the rise of digitalization is the growing risk of cybercrime.
While technology permeates nearly every aspect of modern life, America still struggles to integrate it into its aging infrastructure. In fact, as things stand, some elements of U.S. infrastructure may hinder technological advancement. The state of U.S. roads and airports may be obstacles to – rather than facilitators of – driverless cars and next-generation aircraft. Big data has the potential to lead to radical changes in physical urban infrastructure. Tomorrow's infrastructure projects are likely to include sophisticated information systems and other advanced technologies to support U.S. productivity and keep pace with growth seen across the globe.
There is also a greater call for eco-friendly and environmentally sustainable infrastructure that can adapt to adverse weather conditions in a world increasingly affected by climate change, can offer long-term resilience to its effects, and can even contribute to the reduction and mitigation of global warming.
Importantly, some governments are placing greater focus on life-cycle management and looking for more strategic and efficient use of taxpayer monies over the long term. But the question remains: How can government revitalize infrastructure and ensure that it stays relevant in the digital and sustainable era – and do it in a cost-effective manner?