Start every business day with our analyses of the most pressing developments affecting markets today, alongside a curated selection of our latest and most important insights on the global economy.

Spate of Summer Droughts Slows Agriculture Recovery
Droughts are often considered a creeping disaster because their onset and duration are difficult to detect. While sudden weather events such as hurricanes usually make headlines upon arrival, droughts tend to take hold unannounced and wreak havoc gradually, with agriculture almost exclusively taking the brunt.
The agriculture sector was still reeling from the effects of the COVID-19 pandemic and Russia's invasion of Ukraine when a spate of droughts hit the Northern Hemisphere in summer 2022, increasing concerns over food inflation and global food shortages. As shocks from the pandemic, war and droughts drag on, agricultural yield outlooks are becoming subdued, and recovery for the industry is expected to be drawn out.
"This year's multiple droughts, which occurred on the back of already disrupted agricultural trade flows from the Russia-Ukraine war, will likely pressure corn, rice and livestock supplies and lead to elevated prices of agricultural commodities," according to research from S&P Global Ratings.
In summer 2022, key agricultural regions in major economies such as the U.S., Europe and China got caught by some of the worst droughts on record, resulting in severe crop and livestock losses, reduced yields and delayed growing and harvesting seasons. According to the U.S. Drought Monitor, nearly 70% of the country was in drought this past summer. The figure rose in October to 82%, which analysts said was the highest drought coverage in the U.S. since 2000. In China, intense heatwaves and droughts drained key parts of the Yangtze River and hindered hydropower generators in the country's Sichuan province. In what was considered the worst drought in Europe in at least five centuries, large swaths of the region suffered a persistent lack of rainfall and extreme temperatures, causing vegetation stress in countries including Italy, France and Germany.
Globally, corn and rice production are forecast to fall 4% and 2%, respectively, for the marketing year 2022-2023, S&P Global Ratings' report said. Corn, rice and wheat stocks are likely to continue a multiyear decline, while soybean production is predicted to bounce back. As the top exporting regions — the U.S., EU and Ukraine — are confronted with decreased output due to the war and droughts, Brazil remains the only hope for corn buyers. However, restoring global corn supply could take two to three years of good harvest.
In terms of livestock impact, cattle prices increased in the U.S. due to a shortage of supplies caused by droughts across the midwestern states. In Europe, the droughts' damage on pastures and forage, coupled with rising animal feed prices due to lower cereal yield, could hurt livestock production.
On the credit risk front, extraordinary circumstances, in part because of the Russia-Ukraine war, are overshadowing droughts as a potential credit factor and strengthening the credit quality of many fertilizer producers. Grain and oilseed traders are also benefiting from tight supplies despite drought conditions, as borrowers in the sector have historically low leverage.
If droughts become more frequent and severe, "consumer price inflation and input cost volatility may become more prevalent credit risks for agribusiness and consumer products companies," S&P Global Ratings concluded in its report. A recent U.N. report stated that drought frequency and duration have risen by about a third since 2000.
Although droughts are a natural weather phenomenon, new analysis by the World Weather Attribution found that the summer droughts in the Northern Hemisphere were made at least 20 times likelier due to global warming caused by human activities, a theme that has been widely discussed in climate summits but not yet fully addressed.
Today is Tuesday, November 15, 2022, and here is today's essential intelligence.
Written by Pam Rosacia.
Economy
---
Inflation, Inventory Challenge U.S. Holiday Shopping Season
High inflation and ongoing retail supply chain issues are casting dark clouds over the important U.S. holiday shopping period. Sales forecasts for the period, which generally runs from October through December, show the growth of total sales over the prior year will be undercut by soaring inflation, leading to a marked slowdown from recent years that were buoyed by pent-up pandemic demand and consumers awash with extra cash.
—Read the article from S&P Global Market Intelligence
Access more insights on the global economy >
Capital Markets
---
U.S. Banks Double Down On France, Germany But Pull Back From U.K.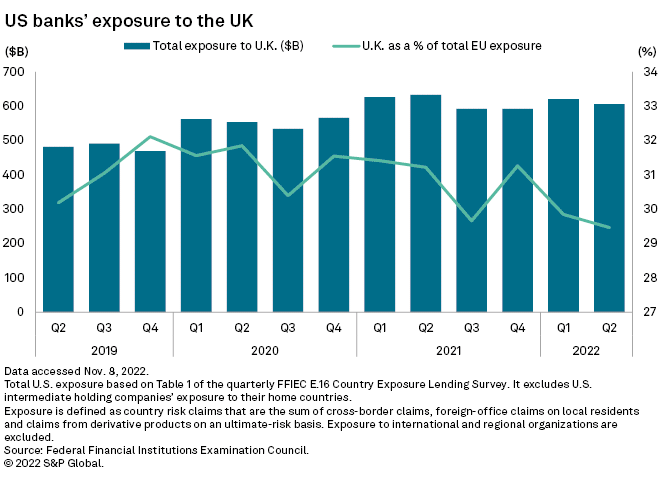 U.S. banks continue to increase their footprint in the French and German markets, with exposures rising by 5.3% and 11.0%, respectively, in the year to June 30, 2022, but they are pulling back from the U.K., Italy and Spain. Lenders based in the U.S. had $324.50 billion worth of exposures to France and $424.65 billion to Germany during the period, data from the Federal Financial Institutions Examination Council shows.
—Listen and subscribe to S&P Global Market Intelligence
Access more insights on capital markets >
Global Trade
---
India's Unwavering Appetite For Russian Crude Lifts Oct Inflows To Multiyear Highs
India's appetite for Russian crudes in October rose to levels not seen in recent years and surpassed volumes shipped by leading Middle Eastern suppliers, as refiners rushed to snap up plentiful cargoes ahead of any potential shipping or policy hurdles once the EU's sanctions kick in, analysts told S&P Global Commodity Insights. From a market share of less than 1% in India's import basket before the start of the Russia-Ukraine conflict, Russia's share of India's imports rose to 4.24 million mt, or nearly 1 million b/d, in October, taking a 21% share comparable to that of Iraq and higher than Saudi Arabia's share of around 15% in the country's import basket in the same month, S&P Global data showed.
—Read the article from S&P Global Commodity Insights
Access more insights on global trade >
Sustainability
---
COP27: EC VP Timmermans Rejects 'Energy Transition On Hold' Narrative
Using more coal in the short term to displace Russian gas does not lead to a bigger carbon footprint for the European Union, European Commission Executive Vice President Frans Timmermans told a ministerial round table at the UN Climate Conference in Egypt Nov. 14. Coal and lignite fired power stations in Germany, the Netherlands, Austria and France have been recalled to the grid this winter to help reduce gas-for-power demand.
—Read the article from S&P Global Commodity Insights
Access more insights on sustainability >
Energy & Commodities
---
Listen: After Party-Line Clashes On Energy, Can A Bipartisan Agenda Emerge After U.S. Midterms?

The 2022 U.S. midterm elections featured partisan clashes over energy policy, with accusations traded over whether the Biden administration's climate policies or what some saw as profit-hungry oil companies were to blame for high prices. With the possibility that divided government or slim margins for either party in Congress will result from the midterms, S&P Global senior editor Maya Weber spoke to Sasha Mackler, executive director of the energy program at the Bipartisan Policy Center, about the election and areas that might be ripe for bipartisan action in Washington.
—Listen and subscribe to Capitol Crude, a podcast from S&P Global Commodity Insights
Access more insights on energy and commodities >
Technology & Media
---
Technology And Geopolitics: What If The Semiconductor Industry Bifurcates?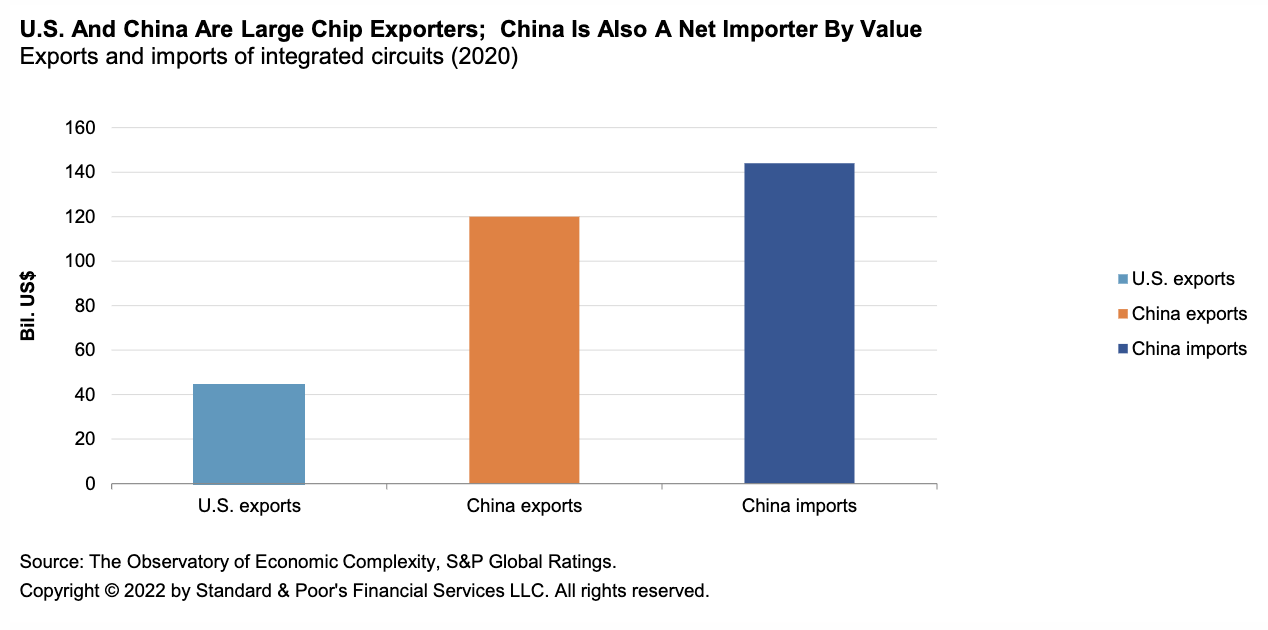 Bifurcation will be costly. If global semiconductor supply chains become less integrated, manufacturers in China, the U.S. and Europe would need to build new and overlapping foundries, at a cost of more than US$10 billion each, to ensure supply amid increased trade sanctions on global semiconductor technology. It will also be risky. S&P Global Ratings believes bifurcation could disrupt supply chains for chip makers and consumers, including via battles on control of upstream materials. Uncertainties would abound, with disruptions just as likely coming from supply gluts as from shortages.
—Read the report from S&P Global Ratings