Start every business day with our analyses of the most pressing developments affecting markets today, alongside a curated selection of our latest and most important insights on the global economy.

Ukrainian Power Grid Synchronizes With EU Network
Ukraine's electricity grid was synced with continental Europe's interconnected network, beginning a trial that has connected Ukraine with power from the EU to immediately end any dependency on Russian electric power.
Although Ukrainian President Volodymyr Zelenskyy signed a membership application at the beginning of Russia's attack on his country, the country isn't a member of the EU—but notably is now a member of its energy network. The grid operator ENTSO-E, based in Belgium with 39 European members that maintains the world's largest interconnected electrical grid, successfully linked Ukraine and its neighbor Moldova into its Continental European Power System network on an emergency basis this week, according to S&P Global Market Intelligence. While the Ukrainian transmission system operator Ukrenergo had been operating independently since the country was invaded by Russia on Feb. 24, the countries had been synced with the Integrated Power System, which includes Russia and Belarus, and made Ukraine dependent on Russia's grid operator despite the countries not trading electricity for several years.
"Continental Europe [transmission system operators] are now supporting the stability of the Ukrainian-Moldovan power system following a positive analysis which confirmed that an emergency synchronization is technically feasible with a number of measures to ensure safe and secure power systems," the European Network of Transmission System Operators said in a March 16 statement.
"The electricity grids of Ukraine and Moldova have been successfully synchronized with the Continental European Grid. This will help Ukraine to keep their electricity system stable, homes warm and lights on during these dark times. It is also a historic milestone for the EU-Ukraine relationship—in this area, Ukraine is now part of Europe," EU Energy Commissioner Kadri Simson said in a statement. "The EU will continue to support Ukraine in the energy sector, by ensuring the reverse flows of gas to the country and the delivery of energy supplies that are badly needed."
Ukraine's utilities—and others around the world—face a mounting risk of destabilization from Russia's attack.
Russian forces have shelled and seized the Zaporizhzhia nuclear power plant, which is the largest in Ukraine and provides some of the 50% of nuclear that accounts for the country's power demand, as well as gained control over the Chernobyl nuclear site, according to S&P Global Commodity Insights.
S&P Global Ratings believes that Ukraine faces a heightened risk of cyber attacks amid Russia's military incursion, given cyber attacks are becoming a more prevalent means of achieving foreign policy objectives with the intent to undermine confidence in key institutions and infrastructure. Russia previously used cyber attacks against Ukraine's power infrastructure during its invasion of Crimea in 2014. Additionally, the U.S. power grid faces the risk of cyber attacks if Russia retaliates against economic sanctions, according to S&P Global Market Intelligence. Utilities in countries in the U.S. have been targets of similar cyber attacks from other actors.
Ukraine had been in the process of decoupling with Russia's power grid since 2017, after Russia invaded Crimea, and the country and Moldova both escalated their requests to merge into the European network last month as tensions mounted with the former Soviet superpower. Under planned circumstances, Ukrenergo would've joined with the ENTSO-E European grid in 2023.
The task was "technically challenging but doable," Commissioner Simson said after a recent EU energy council emergency meeting in Brussels. "Under normal circumstances this would have happened next year—now, we need to step up our action."
Today is Friday, March 18, 2022, and here is today's essential intelligence.

Written by Molly Mintz.
Economy
---
Infographic: Sanctions On Russian Energy And Commodities Explained
Russia's invasion of Ukraine has triggered an unprecedented wave of sanctions against Moscow which are rippling through global commodity markets. In addition to official sanctions which continue to evolve, major self-sanctioning by industries looking to cut ties with Russia have deepened the market impact.
—View the full infographic from S&P Global Commodity Insights
Access more insights on the global economy >
Capital Markets
---
Listen: Take Notes The Risks Of "Buy Now, Pay Later" Assets And Potential Securitizations
In the latest episode of Take Notes, Doug Paterson discusses buy now, pay later (BNPL) lending, a form of consumer credit where goods and services are paid for in installments over a period typically less than 12 months, instead of being paid for in full at the time of purchase. The episode discusses how BNPL lending has evolved from traditional consumer financing; the market's rapid 60%-70% annual growth and the stricter regulation coming; and the regulatory and operational risks, among others, that would be considered if we were to rate a BNPL-backed securitization in Europe.
—Listen and subscribe to Take Notes, a podcast from S&P Global Ratings
Access more insights on capital markets >
Global Trade
---
Supply Chain Snags At U.S. Ports Seen Stretching Through 2022
A perfect storm of logistics logjams amid a crush of incoming containerized imports has squeezed U.S. resin exports just as supply availability is seen improving after a year of weather-related production setbacks. U.S. outflows of polyethylene, polypropylene, and polyvinyl chloride in 2021 were 18.5% lower than in 2020, according to U.S. International Trade Commission data, largely because severe weather events forced widespread production shutdowns that squeezed supply. Waterborne exports, which make up more than half of total outflows of those resins, fell nearly 33%. By end-2021, supply availability had largely recovered with exports poised to ramp up.
—Read the full article from S&P Global Commodity Insights
Access more insights on global trade >
ESG
---
Green Hydrogen Sees Opening To Capitalize As European Gas Prices Surge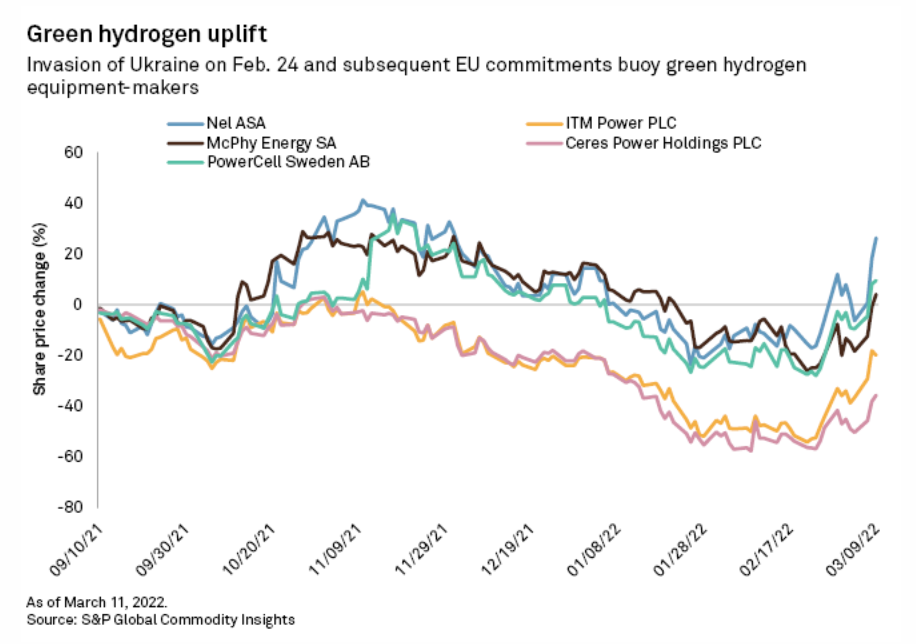 Surging gas prices in light of the escalating war in Ukraine are bolstering arguments for the green hydrogen industry in Europe, which is now seen to have a price advantage over fossil fuel-sourced grey or blue hydrogen alternatives. To capitalize on this advantage and start building, though, investors and hydrogen businesses still crave regulatory clarity. Russia's invasion of Ukraine and sanctions implemented in response have added pressure to global natural gas prices, which were already at record levels due to supply constraints. As a result, the price of natural gas-derived products such as ammonia, a key ingredient in fertilizer production, is now up to three times higher than it was a year ago, analysts at Bloomberg NEF, or BNEF, said in a March 3 note.
—Read the full article from S&P Global Market Intelligence
Energy & Commodities
---
Conflict In Ukraine Appears To Bridge Political Gap In U.S. On Oil And Gas Production
The war in Ukraine and the subsequent steep rise in oil prices has turned the tide of public sentiment as an industry-sponsored survey finds a majority of voters in Colorado, a state which recently passed the strictest drilling setbacks in the U.S., now support increased domestic oil and gas drilling. The survey, conducted by Morning Consult on behalf of the American Petroleum Institute, an industry trade group, polled hundreds of registered voters of all stripes in eight U.S. states. It found 85% believe producing more natural gas and oil in the U.S. could help lower energy costs for American consumers and small businesses, while 84% agreed "producing natural gas and oil here in the U.S. helps make our country and allies more secure against actions by other countries such as Russia."
—Read the full article from S&P Global Commodity Insights
Access more insights on energy and commodities >
Technology & Media
---
Tencent Poised To Lead China's Charge Into The Metaverse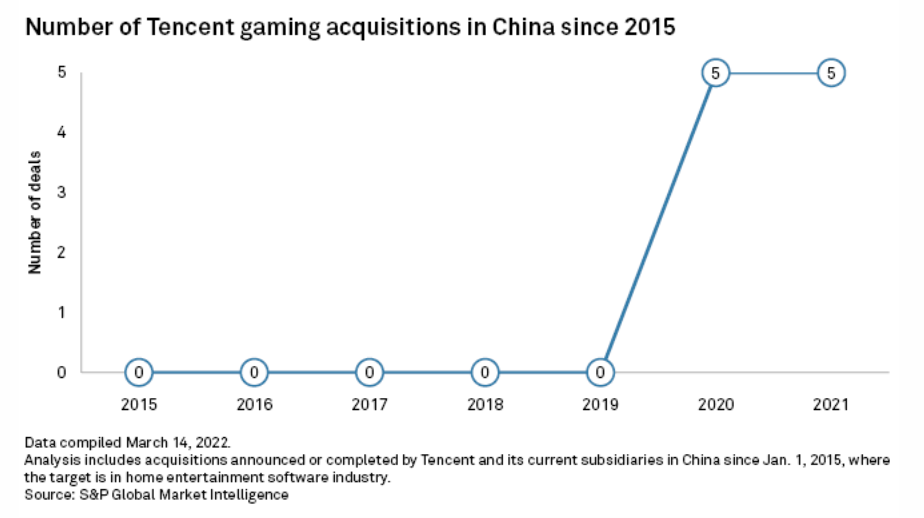 Chinese tech giants are racing to build the metaverse, and technology conglomerate Tencent Holdings Ltd. may be best positioned to take an early lead in the country, analysts say. The metaverse largely refers to a virtual world where people can engage and share experiences. Relevant applications might combine gaming and social features, celebrity interactions, and virtual and augmented reality options. In terms of population size, China is undoubtedly an attractive space to build metaverses, with its total addressable market pegged at around $8 trillion, according to a 2022 Morgan Stanley report. On the other hand, with digital currencies banned in China and ongoing gaming and censorship regulation, the metaverse may face limitations.
—Read the full article from S&P Global Market Intelligence