Start every business day with our analyses of the most pressing developments affecting markets today, alongside a curated selection of our latest and most important insights on the global economy.

Facing a flurry of mergers and acquisitions, the energy transition to renewable generation, obstacles to new construction, and security and regulatory risks, the global pipeline industry is weathering a storm of rapid change.

Political and financial barriers—exemplified by international security concerns surrounding the almost-complete Nord Stream 2 pipeline and pressure to curb emissions from fossil fuels—have slowed pipeline construction. While some companies are moving forward with new developments, many oil and gas pipeline operators are diving into mergers and acquisitions (M&A) instead of organic investment in new assets. In the first half of this year, North American pipeline companies announced nine transactions, all with values exceeding $500 million and showcasing how the sector is consolidating as the number of public pipeline companies shrinks, according to S&P Global Market Intelligence. Other pipeline operators are exploring deals with renewable-energy companies to strengthen their decarbonization plans.

Oil and gas companies have felt pressure to detail actions that will help them achieve their net-zero targets. Industry observers and credit rating experts interviewed by S&P Global Market Intelligence have pointed to Canadian pipeline giant Enbridge's sustainability-linked bond framework as the future for pipeline sector finance. Other companies, like Delaware-based Chesapeake Utilities Corp. and Canadian operators Pembina Pipeline and TC Energy, are looking to integrate the pipeline transport of renewable natural gas or carbon transportation and sequestration networks into their offering to become leaders in the energy transition. Overall, the North American midstream sector is poised to face questions about how they are investing capital into decarbonization during their second-quarter earnings calls.

Certain pipelines have become notorious as political obstacles disrupted or even ended their construction. Others, like the Colonial Pipeline, have become the target of cyberattacks on critical infrastructure.

The Nord Stream 2 pipeline, which would bring gas from Russia to Germany, is 98% complete and expected to be completed by the end of August, despite warnings of U.S. sanctions and threats that the new infrastructure poses to Ukraine's transit, according to S&P Global Platts. In the U.S., environmental and social opposition prompted the formal termination of TC Energy's Keystone XL pipeline in June. Now, a number of other U.S. pipelines, including the Spire STL natural gas pipeline, are at the mercy of regulatory rulings by the Biden Administration, Federal Energy Regulatory Commission, U.S. Army Corps, Supreme Court, and other governmental bodies.

Today is Tuesday, July 27, 2021, and here is today's essential intelligence.
Uncertainty in the Global Economy
---
Economic Research: U.S. Real-Time Data: Growth Is Still on Track Despite Rising COVID-19 Cases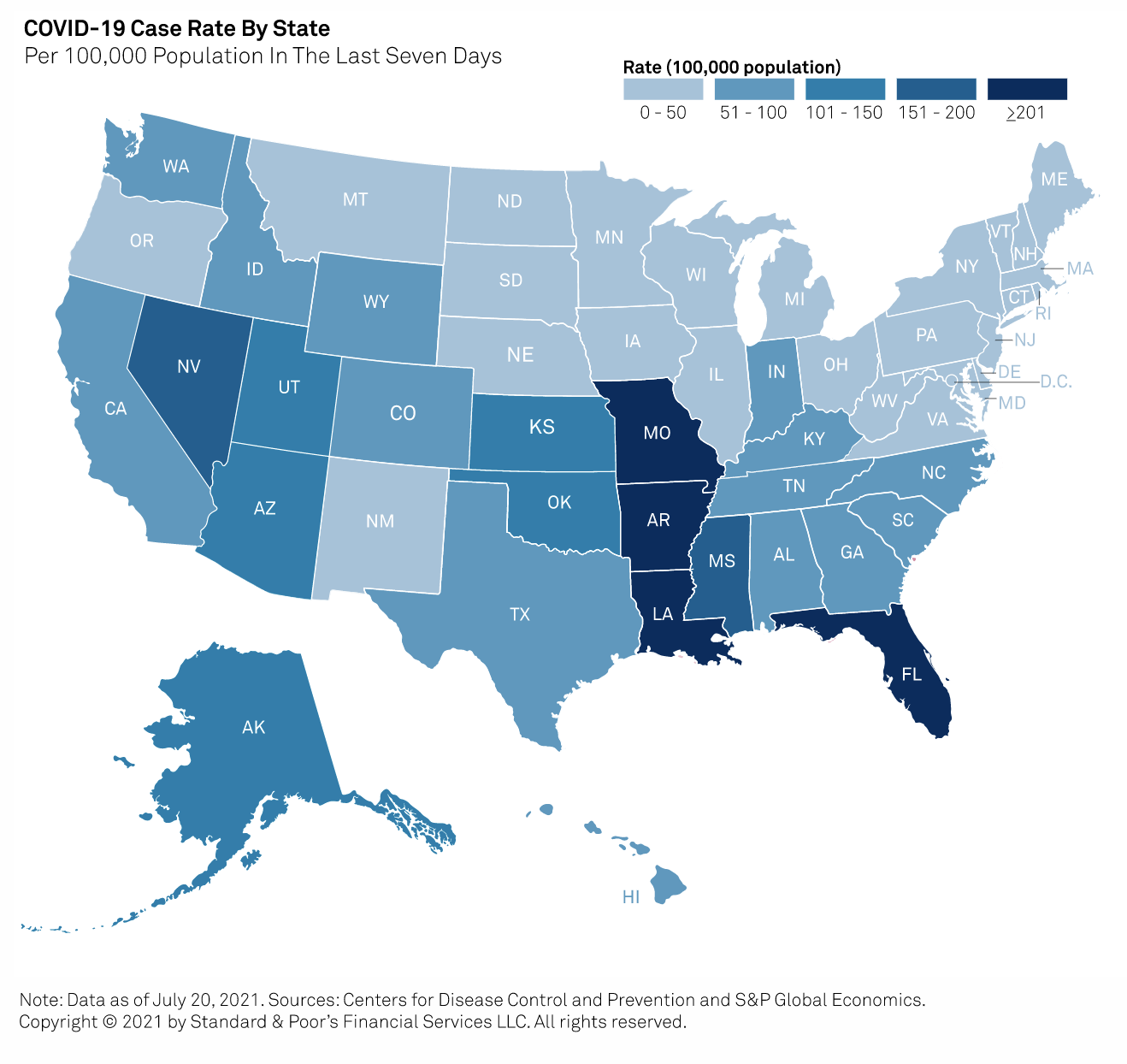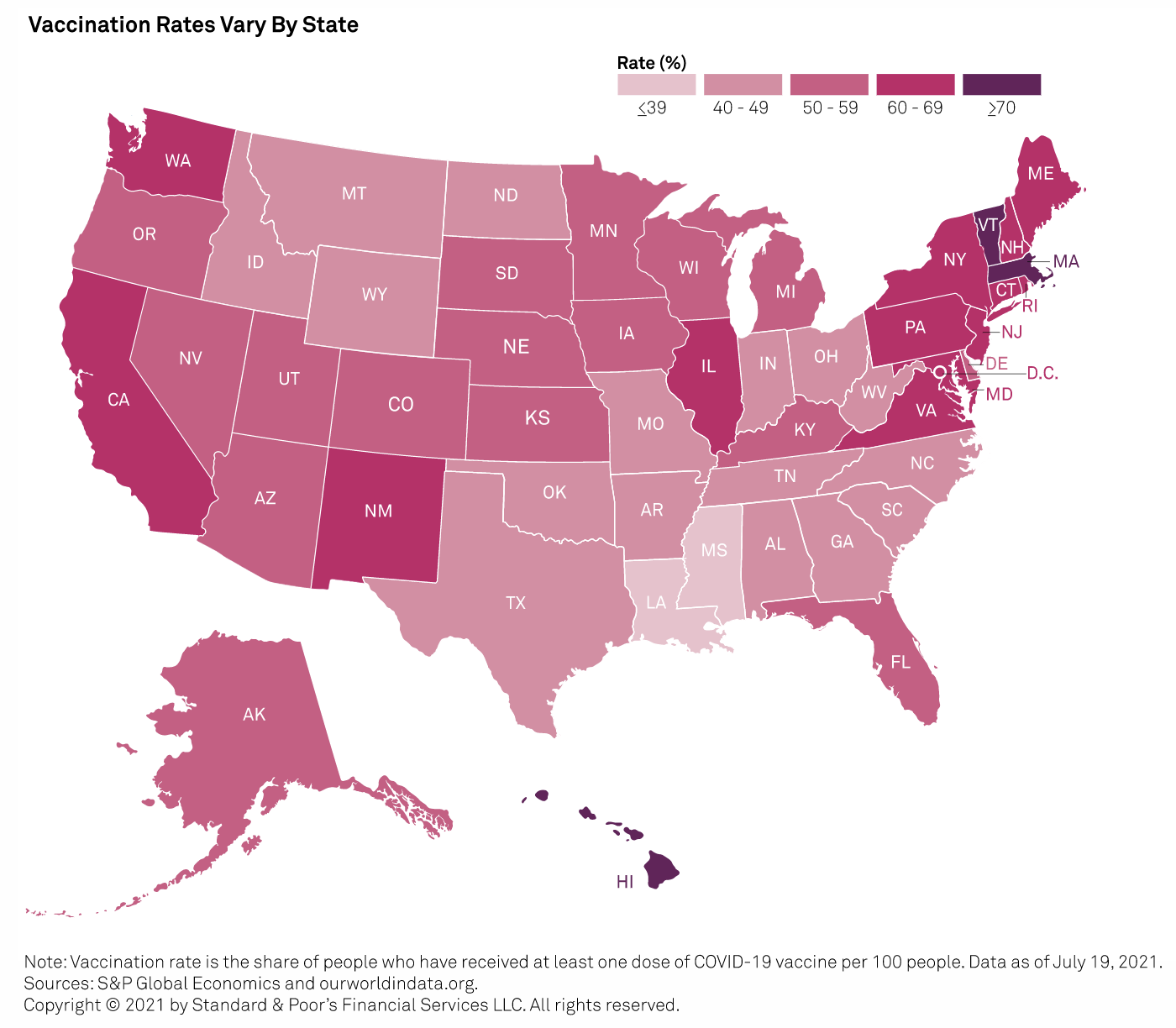 The U.S. economy has moderated to a still-high pace of activity, despite the pickup in COVID-19 infection rates tied to the delta variant. Mobility rates and reopening remained robust across most parts of the U.S. as people continued to visit restaurants and take trips.
—Read the full report from S&P Global Ratings
The Credit Cycle
---
Corporate Credit Risk Macroeconomic Recovery Projections Post-COVID-19
While typical recovery periods may last for many years, the current macroeconomic environment is unprecedented in many ways. It is global, driven by a rapid evolution of supply and demand shifts, affected by government and monetary policies, and fast changing considering vaccine roll-out rates and the emergence of COVID-19 new variants. Thus, providing relevant and most recent macroeconomic projections can be challenging.
—Read the full article from S&P Global Market Intelligence
Irish Snapshot H2 2021: New Issuer Activity Surges as Portfolio Credit Quality Stabilizes
A greater number of rating actions and a sharp rise in newly rated issuers is the top-line news for the Irish portfolio in the first half of 2021. Upon closer inspection, S&P Global Ratings sees that the nature of the rating actions shifted, with upgrades now matching downgrades, and most of those positive changes were in the corporate sector in the half.
—Read the full report from S&P Global Ratings
Market Dynamics
---
A Hypothetical Look at 35 Years with Indices That Use SPX Index Options
In order to assess how hypothetical options strategies performed in various market regimes over the past 35 years, investors use some or all of these four key benchmark indices that sell S&P 500 options as part of the their index methodology and that have histories going back to June 30, 1986. As shown in the table below, the four options indices were announced in either 2002, 2007 or 2015, and the data histories before the announcements are backtested.
—Read the full article from S&P Dow Jones Indices
Banking Industry Under Pressure
---
Foreign Investors May Want to Carve A Bigger Slice of India's Nonbank Lenders
Recent investments by foreign players in Indian nonbanking financial companies, or NBFCs, possibly indicate greater overseas interest in a sector that allows access to a large unbanked population and is subject to less onerous regulation compared to banks, analysts say.
—Read the full article from S&P Global Market Intelligence
ECB Set to Clamp Down on Banks Overexposed to Leveraged Finance Market – Source
The European Central Bank intends to toughen its stance against lenders overexposed in leveraged finance later this year, according to a person familiar with the situation. The regulator will use its annual Supervisory Review and Evaluation Process, or SREP, to outline stricter capital requirements for leveraged financing, the person said. The ECB issues SREP reports to banks each year outlining key concerns and giving them a specific deadline for action.
—Read the full article from S&P Global Market Intelligence
Automating Credit Risk Management A Banks View
Implementing digital infrastructure, strategies, and frameworks has never been more important for banks. The pace of technological disruption was supercharged by the pandemic, and there is now an even greater push to become digitally resilient to remain competitive. Credit and risk management teams are no exception. From dynamic financial spreading tools to cloud-based storage, a host of capabilities are being actively deployed to help streamline and automate risk assessment processes to improve efficiencies and stay ahead of the curve.
—Read the full article from S&P Global Market Intelligence
ESG in the Time of COVID-19
---
Solar-Panel Supplier's Links to Alleged Abuses In China Imperil U.S. Climate Goal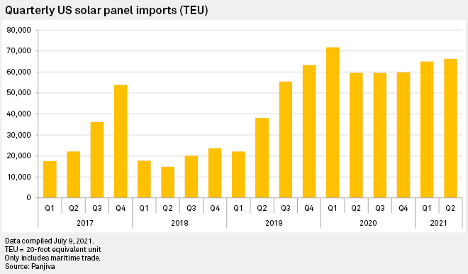 The dominance of China's LONGi Green Energy Technology Co. Ltd. in supplying solar panels to the U.S. highlights the challenge authorities face in trying to eliminate alleged labor abuses from the country's supply chains without smothering an industry that is vital to the Biden administration's efforts to limit climate change.
—Read the full article from S&P Global Market Intelligence
Fla. Condo Tragedy Forces Risk Professionals to Rethink Building Integrity
The deadly condominium collapse in Surfside, Fla., could reshape the way experts model catastrophe risk along a coastline that is already vulnerable to wind and water damage from tropical systems.
—Read the full article from S&P Global Market Intelligence
U.S. House Lawmaker Wants to Turbocharge FERC's Profile, Role In Energy Transition
A former energy industry executive now serving in the U.S. House of Representatives is on a mission: elevate the public profile of the Federal Energy Regulatory Commission. In doing so, the representative hopes to build support in Congress to turbocharge FERC's authority on a range of policy issues that could facilitate the clean energy transition and help wholesale power markets combat climate change more effectively.
—Read the full article from S&P Global Market Intelligence
Drought Shrinking California Hydro, Increasing Reliance On Thermal, Imports
The ongoing drought in California has caused significantly lower hydro generation levels as the weather forecast continues to call for above-normal temperatures, setting up a perfect storm for late summer when demand is strongest as consumers crank air conditioning units seeking relief.
—Read the full article from S&P Global Platts
Argentina Declares 180-Day 'Water Emergency' For Parana River Amid Scarce Rainfall
The government of Argentina declared a 180-day "water emergency" for the Parana river, which is seeing historically low levels amid scarce rainfall, early on July 26, in a move that may further imperil grain exports, market sources said.
—Read the full article from S&P Global Platts
The Future of Energy & Commodities
---
Shale Gas Drillers That Embraced Austerity A Year Ago Should See Payoff In Q2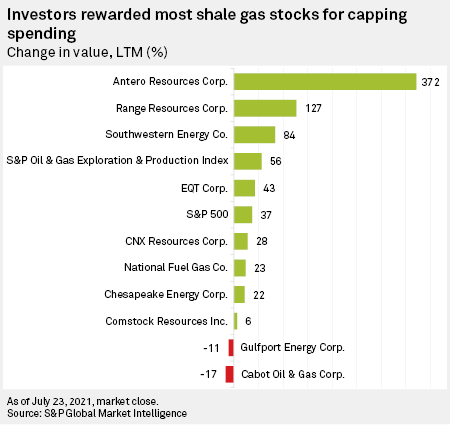 Wall Street expects pure-play shale gas drillers to report positive income and free cash flows for the second quarter of 2021, a sharp reversal from the red ink those companies were bleeding a year ago. Analysts say investors do not want to hear any plans by drillers to start chasing natural gas prices, which are hovering at 30-month highs above $4/MMBtu.
—Read the full article from S&P Global Market Intelligence
Private Companies In Mexico Hit Production Record as Pemex Struggles to Meet Goals
Crude production by private operators in Mexico reached a new record in June as state oil company Pemex struggles to stop the decline of its own output, official data shows. Independent exploration and production companies increased their crude oil output to little under 70,000 b/d in June, the largest reading to date, data from the National Hydrocarbons Commission showed July 22.
—Read the full article from S&P Global Platts
Iraq's Energy Deals In Limbo as U.S. Pledges Help for Clean Projects
Iraq's $8 billion worth of energy deals with US companies clinched in August 2020 during the prime minister's inaugural visit to Washington have yet to bear fruit, but Mustafa al-Kadhimi will try to drum up support for the country's beleaguered oil and gas sector for a second time this week.
—Read the full article from S&P Global Platts
Reliance Eyes Twin Gains from Oil Demand Comeback, Low-Carbon Initiatives
Reliance Industries posted robust crude throughput growth in April-June as oil products demand witnessed healthy year-on-year growth, the company said July 23, adding that it had started investing on its clean energy initiatives keeping in mind its vision to achieve net carbon zero by 2035.
—Read the full article from S&P Global Platts
Written and compiled by Molly Mintz.