Subscribe on LinkedIn to be notified of each new Daily Update—a curated selection of essential intelligence on financial markets and the global economy from S&P Global.
As global commodities markets continue to maneuver through the demand constraints spurred by the coronavirus pandemic, the liquified natural gas (LNG) market appears to be rebounding—but may come out fragmented in a post-pandemic economy.
March was a momentous month for the market. Imports of LNG, which is used for industrial heating and to fuel heavy-duty transport, climbed 5.8% year-over-year last month, marking the biggest increase in the 12-month period since March 2020, according to Bloomberg. Imports are likely to rise in Argentina, among other economies. In the U.S., which exports LNG to 35 countries, an S&P Global Market Intelligence analysis found that natural gas deliveries to the six major U.S. LNG export terminals have been flowing at full capacity since the middle of last month. March also saw S&P Global Platts' Atlantic LNG MOC—the price assessment process for Platts Northwest Europe, Mediterranean, and Gulf Coast Markers—record the highest-ever monthly volume of bids and/or offers, totaling 57.
Even so, a surplus of available financing in combination with the lack of new LNG projects has created complicated conditions for the market, especially in North America. Over the last five years, the region has been the source of the majority of the world's new LNG supply, but 2020 saw just one new liquefaction project reach the final investment decision stage there—casting a shadow over LNG's future.
"We don't want to have a situation where the number of suppliers in the market is oligopolistic," said Vivek Chandra, CEO of Glenfarne Group's proposed LNG export project in Brownsville, Texas, said March 25 during S&P Global Platts' LNG Virtual Conference.
Competition in the North American market is already intensifying. Following last year's dismal activity, more than one dozen LNG developers are contending to advance their projects to construction against the backdrop of strong LNG demand worldwide, according to S&P Global Market Intelligence. Market observers expect the pool of contenders to shrink steadily.
"There is room for two, three or four projects in the U.S.," Jason Feer, head of business intelligence at Poten & Partners, told S&P Global Market Intelligence. "What that means is, you are going to have to be one of the most competitive."
Today is Tuesday, April 6, 2020, and here is today's essential intelligence.
Uncertainty in the Global Economy
---
Retailers Face Global Supply Chain Pressures as Backlogs Continue Amid Pandemic
Pandemic-induced demand remains high for everything from exercise equipment to home electronics, but U.S. retailers are struggling to get products in from Asia due to continued backlogs at ports, supply chain experts say.
—Read the full article from S&P Global Market Intelligence
Biden's $2 Trillion Jobs Plan Would Boost Healthcare's Pandemic Preparedness
The $2 trillion proposal focuses on creating jobs in clean energy and road- and bridge-building, but also aims to address weaknesses in the country's healthcare infrastructure exposed by the coronavirus outbreak. It would provide $30 billion over the course of four years — in addition to $10 billion from the American Rescue Plan — "to create U.S. jobs and prevent the severe job losses caused by pandemics through major new investments in medical countermeasures manufacturing; research and development; and related bio preparedness and biosecurity."
—Read the full article from S&P Global Market Intelligence
Market Dynamics
---
High Prices, Virus Resurgence May Cast Dark Clouds Over India's Crude Runs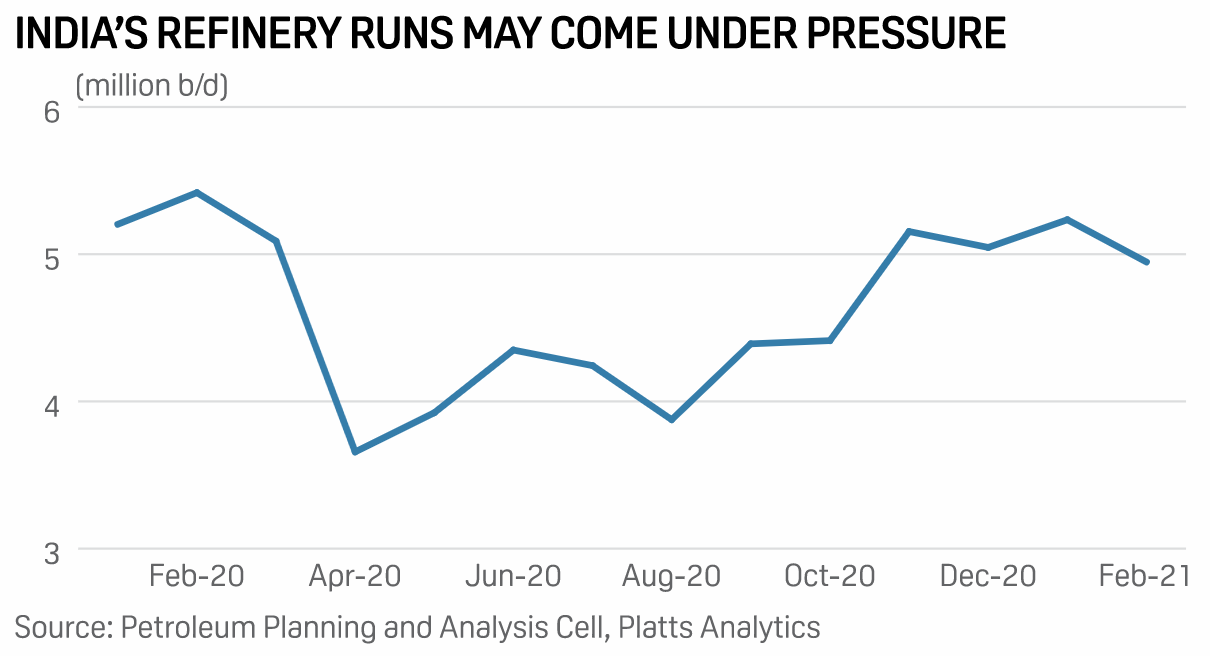 Indian refiners are starting to slow their crude runs, as high retail prices have dented domestic appetite for oil products -- a trend that could get prolonged if the resurgence of COVID-19 in some provinces leads to another round of lockdowns and movement restrictions, analysts told S&P Global Platts.
—Read the full article from S&P Global Platts
The Future of Credit
---
Avation PLC's Default Brings the European Tally For 2021 to Eight
The global corporate default tally has increased to 25 after U.K.-based commercial passenger aircraft leasing company Avation PLC defaulted. With this default, the tally in Europe has reached eight—half of which have occurred in March—and an all-time high first-quarter total.
—Read the full report from S&P Global Ratings
Q1'21 U.S. Leveraged Loan Survey: Defaults Edge Higher; Credit Quality a Concern
Rising Treasury yields and the rollout of $1.9 trillion in fiscal stimulus bolstering the corporate outlook has, after the struggles of 2020, provided a compelling tailwind for the floating-rate leveraged loan asset class.
—Read the full article from S&P Global Market Intelligence
ESG in the Time of COVID-19
---
'Not Bonkers': Hydrogen Could Give U.S. Nuclear Plants New Lease On Life
Under the right conditions, hydrogen production could offer a lifeline that may prevent some aging U.S. nuclear reactors from retiring early, according to some industry experts.
—Read the full article from S&P Global Market Intelligence
The Future of Energy & Commodities
---
Market Movers Americas, April 5-9: Oil Market Searching for Direction Amid Uneven Demand Recovery
In this week's Market Movers Americas, presented by Kirstyn Petras: Oil searches for direction amid rising supply, uneven demand recovery, U.S. and Iran to initiate indirect treaty talks on April 6, U.S. metals groups welcome Biden infrastructure plan, funding remains issue, Suez Canal blockage latest challenge for container shippers.
—Watch and Share this Market Movers Americas video from S&P Global Platts
FERC Sets for Hearing Gas-Fired Cogeneration Facility's RMR Agreement with Cal-ISO
The Federal Energy Regulatory Commission set for hearing a contract to keep a gas-fired cogeneration facility in California operating to meet systemwide reliability needs, prompting one commissioner to urge Cal-ISO to "fix its markets."
—Read the full article from S&P Global Platts
Lopez Obrador Looks To Unwind Mexico's Energy Reform
The administration of President Andres Manuel Lopez Obrador in Mexico came to power with the promise to undo the energy reform of his predecessor, which opened the private sector to investment. During the last 18 months, the government has issued agreements, decrees and regulations in its strategy to benefit the state utilities. S&P Global Platts spoke to Victor Ureta of Acclaim Energy, a Mexico-based consultancy, about those moves, the impact on the industry, and what to expect from those processes.
—Listen and subscribe to Commodities Focus, a podcast from S&P Global Platts
Written and compiled by Molly Mintz.