When it voted to leave the EU in the June 2016 referendum, the United Kingdom decided against "business as usual" with the EU. As a result, the U.K.'s business model will change, but at this point, it is still uncertain when this change will happen and how significant it will be.
Our base-case economic forecasts assume that the U.K. and the EU will agree and ratify a Brexit deal, leading to a transition phase lasting through 2020, followed by a Free Trade Agreement (FTA). But given our increasing doubts that the U.K. and EU will agree to the terms of a Withdrawal Treaty required to facilitate a 21-month status-quo transition, we see an increasing risk that the U.K. will secede from the EU and, importantly, the EU single market, without any deal at the end of March 2019. This would constitute an abrupt and very significant change to the U.K.'s business model overnight, although policy measures might soften the short-term blow to the U.K. economy.
In a no-deal Brexit, the U.K. would become a third country from the EU's perspective, reverting to World Trade Organization (WTO) rules for goods trade not only with the EU, but also with third countries currently covered by EU Free Trade Agreements (FTA), such as Canada, together affecting around 65% of U.K. goods exports. A no-deal Brexit would also mean a lapse of EU regulatory recognition of U.K. rules in many areas, including financial services. Even U.K.-issued credit ratings might not be usable in the EU absent a deal. The U.K. might also be required to create regulatory supervisory procedures to substitute for those currently conducted by the EU.
This report analyzes various economic and credit-related implications of such a no-deal Brexit scenario for entities we rate in various sectors from a U.K. perspective, even though we would expect also some negative, albeit lesser, impact for other exposed EU economies and companies.
What No Deal Could Mean To The U.K. Economy
Key Takeaways
- A no-deal Brexit could push the U.K. economy into a moderate recession, representing a cumulative loss of about 5.5% GDP compared with our baseline forecast over 2020-2021. Although severe, this projected loss is still only about 60% of that caused by the 2008 financial crisis.
- The U.K.'s direct loss of trade globally could amount to 1.9% of U.K. GDP over the scenario horizon.
- Regulatory and infrastructure challenges, lack of investment, trade bottlenecks, and lower immigration would push down the U.K. economy's long-term growth potential.
- As a result, we believe it likely that the U.K. economy would have limited scope to emerge from this moderate recession and regain pre-Brexit output levels over the next three years.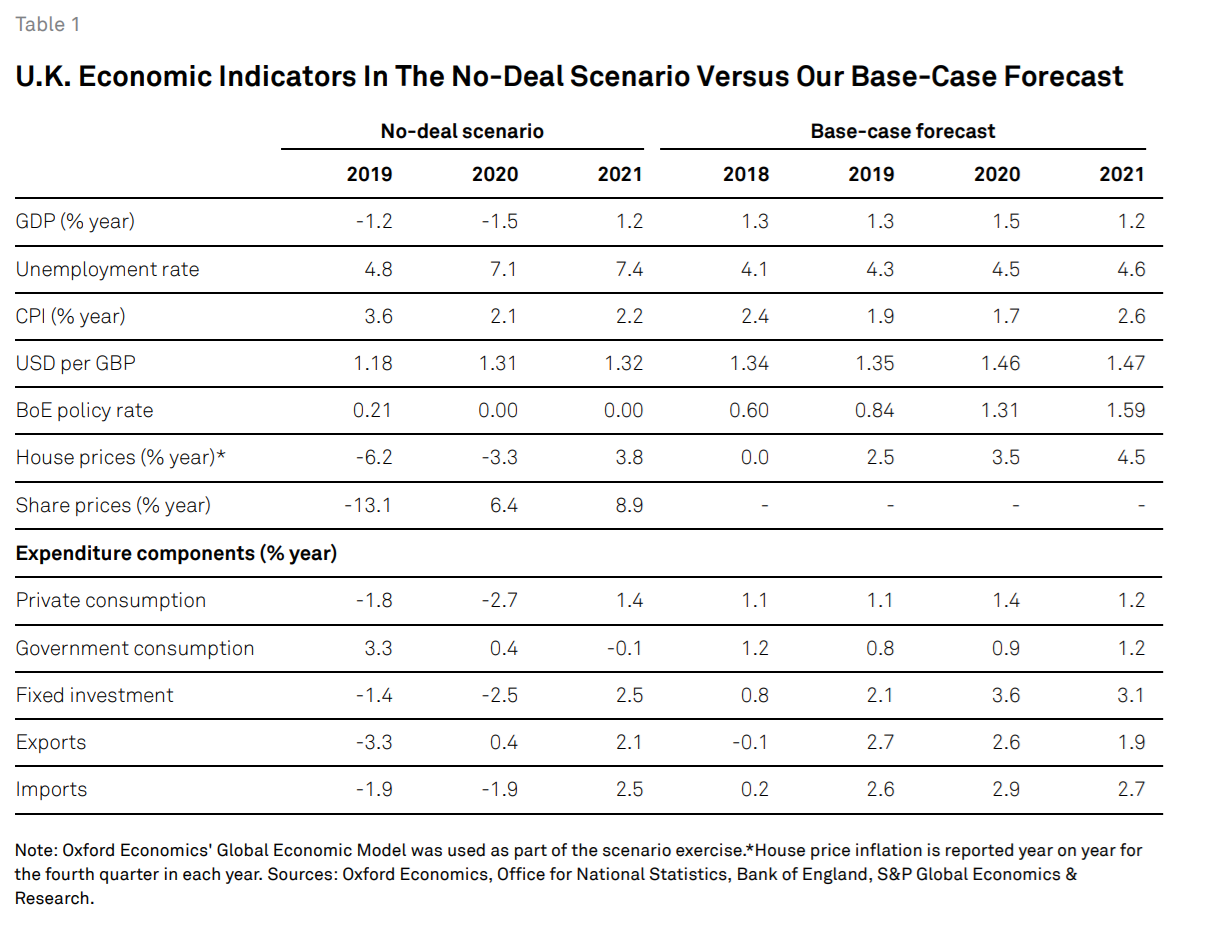 In our no-deal scenario, the U.K. would experience a moderate recession lasting four to five quarters, with GDP contracting by a cumulative 2.7% over two years, after which the economy would return to growth, although the pace of growth would be moderate. By 2021, economic output would still be 5.5% less than what would have been achieved had a deal been struck and a transition occurred. Unemployment would rise from current all-time lows of 4% to above 7% by 2020 (a rate last seen in the aftermath of the financial crisis). House prices would likely fall by 10% over two years.
How A No-Deal Brexit Could Unfold
In our scenario, the short-term impact would start with a fall in share prices, a rise in corporate borrowing costs, and a further substantive weakening of sterling in the first quarter of 2019, even before the end of March 2019 as markets start to discount a no-deal Brexit. Significant disruption and further market volatility could then ensue, following the no-deal Brexit. In a set of technical notes, the U.K. government has identified key stress points, including transport, customs, financial and insurance contracts, and medicine supply. However, the economic consequences of these disruptions is uncertain. These consequences will also depend in part on the effectiveness of preventative measures taken by the U.K. and EU. We expect both the U.K. and the EU will try to limit disruption, at least in critical areas, such as customs and transportation. We do, however consider it almost certain that most goods shipments would be delayed. This would in particular affect U.K. sectors with supply chains that are heavily integrated with the EU.
Moreover, in a no-deal Brexit the U.K.'s financial sector would immediately lose financial passporting rights, which we estimate would directly cost the U.K. economy, without considering second- and third-round effects, about 0.4% of GDP per year. These direct costs are relatively moderate, partly because financial institutions have already been preparing for this case. The most immediate concern for the financial sector would be the serviceability of certain derivatives and insurance contracts. If required, the Bank of England (BoE) and the European Central Bank (ECB) would likely also introduce measures to mitigate financial stability risks.
Given our expectation that sterling will depreciate by 15% initially and that WTO import tariffs will apply to imports from the EU and countries covered by EU FTAs, inflation would likely rise: we see it peaking at 4.7% in mid-2019. Similarly, the EU would impose tariffs. As a result, goods exports from the U.K. could be an estimated 1.9% of U.K. GDP less than in our baseline forecast, although the weaker sterling exchange rate would offset the impact somewhat by making U.K. goods cheaper to import abroad.
We also expect that the BoE would likely see through temporarily higher inflation by cutting its policy rate to zero. It might not be necessary to relaunch a full-fledged quantitative easing (QE) program, in our view. The share of foreign investors in U.K. Gilts (treasury securities) is relatively low (28%) and, more importantly, it has not declined following the referendum. U.K. sovereign debt also has much longer average maturity than that of many peer countries. Rather than a full QE we believe the BoE might deploy a form of QE that specifically targets corporate bonds. As businesses adapt to the new and weaker business environment, many would need to cut costs, including by letting workers go. We expect that the U.K.'s unemployment rate could rise to above 7% by early 2020. The weaker business environment will also likely mean weaker wage growth and, along with higher inflation, real wages could fall for at least a two-year period, weighing substantially on consumer spending. We estimate that household income could decline by £2,700 per year on average over 2019-2021. Declining household spending and weaker demand would also, by 2021, lead to significant house price declines, ending up 15% below the levels that we expect in our base-case forecasts. We expect a moderate decline in fixed investment spending as the government would need, in our view, to increase its own investment spending to cope with a no-deal Brexit. Businesses will also need to spend on Brexit-related investment. Public sector recruitment levels would also likely need to rise, which would offset some decline in household incomes.
Regarding the assumption of certain regulatory responsibilities by the U.K. authorities, we expect that these authorities' capabilities and efficiencies will develop over time. We expect that certain physical and digital infrastructure will need to be developed rapidly to cope with the new post-Brexit reality. Some of the current supply chains would likely be impaired and require reorganization. These factors, in conjunction with lower net immigration and contraction of investment spending, would translate not only into lower economic potential of the U.K. economy, but also lower trend growth. This latter feature is important, as it is key in determining how much and how quickly the economy might be able to recover from a no-deal Brexit. In our scenario, we project that the effects of a no-deal Brexit will likely extend at least to our three-year forecast horizon. Incidentally, a slowdown in trend growth was a key reason why the U.K. economy was thrown onto a lower growth trajectory following the global financial crisis: the impairment of the financial system, which is a crucial part of market infrastructure, had negatively affected the economy's operating capacity.