Less than six months remain until the U.K. is due to exit the EU in March 2019. Nevertheless, financial institutions (FIs) find themselves preparing for Brexit with few of the basic political questions answered--questions that will guide future economic performance as well as regulation and policymaking. Some FIs have now reached the point of no return, and have started to trigger aspects of their contingency plans--such as cross-border legal entity mergers and the establishment of additional licensed entities. Such actions are unlikely to be reversed even if the U.K., against all expectations, decided to stay in the single market and/or EU. As the autumn progresses, sustained uncertainty about the political outcome will lead FIs to take further steps in order to position themselves for what they have to assume will be a disruptive Brexit in March 2019.
For rated FIs, the most immediate implication from Brexit is one of risk mitigation. In this respect, the significant uncertainty, so late in the day, about the extent and terms of any political agreement is hugely unhelpful for FIs. While we see the industry as increasingly well prepared in many respects, FIs and their regulators still have a lot of work to do and, if there is no political deal that allows an orderly transition, they would have precious little time to deliver.
Deal Or No Deal?
Our base case continues to envisage that the politicians will reach a withdrawal agreement that allows for a period of continuity, covering the period until end-2020. At the very least, this orderly outcome would buy some time to thrash out the details of a deal on the future relationship post-2020. It would also allow FIs more time to adjust and phase the implementation of their Brexit plans. In this scenario, we anticipate a moderately supportive macroeconomic and funding market backdrop (see table 1) suggestive of a very limited near-term deterioration in the creditworthiness of U.K. and European FIs--as our stable outlooks on the vast majority of them suggest. The post-2020 political, economic, and regulatory landscape would remain important, however.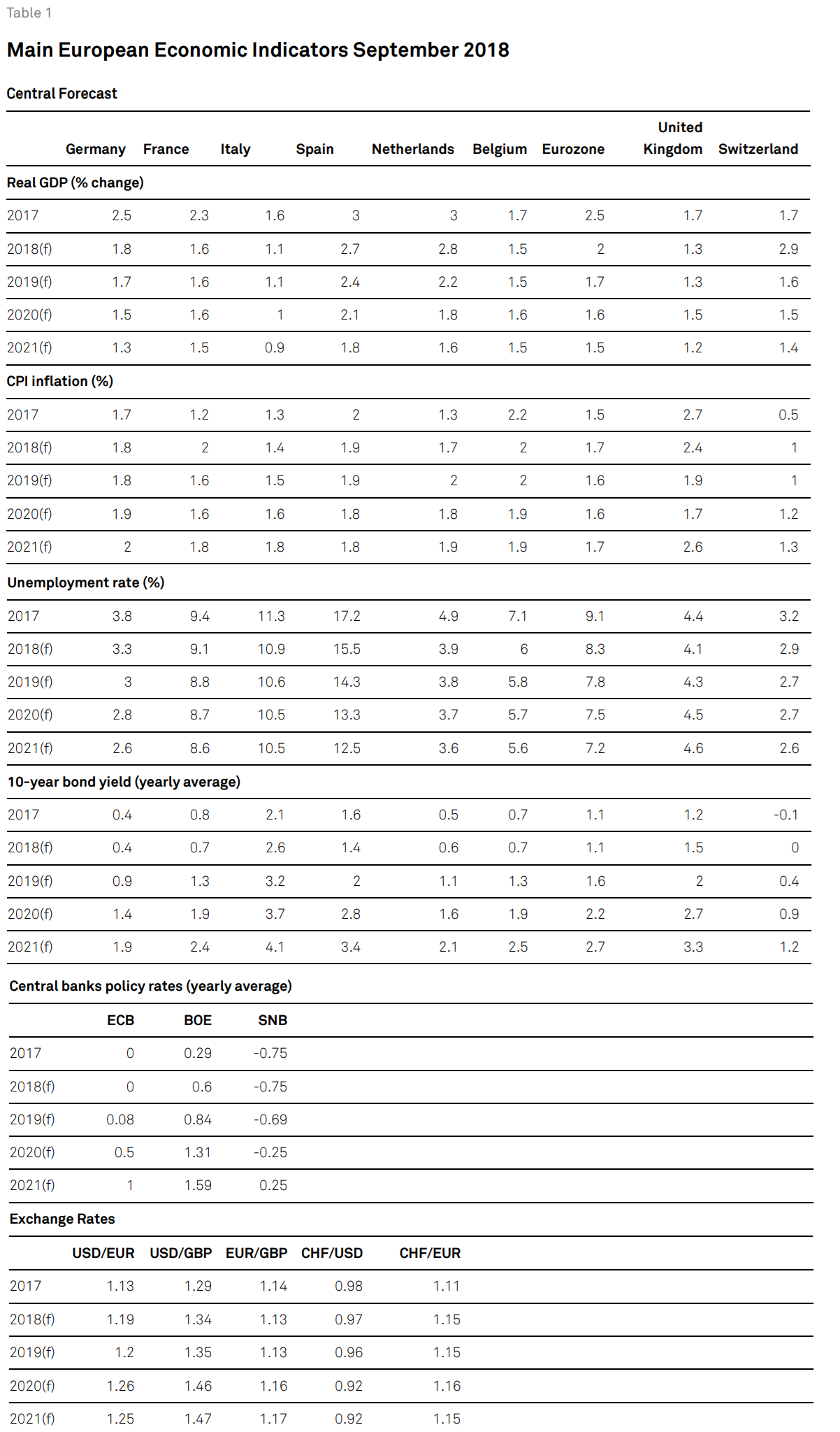 If the U.K. and EU fail to conclude a withdrawal treaty and political agreement on the future relationship, this could lead to a disruptive Brexit in March 2019. The likelihood of such an outcome remains significant, and the slow progress of both the U.K. and EU to coordinate their "no deal" safeguarding measures risks exacerbating the inevitable disruption that would arise. That said, even in a "no deal" outcome, mitigation policies--for example a temporary equivalence recognition for FMIs and derivatives counterparts--could be implemented in order to alleviate disruption.
Understanding The Risks
In our view, U.K. banks would be the most vulnerable banks under a disruptive Brexit. While other largely open European economies, like Ireland, Belgium or The Netherlands, could also feel the impact of a disruptive Brexit, we would expect banks in these countries to be able to accommodate it. Looking across the industry, without mitigation financial stability risks could yet crystallize--notably around the service continuity for cleared and uncleared derivatives--but this depends on a future regulatory/political (rather than market) solution.
Another issue is around data sharing. As data controllers, FIs cannot do this easily with third country parties unless that country's legal framework is deemed to offer equivalent protections as under the EU's general data protection regulation (GDPR).
U.K. banks
For the U.K., a disruptive Brexit could likely lead to a domestic political crisis and in turn the economy contracting, leaving the property market vulnerable if unemployment rose abruptly. While we recognise on the whole that U.K. banks' earnings and balance sheets are solid and provide a substantial cushion to withstand potential turbulence from political and economic events--indeed these strengths contribute to our current stable view of the sector--their current ratings and/or outlooks may not prove to be consistent with a disruptive Brexit accompanied by a severe economic shock.
Specifically, macroeconomic weakness that manifests itself in higher unemployment, lower investment, and retreating consumer spending could lead to rising personal and corporate insolvencies and weaker collateral values. In time, this would likely play through in bank asset quality and activity levels, undermining their earnings and, possibly, capitalization to a modest degree. In our view, these factors would be relatively greater for smaller lenders given their business focus on U.K retail banking or property-related lending. Wholesale market disruption would be unhelpful for the sector as a whole--not least because the larger U.K. banks in particular actively use the U.S. and other non-U.K. debt markets. Spread widening or funding disruption for the banks and other U.K. corporates could be more acute if the market perceived the U.K. sovereign to have weakened. The Bank of England (BOE) explored major U.K. banks' potential resilience to a similar but potentially more severe macroeconomic downturn scenario in the sector stress test in late 2017--a scenario that they have re-run for their 2018 exercise. Under this lens, the banks appeared resilient in 2017, and we expect a similar result this time also.
The larger U.K. banks will also feel the effects of Brexit from a licensing and client service perspective, though we see this as a much lesser concern than the macroeconomic implications described above. The U.K banks most affected here are HSBC and Barclays, given the extent of their business activity across the EU27. While we understand they have significant work still to do to complete their planned migration of activity and personnel into the EU27, they are leveraging their existing EU27 subsidiaries for this purpose, and appear relatively well advanced in their execution. That said, delays in regulatory approvals of licence applications for some banks could result in a need to hold back on some lines of business for European customers.
Ultimately banks are a function of the economy which they serve. Investment-grade bank ratings take a long-term view of creditworthiness and imply that a highly rated bank can withstand a typical recession, perhaps with only a one-notch downgrade during the period, absent bank-specific problems. Our generally supportive view of U.K. bank capitalization, asset quality, and funding and liquidity profiles, and the Bank of England's stress test data, support this view.
Under our base case of a non-disruptive Brexit, we do not anticipate any substantial rating changes for U.K. banks. This reflects a degree of greater comfort since June 2016: to reflect significant uncertainties after the referendum, we initially assigned negative outlooks to many of the banks, but revised them to stable in late 2017. It also reflects our view that the banks' building of substantial capital and liquidity buffers and proactive treasury management (eg in front-loading issuance activity) has left them far better able to deal with such problems.
Non-EU banks
Until now, London has been the principal EU base for non-EU banking groups, notably from the U.S., Canada, Switzerland, and Japan. Depending on the scope of their activities, the typical operating model has been to use a blend of licenses to address the EU market--a London branch of the parent bank, one or more U.K. subsidiaries (for example a bank and a broker), and widespread use of those subsidiaries' branch and services passporting rights. Larger groups typically also have other licensed subsidiaries elsewhere in the EU.
Their initial hopes were that the U.K. would seek to remain in the EEA (European Economic Area), which would have limited consequences for licensing and operational organization. However, these hopes quickly faded. Since early 2017, banks have known that they may well need their contingency plans in practice. Indeed, the question has been rather more whether the existing arrangements would meet a hard stop in March 2019 or else benefit from a transition deal through end-2020. The need to plan for the worst means that these groups have been preparing for a hard Brexit for some time now. In practice, this means expanding existing licenses, or gaining new ones, for one or more subsidiaries in the EU27, and typically also seeking a U.K. licence to branch that EU27 entity back into the U.K.
These groups have sought to minimise the upheaval to their existing operations, at least on day one post-Brexit. Discussions with EU27 regulators have typically explored the minimum substantive presence that they would permit: the thorniest topics being the booking model, risk management, and personnel. Nevertheless, their related Brexit projects remain multi-faceted, complex, and resource-sapping (notably in terms of management time, but also cost). Aside from gaining the necessary licenses, live workstreams include: information systems and financial reporting, ensuring connectivity to financial market infrastructures (FMIs), re-papering of contracts with some clients, expanding or securing physical facilities, managing the redeployment of personnel, and gaining court approval for legal mergers or business transfers.
While all these workstreams continue apace, we see it as positive that the larger banks at least appear relatively well-placed to ensure operational continuity even for a hard Brexit in March 2019--at least for the aspects that are within their control. Locations have been identified, typically Frankfurt, Paris, Dublin, and Amsterdam. Licensing discussions appear relatively well advanced in many cases, now focusing on granular issues such as finalising the extent to which any back-to-back risk management arrangements will be permitted between the U.K. and EU27 entities, and the pace at which the ramp-up of the EU27 operation will need to take place. (The ECB has reportedly accepted that this could continue until well after March 2019.) Where banks are relying on cross-border mergers to effect the necessary transfer of business, for example as planned by BAML, they appear to be well on track towards successful execution.
For sure, the creation of additional subsidiaries adds capital, liquidity, and expense inefficiencies. However, assuming that these groups execute well, we see very limited rating implications for them and their rated entities. They will continue to rely heavily on their London operations for capital markets and other banking activities, and we expect London to remain the most important financial center in Europe and one of the most important globally. As such, we typically do not expect U.K. subsidiaries to become markedly less strategically important to these groups.
Similarly, for the new or expanded EU27 subsidiaries, we look at them case by case. While our view of strategic importance relates to the size and visibility of these subsidiaries in a group context, they are likely to play a critical, integral role in allowing these overseas groups to continue to service their EU27 clients, their non-EU clients, and to provide a coherent, comprehensive proposition in global capital markets. For the new subsidiaries that we have rated so far, their ratings have been in line with these groups' existing rated U.K. subsidiaries. This outcome relies principally on our assessment of group status--typically we see the subsidiaries as "core" to the parent--but also our view that if the group failed, a resolution action would ensure full and timely payment to senior creditors of these subsidiaries--in other words, that they would not be allowed to default.
EU27 banks
In our view, Brexit affects EU27 banks in two main ways: from a licensing/client service standpoint, as for the non-EU banks, and, potentially, from a macroeconomic perspective. In addition, in a disruptive Brexit scenario the EU27 banks could face a significant problem as regards certain cleared and uncleared derivatives (see below).
We see the first of these effects as essentially frictional in nature--and somewhat easier to address than it is for non-EU banks. While not straightforward, the U.K. authorities appear willing to relicense these banks' London branches as third country branches and allow their EU27 entities already active in the U.K. to benefit from a temporary permissions regime. Discussions therefore center on necessary adjustments to the booking arrangements for the branch relative to Head Office and from where EU27 clients will be serviced.
While the Irish banks, and to a lesser extent those in other largely open European economies, like Belgium or The Netherlands, could have some sensitivity to a negative macroeconomic effect, particularly in a disruptive Brexit scenario, at this stage we assume no significant impact for economies and banks in these countries. For the largest Irish banks, at this stage we see the main rating sensitivity in a disruptive Brexit scenario as rather the extent to which this sets back the positive trends that we otherwise see today. We look at this through two lenses--first their U.K. subsidiaries, which we consider to have sound balance sheet profiles, and second via a potential slowdown in the pace of growth of the domestic economy and property markets, which is currently ebullient.
The other source of disruption comes from MREL--bail-in buffers. Historically, EU27 banks have issued MREL-eligible instruments under New York or English law. English law will become a third country/non-EU law, so instruments would only remain MREL-eligible if they contain sufficient contractual acknowledgment of the EU resolution authorities' bail-in powers. Most banks started to include such clauses only in recent years, meaning that there will be a body of legacy instruments that become MREL-ineligible. We expect that the effect will differ markedly across the EU27 banks, with few being seriously affected. Since we only include instruments in our ALAC (additional loss-absorbing capacity) measure if they qualify for the regulatory measure, some could also become ALAC-ineligible, leading to moderate underperformance against the ramp-up that our ratings assume for certain banks. A transition agreement could mitigate this risk temporarily, or else we assume that the Single Resolution Board (SRB) will consider some form of grandfathering arrangement. However, to address the problem proactively, we may yet see banks consider liability management exercises, additional issuance, or contractual changes.