Automakers spending fortunes on a bet that electric vehicles are the industry's future are virtually silent on the mining risks tied to cobalt, a key metal for the batteries on which their plans depend.
Car companies expect evolving technology will eventually reduce or even eliminate their need for the blue metal ore, but, in the meantime, they could face pressure from investors who are asking questions about the new "blood diamond" and wondering why companies are not disclosing more information about their involvement with it.
A critical ingredient in lithium-ion batteries and a core enabling material in electric cars, energy storage systems, smartphones and other electronics, cobalt is chiefly mined in the Democratic Republic of the Congo, which accounted for 58% of global production in 2017 and 49% of world reserves, according to the U.S. Geological Survey. Tight global supplies recently have sent cobalt prices soaring to over $90,000 per metric ton on the London Metal Exchange, almost tripling since January 2017.
The DRC, which is already plagued by instability, political polarization and deficient infrastructure, could face more trouble with a long-awaited presidential election scheduled for December. The country is at an "inflection point" that could either lead to a "historic" democratic transition or to a "breakdown and … a great deal of violence," Tom Perriello, a former U.S. special envoy to the Congo and eastern Africa, said in March at the Brookings Institution, a think tank in Washington, D.C.
A man enters a hand-dug tunnel at a cobalt mine in the Democratic Republic of the Congo. Source: Associated Press
In addition to supply-chain risks, human rights groups have routinely cited Congolese mines for child labor, forced evictions and water pollution, black marks that may be particularly troublesome for clean energy industries sold on their green credentials.
"We all see this cobalt pinch looming," Chris Berry, founder and president of House Mountain Partners, an advisory firm focused on raw material supply chains, said in an interview. "A large part of it has to do with the fact that it comes from the DRC, and it's just a very challenging place to do business, and there's just no easy solution here if [electric vehicle] adoption continues at its current pace."
The auto industry's reluctance to discuss the issue publicly is striking in light of the information mining companies provide.
General Motors Co., for example, which aims to roll out 20 new all-electric vehicles by 2023, has never mentioned the metal in filings to the U.S. Securities and Exchange Commission, according to a review of company documents by S&P Global Market Intelligence. Neither has Ford Motor Co., which plans to offer 16 electric vehicles by 2022.
Meanwhile, Glencore PLC Chairman Anthony Hayward said in an annual report in March that the Anglo-Swiss mining giant is working on human rights guidance for the commodities sector and on "addressing the challenges associated with the cobalt value chain." China Molybdenum Co. Ltd., another major producer, said in its latest annual report that an affiliate that mines cobalt and copper in the DRC is investing in water infrastructure, agricultural work programs and vocational training there to mitigate risks.
In February, Glencore CEO Ivan Glasenberg was asked how the company's cobalt customers were reacting to proposed DRC mining regulations that Glasenberg said could threaten future supplies: "We haven't heard" from automakers, he said. "But I'm sure they've got to look at it and monitor it just like what we're doing. … [What] happens in the DRC is going to be very important going forward."
However, while Glencore executives have spoken at length about the relationship between cobalt and electric vehicles during the past two years, auto executives have rarely if ever commented on the subject, according to a review of transcripts of corporate earnings calls.
Mining companies may operate in closer proximity to the Congo's problems, but electric-vehicle manufacturers are the ones driving demand for cobalt. And as consumer brands, they run the highest risk of a public backlash.
Automakers "can definitely do more to bring this … to the attention of investors and stress more clearly what they're doing" to reduce risks, said Sonja Wallenborn, a research manager at Sustainalytics, an investment consulting firm focused on environmental, social and governance, or ESG, issues. "The main risk really stems from the automakers and not necessarily the companies delivering these resources."
A young man carries cobalt at a mine in the Democratic Republic of the Congo. Source: Associated Press.
Automakers engaging, if not disclosing
At the direction of Congress, the SEC in 2012 began requiring companies to disclose their use of the "conflict minerals" tin, tantalum, tungsten and gold that originate in the DRC or neighboring countries if those materials are "necessary to the functionality or production of a product." While cobalt was omitted from the list, analysts say that, for now, the metal is essential for electric vehicles. The U.S. Department of the Interior recently said cobalt is one of 35 minerals that are "critical" for America's economy and national security.
While some automakers have avoided discussing the topic openly, executives appear to be well aware of the risks in the cobalt supply chain — and are taking actions to avoid them.
At a March battery conference in Florida, Mark Verbrugge, director of General Motors' Chemical and Materials Systems Laboratory, said raw material supplies — particularly of cobalt — pose the biggest threat to battery producers. GM declined to say whether the risks Verbrugge identified also apply to electric vehicle makers. While the company's SEC filings do not flag any risks specifically tied to cobalt, a sustainability report on its website notes "human rights issues" associated with the metal.
"We continue to work with our suppliers to reduce the amount of cobalt in our battery cells," GM spokesman Kevin Kelly wrote in an email. "GM does not source individual cell chemistry materials ourselves but we do assure that our suppliers meet our requirements for responsible sourcing."
Ford did not respond to messages seeking comment.
At a shareholder meeting May 10, Ford executives were asked about a CNN investigation of the cobalt supply chain. Ford is "committed to respecting human rights everywhere we operate," said Bradley Gayton, a vice president and the company's general counsel. "And that includes robust purchasing processes that we have, supplier training and education on human rights issues," as well as third-party social-responsibility audits for suppliers. Gayton referred shareholders to a sustainability report on Ford's website for more information. That document does not mention cobalt.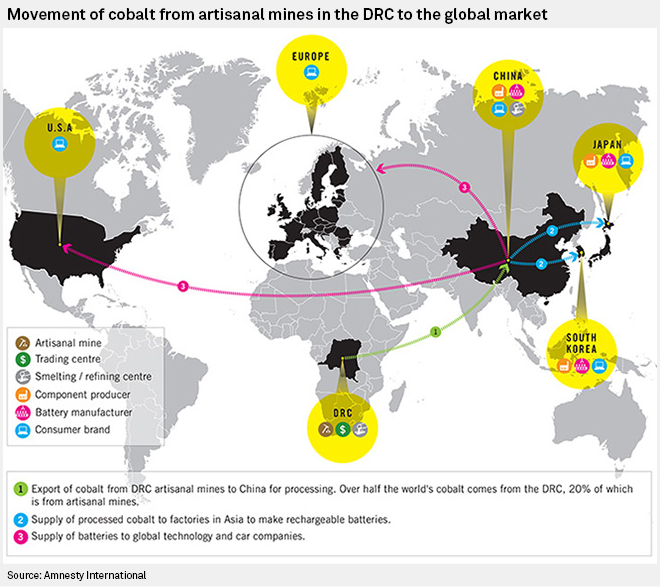 A Tesla Inc. spokesperson said the electric vehicle and energy storage startup conducts "on-site audits to the best of our ability during the sourcing and vetting process for suppliers, to view operations and methods of risk management." Tesla mentioned cobalt twice in its latest annual report to the SEC, as one of a handful of materials that present supply and pricing risk; it did not identify any humanitarian concerns. The company has said that "the overwhelming majority" of its cobalt comes from outside of the DRC.
The annual report that Fiat Chrysler Automobiles NV filed with the SEC did not mention cobalt. However, a sustainability report posted on the company's website mentioned some of the "undesirable practices" related to cobalt and other raw materials. Fiat Chrysler, which is based in the U.K. but lists shares on the NYSE, did not respond to messages seeking comment.
Risk disclosures by electric-vehicle manufacturers listed outside of the U.S. have also been limited.
Germany's Volkswagen AG, which recently ordered €20 billion worth of lithium-ion batteries, mentioned cobalt once in its annual report, saying the metal carries pricing risk due to "political and economic uncertainty." In a sustainability report, the company said it directs suppliers to ensure their use of minerals, including cobalt, does not "directly or indirectly promote or support armed conflicts, and are in no way connected to human rights violations." Fellow German automakers Daimler AG and BMW AG did not address cobalt in their annual reports but did mention it in sustainability reports.
Quietly, automakers have joined in partnerships intended to address some of cobalt's problems. One of the groups is working with Chinese refiners on a pilot program to improve supply chain transparency and reduce harm in the DRC. Another group, which includes Samsung SDI Co. Ltd., a battery affiliate of the South Korean electronics giant, is targeting "the worst forms of child labor."
However, initiatives like those are only "a start," said Nicholas Garrett, the CEO of RCS Global, a battery supply chain audit and advisory firm. Consumer brands "want to be seen on the right side of history," Garrett said. But "it would be extremely difficult to back up any child labor-free cobalt claim right now."
Amnesty International, a human rights group, said corporate due diligence alone cannot fix the human rights abuses in the cobalt supply chain. But "companies that are not performing due diligence in line with international standards risk contributing to, and benefiting from, those abuses," the group said in a 2017 report.
According to Amnesty International, GM and Daimler have made "minimal" efforts to detect, disclose and remediate human rights risks and abuses in their cobalt supply chains. Detection and disclosure efforts by Tesla, Fiat Chrysler and Volkswagen have also been minimal, though the companies have taken "moderate" steps to mitigate risks. BMW scored slightly better, taking moderate steps to detect and mitigate risks; however, disclosure by the company is still minimal, Amnesty International said. The group did not evaluate Ford.
Amnesty International said it accounted for input from automakers who disputed their rankings before the report was published. GM, Daimler, Fiat Chrysler, Volkswagen and BMW did not respond to requests for comment. A Tesla spokesperson said the company has a human rights and conflict minerals policy for its suppliers and is "committed to only sourcing responsibly-produced materials."
Kristina Friedman, an ESG research analyst at Calvert Research and Management, said corporate initiatives around cobalt "significantly lag other conflict minerals disclosures where regulations, international frameworks, and reporting standards exist."
New blood diamond
The stakes are high for the DRC, where the economics of resource extraction have been a major source of the country's woes, according to Omékongo Dibinga, a lecturer at American University's School of International Studies.
"It's not like people in eastern Congo … want to stop producing the minerals that are in our phones and in our televisions," Dibinga said, but "they want to get paid for it. They want to get a livable wage. They want health insurance. They want to be able to not have to work sun up to sunset without a mine collapsing on them. And that's what people are in the street fighting for."
For many in the industry, though, avoiding the need for the mineral is exactly the plan.
"We think we can get the cobalt [usage] to almost nothing," Tesla Chairman and CEO Elon Musk told investors May 2. Tesla's main battery cell supplier, Panasonic Corp., is reportedly working on a cobalt-free technology.
BYD Co. Ltd., a China-based manufacturer of electric vehicles, energy storage systems and batteries, relies on cobalt-free lithium-iron-phosphate batteries, in addition to batteries that use cobalt sourced from nickel mines it owns in China.
The company "has a roadmap to a sustainable future," Micheal Austin, vice president of subsidiary BYD America Corp., said. In addition to being "chemistry neutral," BYD advocates for comprehensive battery recycling programs.
Additionally, electric vehicle producers, including Nissan Motor Co. Ltd., Renault SA, Mitsubishi Motors Corp., Volkswagen and BMW, as well the U.S. Department of Energy's Advanced Research Projects Agency-Energy, are funding research and startups focused on low- to no-cobalt batteries.
Such alternatives, however, could take years to commercialize. In the meantime, big consumer electronics and auto brands are trying to lock up as much cobalt as possible in long-term supply deals, ensuring years of exposure to the metal's risks.
"There will be no electric vehicle industry without DRC cobalt," said Simon Moores, managing director of Benchmark Mineral Intelligence, an independent research firm. "It's really the new blood diamond. If investors start talking with their feet, these companies will start to take action."
'Why don't you start disclosing?'
The tension between the potential benefits and risks of electric vehicles is a familiar one to ESG investors, said Christopher Ailman, chief investment officer of the California State Teachers' Retirement System.
"That's what makes ESG [investing] so hard," Ailman said. "Sometimes the energy issues come with environmental problems and social problems. So it's got to be balanced and all together." The key is for companies to identify those risks and explain "How do they see this, how are they adjusting, how are they planning for the future?" he said.
While companies in the U.S. are unlikely to face new requirements to report on their cobalt supplies any time soon — President Donald Trump in 2017 reportedly considered suspending the rule requiring companies to disclose their use of conflict minerals from the DRC — the risks related to cobalt are "increasingly getting on investors' radar," said Wallenborn of Sustainalytics.
As a result, automakers could find themselves under more pressure from investors.
"The question I'm always asking when I deal with companies is, are they learning from these errors, or [do] they just [not] care and … see it as a cost of doing business? Do they really understand that there's an issue here with the branding or around their brand and the value of their brand?" Jeremy Cote, a research analyst at Trillium Asset Management LLC, said of companies exposed to ESG-related risks.
Cote added: "We need to show them these are our concerns … and go through our process, which starts off with, 'Hey, why don't you start disclosing stuff?'"