When President Donald Trump announced his decision to withdraw the U.S. from the Paris climate agreement June 1, he asserted that relaxing federal constraints on U.S. carbon emissions will help break down, "draconian financial and economic burdens the agreement imposes on our country."
But will the president's decision fundamentally alter the asset allocation strategies of marquee investment managers, particularly related to GDP growth, corporate earnings and interest rates?
"The answer is no on all of the above," BNY Mellon Wealth Management Chief Investment Officer Leo Grohowski told S&P Global Market Intelligence of the withdrawal's impact on the outlook of his firm, which oversees approximately $1.6 trillion in assets under management. Instead, Trump's decision has the potential to boost investor interest in low-carbon financial products, adding mainstream appeal to climate and clean energy funds that run counter to the administration's agenda.
Most major asset managers applying environmental, social and governance, or ESG, criteria to their portfolios see the Paris withdrawal as having little impact on their investment outlook. The deluge of headlines following the president's decision could ramp up investor interest particularly in low-carbon exchange traded funds, or ETFs, as one avenue readily available to investors, big and small, seeking to express their opposition to Trump's climate decision.
About $8.72 trillion in U.S. investments under management are oriented broadly toward ESG, representing about one-fifth of all investments under professional management in 2016, according to a report by US SIF: The Forum for Sustainable and Responsible Investment. By contrast, the U.S. real GDP was about $18.6 trillion in 2016, according to the U.S. Bureau of Economic Analysis.
According to US SIF, climate change risk remains one of the most pressing factor asset owners and managers consider when managing ESG-oriented portfolios, and that focus is likely to increase in the months following the president's withdrawal from the Paris agreement.
Business as usual
The drivers behind GDP growth appear to be premised less on the recent spate of climate deregulation and instead on sustained improvements in the job and housing markets, as well as increases in business spending, put in motion before Trump's entrance. All told, economic growth could amount to 2% to 2.5% real GDP growth through 2019, according an analysis by S&P Global economists, but below the president's target of 3%.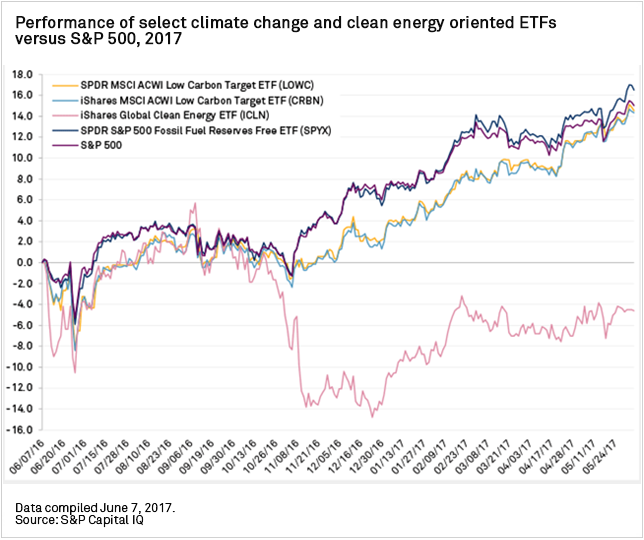 "Net-net, I think it's business as usual for now with respect to the accord," State Street Global Advisors Managing Director and head of ESG Chris McKnett said in a June 6 interview, noting several economic factors that impact investment decisions beyond policy rhetoric.
State Street is one stalwart in ESG investing, helping lure large institutional investors to its platform, notching its assets under management north of $2.5 trillion as of March 31. The firm manages four ESG focused ETFs, including the SPDR S&P 500 Fossil Fuel Reserves Free ETF and SPDR MSCI ACWI Low Carbon Target ETF, which have in recent months tracked upwards with the broader market.
Money in motion
Audrey Choi, Managing Director and head of Morgan Stanley's Global Sustainable Finance Group, noted the growing demand for low-carbon investment platforms, which could stand to benefit from the decision to leave Paris.
"The most significant reaction we have seen is that it matters more than ever for investors to be thinking about these issues," she said in a June 6 interview.
Choi, who heads the bank's Institute for Sustainable Investing, observed that the pricing of environmental externalities, such as carbon emissions, and the associated climate risks posed to a company's fundamental outlook transcends political cycles. In that way, corporations and their shareholders with 20-year investment horizons may feel a renewed conviction to address the financial risks posed by climate change, making a near-term pivot on federal climate policy unlikely to send management teams reversing course on efforts to locate and mitigate climate risks to their businesses.
Exxon Mobil Corp. and Occidental Petroleum Corp. represent two companies that have been on the receiving end of large asset management initiatives pushing for climate risk disclosure, emblematic of the growing consciousness of big shareholders to exercise their concerns on the climate in the board room. State Street, alongside BlackRock Inc. and Vanguard Group Inc., are among the largest shareholders in Exxon and are thought to have voted in favor of a recent resolution for the supermajor to enact financial disclosures related to climate risks. BlackRock, with $5.4 trillion under management, told S&P Global Market Intelligence in April that it would push energy companies to consider their 20- to 30-year Capital Expenditure plans less dependent on carbon-intensive production.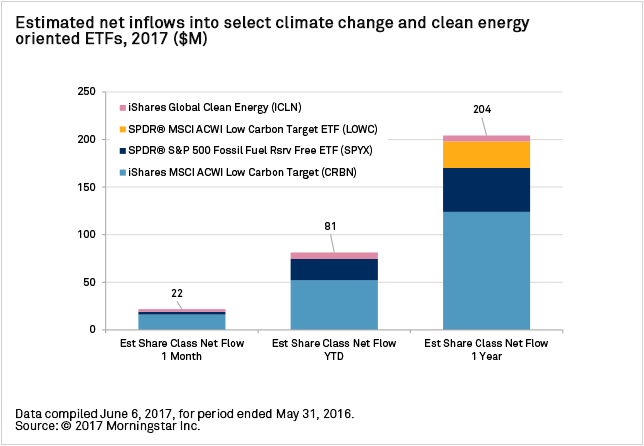 As for the dollars that populate the funds managed by the country's largest advisers, observers believe Trump's decision could resonate deeply with investors, framing the issue as a matter of financial backlash to the administration's policies.
"It could actually galvanize more interest in sustainable investing in general, and investors expressing their concerns around climate risks," Jon Hale, Morningstar Inc.'s head of sustainability research, said.
"I think a lot of families and investors may see this as a catalyst to continue or begin to make a more conscious effort to invest more responsibly when it comes to climate change," BNY's Grohowski observed. "I think it could potentially pick up inflows into climate change ETFs."
Morningstar data shows that major ETFs owned by State Street and BlackRock, reflecting companies with low-carbon and clean energy goals, have experienced large net inflows over the last year, in contrast to the Trump administration's efforts to relax carbon emission regulations. An estimated $204 million of net new cash has flowed into four of the largest ETFs centered on climate and clean energy, representing an increase of about 26% in net assets in the funds, according to data provided by Morningstar. These inflows have largely coincided with share prices tracking upwards with the S&P 500, potentially underscoring that low-carbon ETFs are increasingly viewed by investors as mainstream assets.
Retail awakening
In the wake of Trump's Paris decision, many Fortune 500 CEOs publicly expressed opposition or disappointment. While such reactions may align with corporate philosophy, the message is also intended to ensure customers at the retail level feel their values are aligned with the brands and businesses where they keep their money. One notable example includes Goldman Sachs Group Inc. CEO and Chairman Lloyd Blankfein in his first tweet characterizing the decision as a "setback for the environment and for the U.S.'s leadership position in the world," coming at a time when the bank is seeking to build out its retail banking brand with younger audiences.
"We are in an era now where so much of value of big multinational companies is in intangible assets, as opposed to hard assets," Morningstar's Hale observed. "Hits to corporate reputation are significant, so it's not about just appeasing investors, but it's directed at consumers and their reputations internationally."
That puts the onus on management teams to demonstrate their commitment to issues like climate change and environmental sustainability, not only for large institutional stalwarts with boardroom muscle, but also for individual investors seeking advice from local investment advisers on how to navigate political uncertainty and climate risk. Millennials, in particular, could drive as much as $20 trillion in ESG-related investment inflows over the next three decades, according to a Bank of America Merrill Lynch analysis from December 2016, potentially doubling the size of the US equity market.
"We want our wealth managers in the field to be prepared for these discussions with clients," BNY's Grohowski said of educating his investment advisers on climate-oriented investing, which could drive demand for additional climate-focused ETF products.
"We think that there is demand for that kind of supply, and we hear it from our intermediary counterparts," State Street's McKnett noted, pointing to the firm's suite of low-carbon ETFs that have helped meet the needs of investment advisers and retail brokerages. "They are telling us that this is a large trend that is affecting their business and how they build out their platforms and deliver a value proposition their clients."
"The signal is definitely coming through," he added.