Mexico is in the process of liberalizing its energy industry, which is key to the country's long-term economic growth. Production and investment declines over the last several years have had a major impact on GDP and government revenues. Just ve years ago, oil-related scal revenue through transfers from PEMEX accounted for about 40% of total government revenue. Today it accounts for just over 15%.
Mexico's oil and gas production remains down about 40% from peak levels, and the country's effort to stop declines and return to growth has not yet had an impact. Crude oil production at 2.0 million b/d in June was far below a peak of 3.4 million b/d in 2004. Mexico's dry natural gas production peaked in 2010 at 5.1 Bcf/d, but is down to only 3.2 Bcf/d this year, forcing the country to rely heavily on US pipeline gas and LNG imports.
Through a series of upstream oil and gas auctions, Mexico has awarded dozens of E&P contracts to a number of companies and consortia, which has already led to some signi cant nds by US independent Talos Energy and Italy's Eni.
Unable to meet growing demand with local production, Mexico is opening its re ned products markets to competition. Imports of US petroleum products over the rst four months of 2017 were up over 125% year-on-year. Mexico is in the process of expanding its re ned products pipelines and terminals, and allowing outside access to existing assets.
Pipeline imports of US natural gas make up nearly 60% of total Mexican natural gas supply, compared to just 22% in 2010. Platts Analytics expects that US natural gas imports will rise to nearly 70% of total supply by 2022.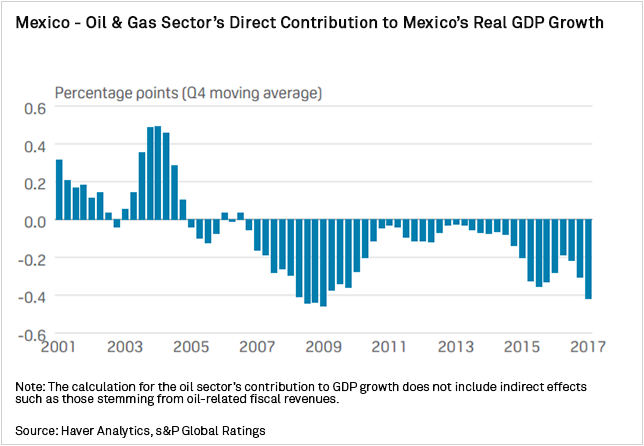 Natural gas pipeline import capacity has grown 145% since 2010 to 10.8 Bcf/d. By 2022, import capacity is expected to reach 14.2 Bcf/d. Mexico's natural gas market is in a massive state of ux. Gas trading is still in a nascent stage of development after getting off the ground in July. Gas buyers are hesitant to leave Pemex. Current supply/demand conditions suggest that areas of supply shortage and/or transportation constraints could experience premium prices. Industrial customers have expressed concern about the recent lifting natural gas price caps on rst-hand sales and the possibility of price spikes in some regions. Prices in constrained areas theoretically could increase a level near fuel oil at roughly $9/ MMBtu.
Breaking the Mexican gas market up into 10 Cell RegionsTM, Platts Analytics expects that the strongest natural gas price premiums will form in the Peninsula, Western, and Central gas regions, with large differentials expected between Baja California and Baja California Sur.
Mexico's wholesale power prices sustained healthy margins over US power prices in 2016, but prices have climbed even higher in 2017 as the natural gas market has tightened pushing more expensive fuels into the power generation supply stack to meet growing demand. Mainland Mexico prices jumped $24.48/MWh, or 56%, on average across all control regions to average $67.62/MWh during the rst half of 2017.
Table: Revenues Expected from Mexico's Energy Reform to Date ($ million)
Upstream
Round One
First
2,700
Second
3,100
Third
1,100
Fourth
34,400
Trion
11,000
Round Two
First
8,200
Second
1,100
Third
1,000
Seismic
2,500
Natural gas & petroleum
Gas pipelines
12,000
Petroleum products - transport, storage
4,000
Distribution and sale of petroleum products
12,000
Electricity
First auction
2,600
Second auction
4,000
Generation
97,000
Transmission
12,800
Distribution
9,600
Source: CRE